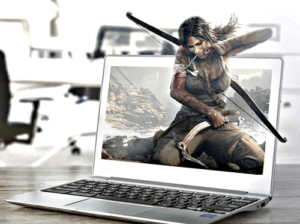 A lot of things go into buying a gaming laptop. Although having a desktop is paramount for the gaming experience, the portability of a laptop cannot be understated. It pays for you to have a gaming laptop that you can easily carry around wherever you go. Getting a gaming laptop means you consider a lot; such as the specs like the display, built-in notebook and the whole computer system.
A few things to consider when choosing a gaming laptop:
a good GPU,

RAM,

excellent speed and resolution,

good keyboard

and decent battery life.
These are only a few things to consider when choosing your machine. Below is a more in-depth look at what you should be looking for. Here are ten major things you need to consider when getting a gaming laptop.
1. Display
Some people might see size as unimportant in a gaming laptop, but it is vital to your enjoyment. The built-in screen accurately depicts your game, with great color presentation and high refresh rate. There range of size for a screen are from 14-inches to 18-inches. However, you must note that the wider the screen, the heavier and less portable the laptop. Take this into consideration when thinking of your preferences.
Takeaway: The size is as important as you want it to be.
2. Solid GPU
Although some gaming laptops use CPUs, most of them are incorporated with a GPU. It is crucial to consider one with a good GPU. The RTX 3060 to RTX 3080 are great options to consider. The RTX 30-series is the latest graphics card on the NVIDIA series. While on the AMD, you will get the Radeon RX 5000M which has RX 5700M and RX 5600M for advanced performance. And the Radeon RX 5000M has the RX 5500M for economic systems.
Takeaway: Your gaming needs will reflect what you will want from a graphics card.
3. RAM
Choosing RAM is essential when considering a gaming laptop as gaming can make use of a lot of RAM. For average gaming or productivity tasks, 8GB of RAM is recommended. However, it would be best if you go for 16GB or more. To get a laptop with 8GB, a 1660 Ti or GTX 1650 laptop is the best option.
But if you want 16GB, you can go for the GTX 2060 or a higher quality. However, regardless of the RAM your gaming laptop comes in, you can upgrade it in the future if you want. You can give it to a professional or do it personally; if you are good with a screwdriver.
Takeaway: The more RAM, the more possibilities are available.
4. Refresh Rate
The 60Hz and the 1080p resolution that comes with most laptops are usually okay for an average gamer. Some laptops come with FHD displays with quicker refresh rates: 360Hz, 240 Hz, or 144 Hz give a smooth gaming experience. Although to get the best from your refresh rate, you will need a good GPU; and settings that use frame rate instead of graphics.
Takeaway: The higher the refresh rate, the more information you will take in.
5. CPU
CPUs are not upgradable, so it is crucial to make a good choice for the one in your gaming laptop. Currently, you should avoid ones older than the Intel 10th Gen Core. The recommended CPU to use for a gaming laptop is the Core i7 CPU, or you can overwork it like the Intel Core i9-9980HK. Although, you can also use a Core i5 processor as most games benefit more from a better GPU than a CPU.
Takeaway: Make sure your CPU is up to modern standards.
6. Storage
Occasionally, some gaming laptops come with 1 TB worth of hard drive storage. However, most of them add a tiny SSD for a boot drive, so you often see a 1TB hard drive and 128GB SSD working together. A larger SSD will cost more, but you can expect instant responsiveness. And because most hard drives are upgradeable in gaming laptops, you can always upgrade your hard drive whenever.
Takeaway: The perfect combination of HDD and SSD will give you a smoother and faster gaming experience.
7. Resolution
Resolutions are a big deal in getting the best gaming experience, especially if you want to play in high definition. Anything less than a 1920 x 1080 display should be avoided. And if you use the ray-tracing feature, you should turn down the setting if your laptop comes with a 4K display.
Takeaway: The higher the resolution, the greater the visuals.
8. AMD Free Sync and NVIDIA G-Sync
These features reduce screen ghosting and tearing. And you can find them on most gaming laptops, especially the premium ones that supports tech that connects the graphic cards to the display.
Takeaway: Use these features to eliminate damage to your monitors.
9. Backlighting
The best thing to look out for on the keyboard is the backlight. Most budget ones come with either white or red light, and the premium keyboards have RGB lighting. Some let you customize the backlight per key or a section of the keyboard. In comparison, others allow you to change the light depending on your game.
Takeaway: A large color pallet makes it more customizable to who you are.
10. Key Travel
For a gaming laptop, it would be best to consider keys with a 1.5mm distance of key travel: with 2mm being the best option. And you can only get the best of keyboards with a mechanical keyboard. These keyboards prevent you from hitting the bottom of the keyboard, thus damaging the hardware in the process.
Takeaway: Good depth can make your keyboards last longer.
Final Verdict
It is essential to buy a gaming laptop that will last for few years. The most important thing of all to consider in a gaming laptop is the GPU. If you cannot afford a high-end GPU, a mid-range laptop will do the trick. The CPU, RAM, storage, displays and resolutions also have a hand in ensuring that you have the best gaming experience. If you don't like it you can sell laptop to us for cash and use it to buy another one.
For more advice on purchasing new tech or buying parts for your own tech, visit sellbroke.com.