Things You Should Know Before Buying the Dell XPS 17
Aug 31, 2021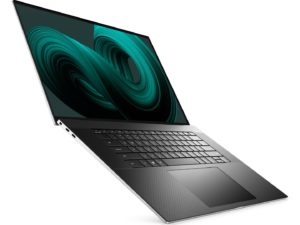 The Dell XPS 17 is an impressive workstation that comes in a durable chassis. And it comes in one of the biggest screens you will find on a laptop. This laptop is ideal for gamers and content creators as it comes with an excellent battery life. There are many things to know before buying the laptop. Here is what we found the most important things to consider about the Dell XPS 17.
Design
What Makes it Work
The XPS 17 is one of the most beautiful laptops we have seen. It comes in a sleek design and robust construction that resembles the Dell XPS 15. It has different weight options depending on what you want in a battery or screen. But it is about 4.65-5.53 pounds.
It measures 14.74 x 9.76 x 0.77 inches, and its silver aluminum chassis makes it stand out from its competition. The XPS 17 may be on the heavy side, but it makes up for it with:
the Infinity Edge display,

slimness,

and elegant look.
It comes with a decent number of ports, including four Thunderbolt 3 USB-C ports, which are compatible with the DisplayPort and double as charging ports. You will also find a 3.5mm headphone jack and an SD card reader.
What it's Missing
However, these port selections and their included connectors compromise between design and functionality.
Overall: A bit of confusion
Display
What Makes it Work
The new Infinity Edge display is a 4-sided feature that the new series has benefited from. It is almost all-screen and cuts out the heavy bottom bezel for a full display. It comes with a display of 3840 x 2400, and with the 93.7 percent screen to body ratio,
content creation,

multi-media,

and even gaming
will be a truly seamless experience.
The XPS 17 reproduced an sRGB color gamut of 171.6%, which is excellent as the ideal number is 100%. The brightness measures about 504 nits. Because of its unique kind of display, it brings satisfying deep colors that make on-screen texts readable and videos more apparent.
Overall: A SIGHT TO BEHOLD
Keyboard and Touchpad
What Makes it Work
Although Dell laptops have not disappointed with their newest keyboards, the XPS 17 might just be the best. It comes with a travel of 1.3mm, enthusiastic feedback and a soft-touch layer. Hours of typing will be seamless and a delight. During the typing test, ten fast fingers ran through 100 words per minute at an effortless, accurate rate.
The touchpad of the XPS 17 is a large and comfortable one. With the touchpad measuring 6 x 3.5 inches, multi-finger gestures are smooth. As is the pinch function to zoom and click.
Overall: PERFECTION
Performance
What Makes it Work
The XPS 17 easily withstood every task that came its way. Whether you want to open multiple Chrome tabs, use split-screen mode, or bounce between different programs, it chews it up. Coming with:
a 1TB NVMe SSD,

10th Gen Intel Core i7-10875H processor

and 32GB of RAM.
The 1TB SSD speedily copied about 25GB of files in less than 30 seconds at a 790MBps transfer rate.
During the Geekbench test, the XPS 17 scored 7,740 on the general performance test. And for the Handbrake test, it transcoded a 4K video to 1080p in less than 9 seconds.
Overall: IT'S A WORKHORSE
Battery
What Makes it Work
The XPS 17 surprises us with its long-lasting battery life. After a full charge, and you can use this laptop for up to 10 hours with continuous web browsing. It comes in handy for gamers too: under heavy-duty games, the laptop lasts for as long as 6 hours. With the XPS 17, you can be sure to fulfill more than a day's work after a charge. The only battery lifeless than the XPS 17 is the XPS 15, which lasts less than 8 hours during several tests.
Overall: BUILT TO LAST
Final Verdict
You would not know you are using a large laptop with the Dell XPS 17. This powerhouse comes with advanced NVIDIA graphics, 10th Gen Intel power, and one of the most prominent 17-inch displays you can ever find. This laptop has excellent battery life and a fast SSD, making video editing, high-performance gaming, and content creating swift.
Yet, this laptop comes with a hefty price: especially if you add the RTX graphics AND 4K display. And if you want the same features but for less cost, you can go for the XPS 13 and XPS 15. However, this comes with a lesser graphic value and battery life. In conclusion, if you want a powerful Windows laptop with lots of power and a sizeable display, the Dell XPS 17 is one of the best. 
If you're looking to upgrade your current machine you can sell your laptop to us and use the cash to buy the new Dell XPS.