Things You Should Know Before Buying the Dell XPS
Aug 31, 2021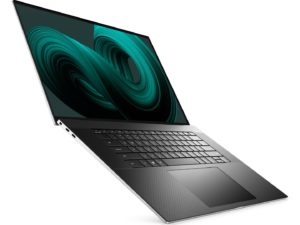 Dell XPS models are an impressive line of high end laptops that come in beautifully designed and durable chassis. They come in a variety of screen sizes ranging from 13 to 17 inches to cater to more people looking for a good laptop. Those laptops are ideal for gamers and content creators as they come with an excellent battery life. There are many things to know before buying a laptop. Here is what we found the most important things to consider about the Dell XPS machines.
Design
What Makes it Work
For example a XPS 17 is one of the most beautiful laptops we have seen. It comes in a sleek design and robust construction that resembles the Dell XPS 15 which is the all time favorite personal computer. It has different weight options depending on what you want in a battery or screen. But it is about 4.65-5.53 pounds.
It measures 14.74 x 9.76 x 0.77 inches, and its silver aluminum chassis makes it stand out from its competition. The XPS 17 may be on the heavy side, but it makes up for it with:
the Infinity Edge display,

slimness,

and elegant look.
It comes with a decent number of ports, including four Thunderbolt 3 USB-C ports, which are compatible with the DisplayPort and double as charging ports. You will also find a 3.5mm headphone jack and an SD card reader.
What it's Missing
However, these port selections and their included connectors compromise between design and functionality.
Overall: A bit of confusion
Display
What Makes it Work
The new Infinity Edge display is a 4-sided feature that the new series has benefited from. It is almost all-screen and cuts out the heavy bottom bezel for a full display. It comes with a display of 3840 x 2400, and with the 93.7 percent screen to body ratio,
content creation,

multi-media,

and even gaming
will be a truly seamless experience.
The XPS 17 reproduced an sRGB color gamut of 171.6%, which is excellent as the ideal number is 100%. The brightness measures about 504 nits. Because of its unique kind of display, it brings satisfying deep colors that make on-screen texts readable and videos more apparent.
Overall: A SIGHT TO BEHOLD
Keyboard and Touchpad
What Makes it Work
Although Dell laptops have not disappointed with their newest keyboards, the XPS 17 might just be the best. It comes with a travel of 1.3mm, enthusiastic feedback and a soft-touch layer. Hours of typing will be seamless and a delight. During the typing test, ten fast fingers ran through 100 words per minute at an effortless, accurate rate.
The touchpad of the XPS 17 is a large and comfortable one. With the touchpad measuring 6 x 3.5 inches, multi-finger gestures are smooth. As is the pinch function to zoom and click.
Overall: PERFECTION
Performance
What Makes it Work
The XPS 17 easily withstood every task that came its way. Whether you want to open multiple Chrome tabs, use split-screen mode, or bounce between different programs, it chews it up. Coming with:
a 1TB NVMe SSD,

10th Gen Intel Core i7-10875H processor

and 32GB of RAM.
The 1TB SSD speedily copied about 25GB of files in less than 30 seconds at a 790MBps transfer rate.
During the Geekbench test, the XPS 17 scored 7,740 on the general performance test. And for the Handbrake test, it transcoded a 4K video to 1080p in less than 9 seconds.
Overall: IT'S A WORKHORSE
Battery
What Makes it Work
The XPS 17 surprises us with its long-lasting battery life. After a full charge, and you can use this laptop for up to 10 hours with continuous web browsing. It comes in handy for gamers too: under heavy-duty games, the laptop lasts for as long as 6 hours. With the XPS 17, you can be sure to fulfill more than a day's work after a charge. The only battery lifeless than the XPS 17 is the XPS 15, which lasts less than 8 hours during several tests.
Overall: BUILT TO LAST
Final Verdict
You would not know you are using a large laptop with the Dell XPS 17. This powerhouse comes with advanced NVIDIA graphics, 10th Gen Intel power, and one of the most prominent 17-inch displays you can ever find. This laptop has excellent battery life and a fast SSD, making video editing, high-performance gaming, and content creating swift.
Yet, this laptop comes with a hefty price: especially if you add the RTX graphics AND 4K display. And if you want the same features but for less cost, you can go for the XPS 13 and XPS 15. However, this comes with a lesser graphic value and battery life. In conclusion, if you want a powerful Windows laptop with lots of power and a sizeable display, the Dell XPS 17 is one of the best. 
Dell XPS 15 is the flagship of the XPS line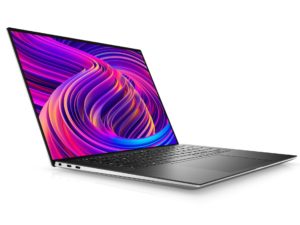 For years, Dell has created some of the most premium Notebooks in the market place. With the newest model in Dell's library, that legacy continues. Recently, the Dell XPS 15 was updated to the 9510 model. This new model contains multiple new features:
a display option of 3.5K OLED

Intel's 11th gen H-series CPUs

two thunderbolts

four ports

RTX 3050 Ti discrete GPU
Let's take a closer at Dell's XPS 15 9510.
Design
What Makes it Work
The Dell XPS 15 has a premium look and feel with its Silver metallic chassis and shiny emblem on the lid. However, the materials do not retain the heat that would be expected. It stays cool whether you are typing or using multimedia features.  It also comes with rounded corners and a beautiful black interior. Closely resembling its predecessors, the Dell XPS 15 is a very premium looking and sleek laptop.
The ports on the left side of the Notebook are:
a Thunderbolt 3 port,

Type-A port,

a headset jack,

an AC adapter port 

and an HDMI 2.0 port.
On the right side there is:
an SD card reader,

a USB 3.1 Type-A port,

a set of five lights that indicates battery status,

and a noble lock slot.
What it's Missing
The 15-inch Notebook is a beautiful and sleek machine. Yet, despite its excellent display, up-to-date design, and skinny bezels, it has a poorly placed webcam. However, this does not stop it from being one of the best laptops, especially with its amazing battery life.
Overall: NEAR FLAWLESS
Display
What Makes it Work
The display of the XPS 15 9510 is lovely, sharp and vivid. It was able to produce 115% of the sRGB gamut, and this delivers an incredible display. However, if you want a better display that is possible. You can upgrade to the 4K panel to get up to 160% of the sRGB gamut. When tested, the XPS 15 could get to 371 nits which makes it luminous and bright.
The infinity-edge 16:10 display features a beautiful edge to edge view. This provides better productivity for you whether you are creative, want to use it for multimedia purposes or even gaming.
What it's Missing
No matter what kind of model you choose, the XPS 15 9510 has an average refresh rate of 60Hz. This could make it an issue for gaming: slow response time could affect fast and high-resolution games. 
Overall: A PIECE SHY OF PERFECTION
Keyboard and Touchpad
What Makes it Work
The upside to this laptop's keyboard is the extra bounce that you get during typing. During typing tests, we were able to get to 70 WPM on ten-finger fast tying.
The touchpad of the XPS 15 9510 is large and responsive, which gives a lot of room for navigating the web or documents. On the 4 x 3.1-inch touchpad, it is easy to decrease and enlarge images with the pinch zooming, and you can also launch the Action Center quickly by doing a three-finger tap.
What it's Missing
The XPS 15 9510 has a backlit keyboard of 0.7mm travels, which is less than what we prefer.
Overall: NEEDS A BIT MORE SPEED
Performance
What Makes it Work
For a laptop so slim, the performance of the XPS 15 9510 is a high mark. It comes with 16 GB RAM and a 2.2-GHz Intel Core i7-8750H processor; making it easy for multi-functioning. When tested on Geek Bench 4, it achieved 19,775, which is better than an average laptop.
While testing productivity for the hard drive, XPS 15 9510's 256GB M.2 PCIe SSD replicated about 5GB of media files in less than 30 seconds. During video editing, the Notebook transcoded a 4K video to 1080p within 10 seconds.
Equipped with an NVIDIA GeForce GTX 1050 Ti Max-Q GPU, the XPS 15 9510 also runs effortlessly during gaming, providing you with seamless experience during regular or high-performance games.
Overall: A POWERHOUSE
Battery
What Makes it Work
The battery life of the XPS 15 9510 is long-lasting and efficient. With continuous web usage at 150 nits, the Notebook lasted for almost 12 hours. Additionally, it lasts for about 8hours during a battery test of continuous web usage.
What it's Missing
When the XPS 15 9510 uses its Core i9 CPU and 4K display, it does not last as long.
Overall: STRONG ENOUGH
Final Verdict
The Dell XPS 15 9510 is an unexpected powerhouse with many impressive features such as:
a beautiful display,

large touchpad,

excellent battery life,

and high-end performance.
It delivers a stunning performance and comes in an attractive package. If you are looking for a big productivity laptop, with excellent features and the money is right, you should pick one of the several models.
For any more of your laptop needs, please look at our shop at sellbroke.com.
Dell XPS 13 vs competition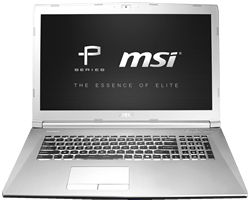 Without a doubt, the Dell XPS 13 is a powerful ultrabook, but its pricing stalls its value. While MSI has gained a reputation for building gaming machines, they have also attempted many times to create something outside their specialty.
With several attempts in the past, the MSI Prestige 14 Evo is the latest attempt to create a reputation outside of gaming. This is an ambitious try and one that comes with a great value, especially when compared to the Dell XPS 13. For this one, MSI worked with Intel, using the 11th Generation Tiger Lake CPUs, and the latest Evo certification.
The Prestige 14 Evo is a productivity ultrabook, but it has its limitations - like the dim screen and the quiet audio. Other aspects like the display and the great webcam complement the strong performance to offer great value, making these limitations something we can forgo.
Let's get a little deeper into what makes the Prestige 14 Evo offer great value.
Design
The Prestige 14 Evo is constructed with aluminum and this gives it an all-around solid feel. Although, this solid feel is with an exemption of the display, which has flex with pressure. Asides from the display, every other part feels sturdy enough, with the chassis and keyboard deck giving off that feel the most.
Although it is not as great as the Dell XPS 13 in this regard, the build and design don't come off as cheap in any way but the lid could be firmer.
It also has an attractive color range, coming in Rose Pink, Carbon Gray, as well as Pure White. This is a 14-inch laptop, but it is light and thin, weighing only 2.85 pounds and having 0.63 inches thickness. The hinge is sturdy enough and well built, as you can i=open the laptop using one hand, and it wouldn't have a wobble.
Display
The MSI Prestige 14 Evo has a 1080p IPS display and an aspect ratio of 16:9. The aspect ratio is another aspect where MSI could have done better, as others are fast-moving to a 16:10 aspect ratio. Another disadvantage of the display is the brightness, as it maxes out at only 228 nits. This falls short of the 300-nit for premium laptops. This dimness means it is not the best outside or in well-lit rooms.
The sRGB sits at 97%, while the AdobeRGB is 73%. Although some premium laptops already offer up to 100% for both, which means the Prestige 14 Evo is not the best option for creatives.
On a balanced scale, the display is great when you are doing some productivity work and streaming some movies in a not-so-bright environment.
Performance
The Prestige 14 Evo does well in the performance aspect, combining well with Intel for its latest generation of CPUs. The speed of performance in the Prestige 14 Evo is a bit faster than what you will find in the Dell XPS 13.
The 512GB SSD and 16GB of RAM also combine well to boost performance in the Prestige 14 Evo. The performance level of the Prestige 14 Evo is better built for daunting tasks than basic tasks. The Intel Xe graphics is also another gift from its latest Tiger Lake, offering more than any other Intel integrated graphics to ever exist.
Keyboard and touchpad
MSI goes with the usual island style for the keyboard, as it has comfortable spacing within the keys and good travel. Although the touch is a bit soft, making the touch too light which mostly reduced accuracy and speed of typing. The keyboard is not as great as what you will find in the Dell XPS 13, but it is quite decent.
The touchpad is wide, although it travels too deep when pressed. It requires extra touch to get a click. The click is quiet but it could be firmer. However, the touchpad responds to all windows 1o multiple gestures.
Connectivity
Port rage could be better, as it seems a bit light for the laptop's class range. On the left, there are two Thunderbolt-4 ports and one USB Type-A 2.0 port. On the right, there is an audio jack (3.5mm), and a microSD slot.
Battery life
Evo's certification comes with at least nine hours of battery life while carrying out the usual tasks. Tests have shown that the Prestige 14 Evo is likely to do so, although barely.
Final Verdict
The Prestige 14 Evo is MSI's latest offering to a regular laptop, and it performs well for speed of performance. The battery life is also decent, although the display and build could be better. However, when considering the price which is under $1,200, you will realize the value that it offers.
How does the Dell XPS 15 does against a MacBook Pro

No one can argue that the last couple of years have been the most rewarding and also confusing for computer enthusiasts yet. Before most people were believing that Apple makes better laptops that competition I am glad that there has been a shift (or maybe a balance if you prefer), to creating laptops for creators too. This is where the workstations that both won Editor's choice awards come in. I give you the Dell XPS 15 and the MacBook Pro 15.
First, what are the specs that these two beasts offer:
| | | |
| --- | --- | --- |
|   |   DELL XPS 15 |   MACBOOK PRO 15-INCH |
| Starting Price |   $1,099 |   $2,399 |
| Price (Reviewed) |   $2,649 (laptopmag.com) |   $6,549 (laptopmag.com) |
| CPU |   9th gen Intel Core i9 |   9th gen Intel Core i9 |
| Display |   3840 x 2160 OLED, 3840 x 2160 (non-OLED) |   15.4 inches 2880 x 1800 (Retina display) |
| RAM |   32GB |   32GB |
| Storage |   1 TB SSD  |   4 TB SSD |
| Graphic Options | GeForce GTX 1650 (4GB GDDR5 VRAM) |   Radeon Pro Vega 20 graphics (4GB HBM2 VRAM) |
| Ports (I/O) |   Thunderbolt 3d port (1), USB 3.1 Type A ports (2), headphone jack, fingerprint reader, power port |   Thunderbolt 3 ports (4), headphone jack, Touch ID fingerprint reader, Touch Bar |
| Dimension |   14.1 x 9.3 x 0.5~0.7-inches | 13.8 x 9.5 x 0.6-inches |
| Weight |   4.5 pounds |   4.02 pounds |
A quick review of the specifications of these machines would immediately tell you that both companies are not messing around. Even though both of them are complete computational beasts in their rights, the real question you came here for is: Which one has a good value to price ratio? Well, let's get to it then!
Aesthetics/Design
Both of these laptops are gorgeous to look at. The MacBook Pro features a complete aluminum finish on the lid with chamfered edges. While the Dell XPS also features an aluminum lid with chamfered edges, the interior deck has a carbon fiber finish that makes it comfortable to work on and also feel welcoming.
The biggest difference in design will be the InfinityEdge display that the XPS features; with 0.2-inch-thick top and side bezels that contrasts the o.6-inch top bezel on the MacBook and its 0.3 side bezels.
The laptops are tied in this aspect; you can't go wrong with anyone.
Result: Tie
Ports
The MacBook Pro 15 features four Thunderbolt 3 ports and a headphone jack, which is very useful for connecting highspeed components and devices that require audio and visual signal output at the same time. One disadvantage, however, is carrying around a USB-C hub to interface between USB type A and your C Port.
The XPS however, features all of it, a Thunderbolt 3 port, two USB 3.1 ports, HDMI 2, the super rare memory card slot and a security lock. I am excited just talking about the ports.
Results: XPS wins
Display
The Retina display screen that Apple features on the MAC is pretty nice, but that is exactly what it is when you compare it to the incredible looking 4K OLED (and non-OLED) display put on the Dell XPS 15. The Dell XPS 15 has a higher color accuracy that would suit content creators absolutely well.
Even though Apple's display automatically adjusts its white balance to counter the ambient lighting conditions, this feature is not enough to beat the OLED display of the Dell XPS 15.
Results: XPS wins
Keyboard:
It is no secret that the MacBook Pro's keyboard has had to undergo four iterations to fix the fact that they usually stop working just a few months after purchase. There isn't much to say here, the Dell XPS's keyboard outshines Apple's own.
In terms of trackpad actuation, Dell XPS also takes the cake here. The XPS's trackpad responds faster than that of the MacBook Pro 15 that uses haptic feedback to fake that feeling.
Result: XPS wins
Performance
These two devices are both beasts, so it should not come as a surprise that they both perform incredibly well in stress tests and other benchmarking tests.
Geekbench:
XPS- 28,882
MacBook- 31,012
Converting 4K movie to 1080p:
XPS- 8 mins
MacBook- 8 mins 10 seconds
Playing Dirt 3 (game):
XPS- 80 fps
MacBook- 120 fps
Cinebench:
XPS- 3,234
MacBook- 3,211
Result: MacBook wins (by a small margin)
Battery
MacBook Pro lasts 10 hours and 21 minutes of battery test (continuous web surfing at 150 nits)
XPS lasts 8 hours 48 minutes.
So, there you have it. Both laptops have very incredible performance and generally incredible design aesthetics. However, if a laptop with a good value to price ratio is what you need, then the DELL XPS 15 is the way to go. If you're convinced you can sell your older MacBook for cash and purchase the Dell XPS.
Dell XPS 13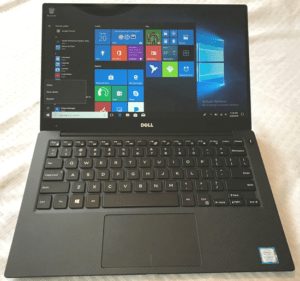 When it comes to innovations, you can always trust Dell to deliver. Dell is known for laptops that last long. Over the years, they have built a name for themselves as one of the best companies when it comes to dishing out mouth-watering and ground-breaking computers. The Dell XPS 13 is a powerhouse and this was made possible by the great decisions made by Dell on the laptop.
At CES 2020, the company announced that it had removed the last bezel on its InfinityEdge display. Which makes it the first of its kind and means it is virtually borderless.
The Dell XPS 13 also came with lovely specs, which when combined with the new feature, makes it one of the best laptops you can find in the market.
Dell has made the laptop into several duplications, which includes a $1,199 Developer Edition that features the Ubuntu 18.04LTS. There is also a $999 base model of the laptop, which will come with a 10th Gen Intel Core i3 processor, a SSD of 256GB, 4GB of RAM and a 1920 x 1080 display, which is non-touch. It was also revealed that the system has the capacity to be configured with the integrated Intel Iris Plus GPU, 2TB storage and the 4K HDR touchscreen.
The Design
The Dell XPS 13 design doesn't look like it had undergone much changes when you take a first look at it. However, a further look into the design will reveal that there was a lot of small tweaks here and there that accumulated into something wholesome. It is made from anodized aluminum, and the interior comes in either woven glass fiber or carbon fiber. The notebook is 2% smaller than its predecessor, largely due to some smart engineering.
The keyboard is another feature that underwent little change. The maglev keyboard was substituted for rubber dome keycaps in the full-size island style keyboard.
The Display
The first thing to note here is that, Dell has extended edge to glorious edge in its InfinityEdge display. The remaining bezels now measure only 0.5 inches. This has helped to squeeze in a 13.4-inch screen into the 11-inch form factor. It has a new Gorilla Glass 6 panel that has a 16:10 aspect ratio and has a 25% brightness more than the old models.
Battery
The battery of the Dell XPS 13 is expected to last averagely between 8-12 hours depending on the type of activity.
A sleek design, smaller size and the tiniest bezels on its sides. The Dell XPS 13 Improved in little ways that resulted into a huge improvement for the laptop.
Dell XPS 13 2-in-1 7390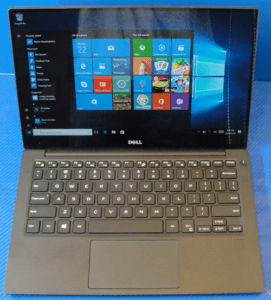 Strengths
Powerful performance with the 10th generation intel processor

Bright 16:10 display that doesn't disappoint

Battery life is in the double digits

Improved design
Weaknesses
It has both onboard storage and memory which makes it impossible to upgrade after purchase.

It does not include a pen

You need to pay more for the white version of this model.
Verdict
The DELL XPS 13 2-in-1 is an excellent machine that delivers well on performance, style and functionality. You might have to deal with a tightly spaced keyboard and buy the pen in order to get an all-around experience. In the end, this is a great laptop or tablet depending on how you decide to use it.
Scores
Design: 10/10
Performance: 9/10
Features: 8/10
Battery: 8/10
The former generation of the Dell XPS 13 2-in-1 that was released in 2017 was not exactly our favorite. It was severely overpriced and underpowered, and even with its small size and light mass, it still felt like a bulky hardware when compared with the other devices in this category.
The new upgraded and redesigned version of the Dell XPS 13 2-in-1 laptop is one of the best ultraportable laptops you can get right now. they have revamped its performance, redesigned its shell to give its user a more satisfying experience. However, this ultraportable laptop is still on the expensive side.
Specifications
CPU: 1.3GHz Intel Core i7-1065G7
Memory: 16GB LPDDR4 & SDRAM @ 3.733GHz
Display: 13.4-inch @ 1,920 X 1200 -pixel touch display
Graphics: Intel Iris Plus
Storage: 512GB PCIe SSD
Operating System: Windows 10 Home (64-bit architecture).
Price of tested model: $1,575
Performance
When it comes to the amount of power that this ultraportable laptop can deliver, I sincerely don't think it can get any better than the 10th generation Intel core I7 @ 1.3GHz. This is the latest generation of Intel's technology, and it delivers as such. To complement this performance is 16GB of RAM and 512GB of SSD storage. To make sure that your convertible laptop always delivers the best performance at all times, it was equipped with a dual-fan cooling system, and an internal vapor chamber. There is also a power-management software that gives you the option of letting your system run cool and quiet, or run at full speed to give you a full performance boost.
The Graphics type included is not a discrete graphics card, therefore, this is not a gaming or video editing beast, but you can still perform simple video editing tasks, and video editing too. Fortnight is still playable at high settings though.
The memory is soldered on so, you better get all the memory and storage you think you might need when you order for yours.
Design
There is an optional built-in fingerprint scanner that comes with the Dell XPS 13 2-in-1, and it works well the moment you perform the first system update on the ultraportable laptop. The laptop comes to life immediately you open the lid, even if you have powered the device down before.
The keyboard has a shallow travel but there is a pop sound that the MagLev switches give to it that makes it somewhat satisfying. The large glass touchpad that is run with the Windows precision driver is an absolute charm. It works so well.
Ports
This comes with two USB-C thunderbolt 3 type ports. This means you can also charge you laptop with any of the ports but you don't get any USB-type A port. However, included in the box is a type-C to type-A dongle, and the laptop also has a headphone jack, and a microSD card slot.
We hope our article will help you choose the right model for you as well as sell your old laptop in order to make room and money for your dream machine
Dell Inspiron 16 Plus Laptop: The Affordable XPS 16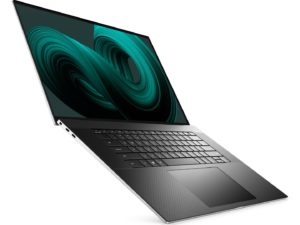 The Dell Inspiron 16 Plus is one of my favorite Windows laptops. While there are many 15.6-inch laptops, it is rare to find one with features like the 16 Plus. With excellent battery life and beautiful design, the 16 Plus is a good option. You will be getting a gorgeous display in a premium build for this laptop.
The heavy chassis gives it a premium-quality feel of the XPS 16, and despite the high-end processors, it still comes with a narrow bezel.
But is the Dell Inspiron 16 Plus worth the price drop from the XPS? Here is our look at the Dell Inspiron 16 Plus.
Design
What Makes it Work
The size and weight of the 16 Plus are the same as the Dell XPS. It has the same slim bezels that give it a premium look and feel, which we don't see on an Inspiron laptop. At first, you will notice a premium and sturdy finish on the laptop. Coming at 4.51 pounds, the Dell 16 is not the lightest laptop, but it is portable enough to carry about. The build quality is excellent, and there is a little flex on the chassis. You can open the lid with a finger, and the first thing you see is the beautiful keyboard. The port selection is varied throughout.
On the left side of the laptop:
a power jack,

HDMI 2.0. side vents,

a USB-A 3.2 Gen 1 port,

a full serviced Thunderbolt 4 port
On the right side:
a 3.5mm headphone/microphone combo jack,

an SD card reader,

side vents,

and a USB-A Gen 1 port
Overall: A TRUE BEAUTY
Display
What Makes it Work
The display of the 16 Plus is a 16:10 screen ratio, and it is the perfect size since the laptop is more significant than the XPS 16- which is suitable for content creation. Due to the matte finish on the 16 Plus display, its 291-nits brightness minimizes the reflection despite its glossy screen.
At first sight, the matte 3k display is excellent. The display covers the Adobe color gamut of 81 percent and a 100 percent sRGB.
What it's Lacking
Unfortunately, the laptop does not come with a higher brightness level or other options like a touchscreen.
Overall: CLARITY THROUGHOUT
Keyboard and Touchpad
What Makes it Work
The 16 Plus comes with a pretty good keyboard. It comes with a two-stage backlight that allows you to get work done in a poorly lit environment or a dark room. The Numpad is a welcome addition for people that have to crunch numbers.
The touchpad is nicely sized and has a super smooth surface. It has a good response for gestures and two finger scrolling.
What it's Lacking
However, key travel seems to be shallow. It does not give the fingers a bottom-out feel with the tactile feedback.
Overall: Could be improved a bit
Performance
What Makes it Work
The performance of the 16 Plus is top-notch like on most higher end modern Dell laptops. There was no sluggishness during web browsing, apps installation, and gaming performance. When you compare it to most of its competitors, the 16 Plus has passed the benchmark tests brilliantly.
While this laptop is not solely built for gaming, it can be used for gaming at 1080p settings and avoid internal display ghosting. It would be best to connect it to an external monitor. Although this laptop is mainly for graphics, photo, and video work, you can use it for smooth gaming when configuring it with the 3050 and 3060 GPUs.
Overall: ITS A POWERHOUSE
Battery
What Makes it Work
Considering the discrete graphics, the battery life of the 16 Plus is perfect. The 86Wh battery can run for almost 10 hours of web browsing and video streaming tests. Its 130W power supply serves as a connector, and you can quickly charge it via the Thunderbolt 4 USB-C port.
The laptop charges from zero percent to complete in less than two hours. And while you can charge with the USB-C charger, it will not charge as fast as it would with the branded 130W barrel charger.
Overall: BUILT TO LAST
Final Verdict
Each year, it is hard to notice the difference between the Inspiron and the XPS laptops. While the Plus 16 is not the same build quality as the Dell XPS 16, getting it still feels like getting a premium laptop for a low price.
This laptop has many unique features:
porthole vents,

a full-sized SD card,

excellent performance,

battery life,

aluminum chassis,

and decent port selection.