5 Steps to Get the Most Cash for a Broken MacBook
Dec 17, 2021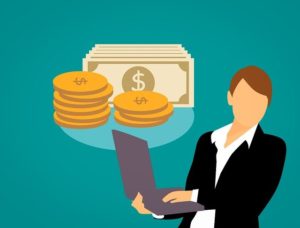 Any time your MacBook breaks you get stressed because these machines are not cheap laptops. So it's easy to assume that you will pay premium for a repair. Just like you pull up to a car shop in a Lexus or Mercedes. You get a special rate for your premium product. But before you stress too much you should try to get an idea what's broken and if it's fixable for a reasonable price. If you spilled a drink on it and it stopped working then your most likely have fried the motherboard and that will be a very costly repair. Also if you broke the screen on a newer Mac then it will cost you a lot to to get it replaced.
Selling and buying a new one instead of fixing gives you a chnac to upgrade as well. You may be thinking of selling your broken MacBook and not have the best clue on how to start. This article will explain how best to prepare your MacBook for sale and the best place to sell it.
Table of contents:
5. How to fix common Mac problems (maybe you won't have to sell it after all).
Know your MacBook
To know how much your broken MacBook is worth, you need to know the type of MacBook you have. The model number is at the bottom of the laptops box or the system itself. It will show you the main specs about the system's storage, color name, RAM, and processor speed.  For instance, if you have a MacBook MJLQ2LL/A, you will see that it has a 256GB drive, a 2.2GHz Core i7 processor, and a 15.4-inch display. You can check the spec page in the Apple tech section to get the details of your MacBook model. Lastly you can search for the model and specs on Everymac.com
Where to sell your MacBook.
When you are sure of the model of your laptop, you have an option of either selling it yourself or trading it in. If you decide to sell it yourself, you can do that online. Here are places you can sell your broken MacBook for parts.
eBay
eBay is the popular e-commerce industry. The notoriety brings a lot of customers constantly. But with it being so recognizable, there is bound to be a massive competitive scene; as well as rules for the site itself.
The first thing to know about selling on eBay is the credentials you will need to start out. You need to obtain a seller rating, as this will encourage potential buyers to buy from you if it is high enough. Another thing to consider is the flooded market: because it has become harder to sell on eBay as the competition has risen.
One of the downsides to selling on eBay is the fees. eBay gets insertion fees for your item, meaning they charge you for listing the item on their website. Your MacBook needs to sell for a particular period as there is no refund on the fees. You will also experience the final value fee if you decide to auction your laptop. This means there is a specific percentage that will be taken out of any profit you make.
Facebook Marketplace
On the surface, this platform is free from all of the websites to sell your used computer parts. There is a lot of transparency involved as you will be dealing with people's Facebook accounts. This platform pays people out with either PayPal, check, or cash. But, when it involves a one-on-one meeting, you need to be extra careful.
With this platform, you do not have to pay selling fees like most platforms. And the chances of selling your damaged computer parts is hugely dependent on the location you are in.
Overall: The Quick Option
Trade It In
Apple
For most of its products, Apple has a trade-in option, and this includes MacBooks. You give the details of your device and get a credit for your next buy or an Apple store gift card. An example of this is if you have a 2016 model 13-inch MacBook Pro with a touch bar, you can get up to $500 for it. And if Apple insists that your old device does not hold value, you can recycle it for free.
You have an option of either mailing your broken MacBook or bringing it directly to a store for recycling or trade-in. However, before you leave home, you can quickly get the quote using Apple's online service. This is to understand how much it is worth and help you decide to go further with the sale and not.
Trading your used MacBook to apple is an option if you intend on applying the device's current value as credit towards your next device upgrade. Apple can offer its value as a credit towards the purchase of another Apple product or as money applied to an Apple gift card.
NOTE: Some devices will not bear any value via Apple's trade-in program at all. For example, Apple will not associate any trade-in value to an old iPod and will simply offer to recycle the old device for free. Though this is environmentally conscious, if you believe the device has value to someone, do not opt to recycle it for free.
Best Buy and Amazon
Platforms like Amazon and BestBuy also do this trade program.
At the moment, BestBuy only accepts mailing your device to their store due to the Covid-19 pandemic.  Amazon takes selling fees for every item you trade in and reimburses you with the credit option of buying something from their store.
Other Platforms
If you would rather take cash instead of store credit, there are websites you can use for selling your MacBook. Gazelle, BuyBackWorld, and ItsWorthMore are all reputable places that pay out money through cash, PayPal, or check.
However, the whole process can be strenuous as you have to wait for your MacBook to be evaluated after shipping. You could get less than excepted if the platform finds out another issue with the laptop.
When Is The Best Time To Sell My Old Macbook For The Highest Price?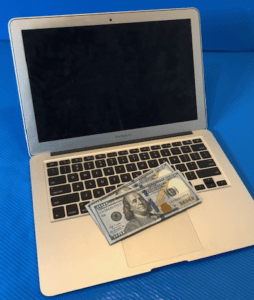 Whether you use a MacBook, MacBook Pro, or MacBook Air, you can be guaranteed that you're going to get a few hundred dollars for it when you sell it.
However, timing is important when selling laptops.
Selling one during Apple's release of a new model won't fetch you as much money compared to when you sell it some time prior.
Before you consider selling, it is important to know what your MacBook is actually worth. Macs are expensive, but as they age, they lose value. If you are hoping to lose just a $100-$200 from the initial price you got your Apple laptop when selling, then be prepare to get disappointed.
If you are using a current model, then you'll be lucky to sell it over half the original price you bought it. Any later than that will definitely have you losing 50-70% of the original price. It normal, laptops lose value every year.
Check eBay to give you a feel of what the market looks like for your MacBook's model.
Don't forget to check Amazon's and Apple's refurbished stores because people are more likely to chose those over a used laptop, especially because of the one-year warranty.
Once you know how much others are selling, then it's time to sell.
There are certain months of the year when used laptops sell more than other months. Here are the times you should watch out for before selling your old MacBook Pro.
When should I sell my old MacBook?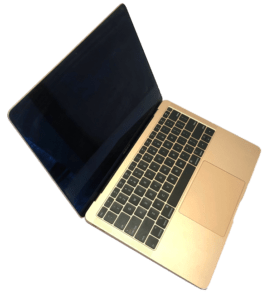 Before it gets outdated
Laptops, in general, have an average lifespan of 3-4 years, laptops with a premium build such as MacBook Pro, MacBook Air, and MacBooks can last up to 6 years.
However, when it comes to laptops, they get outdated pretty fast, and you should sell them off before they get to this stage. I'll advise you to sell your MacBook before it gets to its third year – if you want to get a reasonable price for it. For example, the MacBook Air 2017 can still sell for $600-$700 depending on its condition. But after 2020, it's going to struggle to trade above $500 because Apple has changed its laptop's designs. All previous models become more outdated as the year goes by.
Before you buy a new one
Buying a new Apple laptop isn't a luxury everyone can afford because most times, they cost over a thousand bucks.
If you have an old MacBook and you are looking to get a newer model, then to save cost, it's advisable to sell the old one before buying the new one. This way, instead of breaking the bank to get you a brand new MacBook Pro, you get to add not more than $500 to whatever you sell your old MacBook for.
Late spring through late summer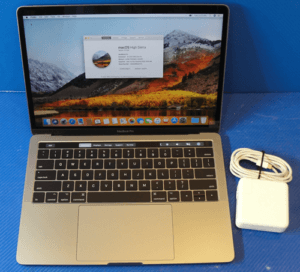 This is one of the best times in the year to sell your old MacBook because, at this period, nothing serious usually happens in the laptop world. Laptop manufacturers don't have new releases, and pretty much nothing is happening.
This gives you the advantage of selling your old MacBook for a very high price. Before you do that, make sure you study the market to see your laptop's current value. This is the period where many laptops will be 'on sale' so it's a very competitive period but also an excellent time to use that competition to your own advantage.
Before a new model is released
For every new model that gets released, your laptop loses more value. That's just the way it works.
This is because newer models are more advanced and usually cost the same as your old laptop did when it was newly released.
Don't wait for more than two new generation releases before you sell your MacBook, that's if you still want a reasonable amount for it.
During Back-to-School sales
This is one of the best periods to trade your laptop because many high school and college students will be looking to get the best deals ever.
Students don't really have a lot to spare when it comes to cash, so they'd always settle for used laptops. With the right pricing, you should sell your computer in less than a week, and for a reasonable amount.
Black Friday
Black Friday is probably the most competitive time to sell your laptop. It holds every late November.
Everyone is in a rush to get the best deals on MacBook laptops, and there will be competition but also a lot of hasty buying.
Wherever you decide to sell, make sure to describe your computer very well and set a good price. That will save you time and hassle of meeting with too many potential buyers.
3. How Much Can You Sell Your MacBook Pro For?
After deciding that you want to sell your laptop, the next question you should be asking yourself is, how much can I sell it for.
The answer to this question has to be answered honestly. Getting the right valuation of your computer is very important, and will help get its value back.
Let's look at the various factors that will determine the value of your Apple laptop.
Model
The Model of your MacBook Pro can help determine the price. This is the first thing you should consider.  The model also highlights the year it was produced.
You can find your Pro's model by selecting 'About This Mac' on the Apple menu on your MacBook.
However, if you don't want to go through the stress of putting on your Mac or it is down due to some reasons, you can check the underside of the laptop or its original packaging for the serial number.
A great resource to check the model online by the serial number is PowerBookMedic.com You will have to enter the serial number to find out the model and specs as well as production year.
Specification
Knowing the major specs of your MacBook Pro, if not all, is very important.
Does it have the latest updates in software? What is the RAM, Processor, storage, battery life? You have to know all this information.
Production
You have to confirm if your laptop's model is still in production, or it has been refurbished. If it has been refurbished, compare the new upgrade to your current Mac and know what your Mac is missing and what it is not.
Condition of your MacBook
The way you use your laptop determines its current state. If you have not been careful enough with your MacBook Pro, then it most likely will have scratches and dents, as the aluminum cases are easy to damage. This will for sure affect the price.
Also, if there is a faulty part that needs fixing, whether it is software related or hardware related, it will reduce the value of the laptop as well.
However, fixing those issues can help increase the price you can sell your MacBook Pro. But you have to be certain that the cost of repair is not more than the value of your device when you want to sell it.
Price
The amount you can get for your laptop has to be relative to the price of a brand-new and second hand Macs available on the market.
Normally, when laptops are put for sale, their specs and state of use are usually specified.
Examples of places where you can find these prices are Apple Trade, Best Buy, eBay. You can compare the specs of these MacBook Pros to the spec as well as the current state of your laptop to determine a reasonable price you can sell it for.
Deliberate on the pricing
After taking all the necessary steps of valuation of your MacBook Pro, ask yourself if you would buy it for that much. This can help check if you are overpricing your laptop or underpricing it.
Now that you know when and where to sell for the best cash value don't forget to reset your laptop. Protect your private data and help the next user by fully unlocking the device.
4. How to reset your Mac before selling it.
To factory restore your MacBook, follow these steps:
Restart your MacBook

While restarting, hold down Command + R until the "macOS Utilities" window pops up.

Once that window appears, click on Disk Utility

Select the main hard drive, which is usually Macintosh HD

Click on the erase button.

Ensure that "Format" is set to "Mac OS Extended (Journaled)", then hit erase.

Once finished, go back to the macOS Utilities window and click Reinstall macOS, once complete, the MacBook is reset and ready for sale/trade-in.
NOTE: Some older versions of macOS will not reset this way. To find out if your version is older and requires different steps to reset, click on the Apple logo in the top left of your display and click "About This Mac". There, you will find what version your MacBook is currently running. Google how to reset that particular version and follow your desired tutorial.
Now your machine is ready to be sold.
But before you sell your broken Macbook better check if you can fix it. Some common problems are easy to fix and can save you hundreds.
How to Fix Common Mac Problems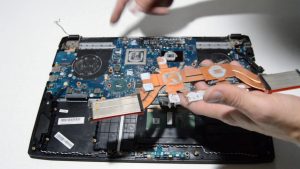 Common problems mean that something is not right with the device (does not start, running slow, or crashes suddenly). While the best Macs are guaranteed to last for years, they are prone to faults eventually. And luckily, this is the right place you can learn to fix your common Mac issues.
App No Longer Works

Your Device Does Not Start

No Internet Connection

Incompatible Login

Spinning Ball

Unresponsive Apps
App No Longer Works
If you notice a particular app on your Mac has stopped working, the latest software could be the issue. In this case, you can reboot your Mac to see if it fixes the problem. And if that does not work, you can uninstall and reinstall the app.  If that does not work either, you should contact tech support. If there is Apple Care+ on your Mac, your device problems can be covered by insurance.
Overall: You can't control the new things.
Your Device Does Not Start
There are several reasons your PC would not start. Let's look at a couple of steps to take that will likely resolve this issue within a few moments.
Hold the power button for about 10 seconds.

Release your hand.

Push the power button again.

Ensure that the power cord is linked to the device no matter what kind of Mac you use.

Check to see if your device starts with just the cable while charging but not on the battery.

If that is the case, then you have discovered the issue.
Overall: Sometimes the simplest solutions are the best. 
No Internet Connection
Our PCs often have issues not connecting to a Wi-Fi network despite other devices connecting without hassle. In this case, here is the best thing to do:
Go to Wi-Fi settings.

Forget the web

Start the reconnection process over again.

Go to "System Preferences".

Click on the "Network" page.

Go to "Advance" to see a list of preferred networks.

There you will see past and present Wi-Fi connections.

Click on your preferred network and click on remove to forget it.
You can now click on the Wi-Fi icon to reconnect to the network, set a password, and that should fix it.
Overall: Connection should never be an issue. 
Incompatible Login
Suppose you have a blue screen as soon as you start up your device. This could mean that one of your apps is not compatible with the current macOS installed. Different tests can help you indicate which app is giving you the issue.
What you want to do is remove the login items one after the other and restart your Mac after each removal to notice whether the issue is gone.
To do that:
Go to your "Users and Groups".

located in the "System Preferences".

Click on your name.

On the right side window, click on "Login Items".

Highlight the app you want to remove from the "Login Item" list.

Restart your Mac to see if the issue has been resolved.
If you are still experiencing the same issue, repeat the process until you find the faulty app. After you find the app, you can add the items to your "Start" menu by selecting the "+" sign and choosing items from the "Applications" folder.
Overall: A complex issue can always be solved. 
Spinning Ball
If you regularly see a spinning beach ball on your screen, here are some ways to diagnose that issue.
You can check it by opening the "Activity Monitor" in the "Utility" folder. This will show your applications' impact on the system resources.
This is where you can see the memory resources and CPU that each application uses.  In this place, you can also stop any app that is using more than its allocated resource. You need to highlight the app in the upper left corner, click on the "X" button, and quit.
Overall: Finally, you will know why it spins. 
Unresponsive Apps
When apps freeze on your device, it stops any action that might be taking place on your laptop and stalls productivity. This means you can't even quit if you want to. In this case, you can force quit and access that from the Apple logo on the upper left side. Alternatively, you can also click on "Command", "Option" and "Escape". You can either choose an app or select multiple at once by holding down the "Control" keys with one hand and using the other to make your selections.
Overall: Don't panic, the solution is simple. 
Conclusion
We hope that these tips can help you give maintenance when you're in a tough spot. Even though, there are multiple issues that can happen at any time, we wanted to look at the most common ones that you are likely to face. Good luck with your Macs. Hopefully, they last longer with these tips!
And if they don't help you fix your laptop then use our guide about getting the best cash value for a broken one.