Microsoft Surface Pro 8: Finally, Useful Upgrades
Nov 09, 2021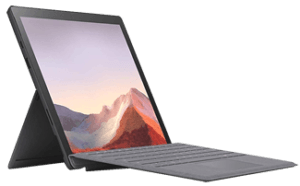 The Surface Pro 8 is one of the best 2-in-1 tablets on the market. It is a compact laptop that folds like a tablet. Whether in tablet or standard mode, this device is good at both. Unlike most 2-in-1 convertibles, this device has an onboard fan—meaning you will not throttle your processor.
It has an Intel i7 processor and runs on Windows. Which means that you are no longer confined to mobile apps. Instead, you get to have high productive apps programmed for this laptop. Unlike the Dell XPS or the HP Spectre, this device does not have a keyboard that folds around. Instead, the keyboard fully detaches, and you have a thin, light tablet with slim bezels and a lovely design.
But is this 2-in-1 worth your time and money? If so you can sell laptop that you currently have to us for cash and purchase the Microsoft Surface Pro 8.Let's take a closer look at it.
Design
What Makes it Work
The device does not come with a keyboard, and you have to buy that separately. The keyboard comes with a Slim Pen Two that magnetically snaps onto the device. Magnets are a huge deal in this device. From holding the pen in place, or holding the keyboard onto the device.
On the left side:
 there is the headphone jack,

a volume control.
On the right side:
two thunderbolts

four ports

a power button

two USB-c ports

a proprietary plug

that looks like an SD card slot.
At the back, there is a camera and a microphone on the top and a kickstand at the bottom.
There is nothing on top except the speaker and the fan.
Overall: A NICE SPREAD
Display
What Makes it Work
The 120Hz, 13-inch display is larger than the Surface Pro 7, and it has slim bezels all the way around. So whether you are in a bright environment or indoors, there won't be a problem. It comes with a glossy finish instead of a matte finish, but you can easily use it in direct light.
The bezels on the each side are probably as slim as you can get while having room to hold it with your thumbs not touching the screen. The bezels on the bottom have no problem either. As soon as you snap it onto the keyboard and flip it up into the angle, it covers the bezel.
Overall: A CLASSY LOOK
Keyboard and Slim Pen
What Makes it Work
Several detachable keyboards have mushy keys or sit well on the table. But one of the selling points in this device is its keyboard. There is some flex there, but it has excellent angles. There is backlighting on the keys, with good travel, and it feels premium. Additionally, it houses the slim pen.
The slim pen is satisfying to use, and it also works as a mouse. Although, I wish it were made of aluminum or something a bit more premium than loose tolerance plastic. Overall, it is a suitable device. The pen has a Haptic motor, which gives you more feedback when using it.
Overall: A NICE UPGRADE
Performance
What Makes it Work
This device has 256GB of storage, an Intel i7, and an 11th gen G series processor. These specs are probably the most powerful you will get in a mobile device like this. It also has 16 GB of RAM, which will allow you to do some photo editing seamlessly and a little video editing. But it is not going to be a total workhorse due to its size.
A device of this size is powerful enough for any task you throw at it. It is more powerful than most 2-in-1 devices in the market.
Overall: STRONGER THAN THE REST
Battery Life
What it's Lacking
Because of the nature of the devices compact design, there were some compromises. If you want a slim device with a powerful processor and a 120hz display, you will have to compromise battery life. The battery life is not the best, and you will be getting approximately seven or eight hours of heavy usage with the Surface Pro 8.
Overall: Missing some energy
Final Verdict
This device is interesting because it is excellent for people who love versatility. It could work as a full-blown laptop and compete with the best laptops in the market. Its superb display, comfortable keyboard and compact design are all standouts. And at the same time, it is very detachable, very functional as a standalone tablet.
The significant compromise on this laptop is the high price and the fact that it does not come with a keyboard. You could decide to use a Bluetooth or onscreen keyboard, but you will be missing out if you don't use the slim, Microsoft signature keyboard that comes with the Slim Pen.
Should you Buy it?
For its small short comings, the Microsoft Surface Pro 8 is such an impressive machine. If you are looking for a 2-in-1 for yourself, make it this laptop/tablet hybrid.
For more news on the latest tech, or replacing your old tech, visit sellbroke.com.