Let Us Know About Your Drone
Please send us a short message at: sellbroke@gmail.com about the drone you want to sell.
Let us know the model and condition. Additionally we need to know what's included in the sale with the drone: controller, battery(s), charger, carrying case and accessories.
If your drone is broken in any way please describe its condition best to your knowledge. Sometimes telling us about the crash helps us imagine what to expect. If you want to send us pictures please email us directly at info@sellbroke.com
We buy all major brands of drones: DJI, Yuneec, Blade, Parrot, Autel Robotics, GoPro and more.
If you're looking to sell a drone that's not listed here please send us a message and we will let you know if we can buy it. We don't buy toy drones though.
Fast Service and Free Shipping
If you like our offer and want to sell us your drone we will send you a prepaid shipping label for FedEx or UPS.
Being honest and accurate about your drones condition is important. That makes every transaction fast and hassle free.
We perfected recycling electronics over the years of our operation. We make selling drones quick and easy.
Want to sell a broken drone and other broken electronics for cash? No problem!
Please send us a short message at: sellbroke@gmail.com about the drone you want to sell.
Let us know the model and condition. Additionally we need to know what's included in the sale with the drone: controller, battery(s), charger, carrying case and accessories.
If your drone is broken in any way please describe its condition best to your knowledge. Sometimes telling us about the crash helps us imagine what to expect. If you want to send us pictures please email us directly at info@sellbroke.com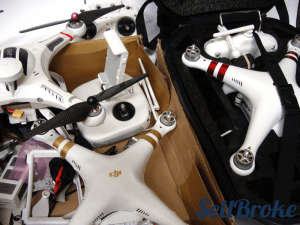 Here's why SellBroke is the best company to sell broken drones to:
We pay top dollar for used and broken drones, and other broken electronic gadgets. Other companies pay as little as possible for broken drones. We pay at least the actual market value of the salvageable components. It is our mission to create a customer-friendly place that's not driven by greed where people can recycle broken electronic gadgets and be happy with their experience.

We strive to satisfy your needs and make sure that you'll come back. We make customers for life.

You can sell us your broken drone and use the money to buy a new one. Get quick cash for your broken drone, or other broken electronic device!

Our online quotes are very precise broken or good drones and other devices.

The process of selling broken drones and other broken electronics to us is extremely safe and easy. We've perfected our routine over the years to deliver the most convenient way to sell broken drones quickly.

We value your time and our service is fast! You're ready to ship instantly after submitting an order on the website. As soon as we receive your device, we process it and pay you the same day with a PayPal transfer or check in the mail.

Free shipping. Every time you sell us your broken drone, broken iPhone, broken laptop, or broken smartphone we pay for safe, easy shipping via FedEx or UPS. We e-mail you a pre-paid shipping label, you just box up your items to sell us and drop the box off at the nearest UPS store. You don't need to spend a dime on shipping services! We stopped sending empty boxes in 2015 due to our continued desire to reduce waste and trash. Thanks to the change, we offer even more money for broken drones and electronics and our turnaround time is cut in half.

Most importantly, our desire to recycle electronics is driven by our mission to protect the natural environment by reducing e-waste. We make sure that all of the good parts from broken drones and electronics that we process will be reused. Any of the unusable parts are recycled in the best possible manner.

Being a family-owned company, we pride ourselves on providing honest business practices.

We focus on customer satisfaction. Since the beginning of our operation, we maintain great customer ratings with companies such as the BBB and are available via social media services. Sell us your broken drone today and help us build a better future of online trading.
We know why you want to sell a broken drone? We offer top cash for broken drones!
Yeah, we know how it goes. You were out on vacation trying to get all the perfect aerial shots of your deserted beach location. You thought you had it all… the perfect day, the perfect scenery, the perfect vacation. What you didn't take into account was the sporadic gusts of wind on the beach and your precious drone bit the dust….again. Have no fear, there are worse things to happen.

Everyone crashes their drones. It's part of ownership but eventually you get tired of replacing parts for an aging drone. Fortunately, and unfortunately, drones, like all other electronics are advancing quickly. The problem with such fast advancement of electronics is it gets expensive to keep up with all of the new technologies, and who wants to keep up with the prices of older equipment when you can just buy new again and be up to date? Who doesn't want the best drone on the current market

We at SellBroke have a solution. You can sell us your drone whether it is broken or simply aging. We will provide a competitive price for your drone based upon model, age of the drone and functionality. When it comes to selling us your drone and other electronics we take your desires into account and do all the research for you to come up with an agreeable and competitive price.

To sell us your damaged or old drone simply take pictures of it and describe all repairs that have been made in the past along with any current problems. Be sure to add as much information about it as possible in your email to us (with pictures attached). The most important information would be the make and model and of course the discrepancies.
Ready to Sell us a Broken Drone? Sell it here.
Sell Broken Laptop
|
Sell Broken MacBook
|
Sell Broken Tablet
|
Sell Broken iPhone
|