MSI GE76: Fastest Gaming Laptop In 2021
Jul 09, 2021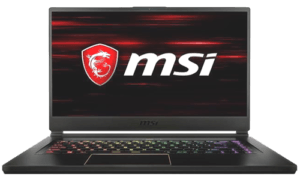 It is not exactly news that RGB gets a laptop faster. This can be seen especially in the MSI GE76 gaming laptop. Even though it has the GeForce Nvidia RTX 3080 GPU set at a blazing 155 watts and 8-core Core i7-10870H CPU, the RGB really did the work.
The GE76 is one of the premium gaming laptops to function with the WIFI 6. Despite its high-wattage GPU and price, the MSI is really a laptop that is worth the hype. It is a powerhouse that accepts whatever huge workload you throw at it.
Design
The GE76 is a powerful and heavy standard MSI laptop. It comes in an entire aluminum chassis but a plastic-covered rear vent and hinges. In the middle of the computer, you will see the MSI logo of a dragon. This signature dragon logo is also carved at the bottom of the laptop.
Measuring at 15.75 by 11.5 by 1.1 inches while weighing 6.6 pounds, the MSI looks very solid and rugged, and can fit into an average backpack. 280-watt power adapter adds 4.4lbs to the package. It has excellent temperature when in use, which is unusual for most gaming laptops. It works smoothly regardless of how high the resolution of the video game is or how heavy.
Display
The MSI GE76 has a display of 17.3- inch, and a pixel display of 1920 x 1080. The brightness was tested at around 270 nits when the screen was set to the Nvidia Optimus. And when it was set to its optional discrete graphics mode, the laptop brightness came to around 200 nits.
It also comes with a 16:9 AU Optronics panel and has a refresh rate of 300Hz, and this an improvement over most laptops with a refresh rate of 144Hz.
Performance
The MSI GE76 comes with an Nvidia GeForce RTX 3080 and an Intel Core i7- 10870H. It is a super power-packed gaming laptop, and even when you through the highest resolution, it will work smoothly. Aside from using it as a gaming laptop, you can also use the MSI GE76 as a regular laptop. This is due to the fantastic CPU performance and the considerable amount of RAM that comes with it.  No matter how many tabs you open, the 32GB of RAM and 1TB NVMe SSD that comes with this powerhouse will let it function effectively
It works perfectly for video editing and graphic design. With the mobile RTX 3080, CUDA enabler and the NVENC decoder, video editing will happen seamlessly.
Keyboard and touchpad
The MSI GE76 comes with a backlit per-key keyboard like most gaming laptops. And a numeric keypad of 10, which looks like a telephone layout rather than a calculators'. It is one of the most comfortable and responsive keyboards in a gaming laptop, but it does not bounce back when typing. This keyboard, however, functions individually in RGB lighting.
The trackpad supports Microsoft precision drivers; it has a metallic touch, which is very well placed.
Connectivity
Due to this build and weight, there was no spare in the ports available. On the left side of the laptop, there is a USB-A 10Gbps, an analogue jack and a USB-C 10Gbps. And on the right side, there is a UHS-II SD card and two USB-A 5Gbps. On the back, there is a USB-C 10Gbps with DisplayPort support, a Mini Display port, ethernet, charging port and a full-sized HDMI.
Battery
For a gaming PC, the MSI  has impressive battery life. When set at a battery-friendly performance level, the GE76 ran for hours. Its 99.9- watt-hour battery runs for up to 7 hours on average use, such as video playback. While most people plug their laptops during use while playing games, the GE76 can run on at most two hours without charging.
Final Verdict
Different laptops come with the Nvidia's mobile GeForce RTX 3080, but the MSI GE76 is not your regular gaming laptop. You can sell laptops that you don't like to us for cash and pick up your dream machine. Suppose you overlook the average noise that comes with it. In that case, you will be getting a laptop with an exceptional and smooth gaming experience- with the RGD, Wi-Fi 6E and 1080p webcam.
It is everything you would love in a gaming laptop, and aside from its super-fast CPU, you also get fast transfer speeds and great audio. So if you want a gaming laptop with good battery life, fast performance and solid look, the MSI GE76 is for you.