Gigabyte Aero 15: Best Travel Laptop for All Your Needs
Jul 06, 2021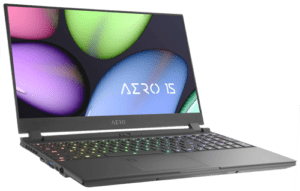 The Aero 15 looks unique and of high quality and is light despite its newly placed hardware. This laptop gives a great deal of performance that most people do not utilize properly. With a 4K OLED display, the Aero 15 functions super for multimedia playback.  This laptop comes with an 11th Gen intel core H-series processor. You also get a thunderbolt port and two SD card readers, making it functional for typing and multimedia playback.
Design
The Aero 15 comes in an aluminum chassis, but you will see the Aero logo on top of the lid. It creates a premium impression at first glance. With a cover that can be lifted swiftly without stress, this laptop does not seem to have a problem concerning the design. Although, under the screen, the webcam cover looks like a subpar quality. The Aero 15 is a small laptop, unlike most of the laptops in its class.
The ports on the Aero 15 are distributed evenly, giving spaces between them. On the left side, you get an HDMI 2.1 port, USB Type-A 3.2 Gen. 1, combined 3.5 mm audio jack,2.5 Gb/s LAN, and a Mini DisplayPort 1.4. on the right side, you get the USB-C Thunderbolt 3. This comes with a power delivery and display port, power supply SD card reader and a built-in SSD card reader that can accommodate average-sized SSDs. This gives you about three external displays, and unlike most AMD laptops, this Aero 15 comes with a thunderbolt 3 port.
Display
The Aero 15 comes with a 4k OLED panel and a resolution of 3840x2160 pixels. The 15.6-inch screen does not disappoint, especially when it comes to multimedia playbacks. Because of the HDR400 certification that comes with the OLED display of this laptop, it reproduces high-quality images in different brightness levels. This OLED display, however, does not have screen bleeding despite the original technology.
According to measurements, the impressive panel comes with a 95 per cent brightness distribution of about 450 cd/m². The Aero 15 has color accuracy and the power needed for high-resolution video and color accuracy.
Performance
The Aero 15 is a high-speed performance laptop. It is a GeForce RTX 3070 laptop with an Intel Core i7-10870H and an NVMe SSD. In a dual-channel mode, it has 32 GB of DDR4-3200 RAM. This gives it a good performance level. So, whether it is school work, office tasks, video editing etc., there is no slowing down. Everything you do on the laptop gives you a fast response. Hence, it is great for content creators; its PCIe Gen 4 storage will create efficiency in workflow and get more done in little time.
Keyboard and Touchpad
The Aero 15 has an organized look at first sighting; the keyboard has a long numpad on the top of the laptop, allowing space for normal-sized keys. It makes typing significantly longer texts pretty smooth. It has individual keyboard lighting thanks to RGB, so it is easy to type in extremely low light conditions. The downside to the keyboard is the slow key travel and resistance. But it is seemingly quiet when in use.
The touchpad of the Aero 15 is plastic, and it is small compared to most laptops. It has a fingerprint scanner on it, making it harder to use. The laptop comes at a 10.5 x 7 cm size. The Aero 15 touchpad glides nicely and delivers smooth precision. Unlike the keypads, the integrated mouse buttons give a good review and a great feel on the hand.
Battery
The Aero 15 comes with a 9.9Wh battery.  When tested on normal video playback and browsing at 150 cd/m² brightness, it ran for about 7 hours. Although it will run for lower under higher performance. You do not need to carry a charger all around as it will last you all day with average use.
Final Verdict
Gigabyte laptops are excellent choice when you consider their performance and display. You can be guaranteed to get fast processing time, and thanks to the 4K OLED, a great display. However, the keyboard is the downside to this laptop, as this could make typing a chore. The touchpad, on the other hand, compensated well for it. If you like it you can sell laptop that you have had for a while and upgrade to the newest Gigabyte machine.
Due to its fast processing speed, stability and power, and many ports in this beautiful chassis, creative professionals should look towards this masterpiece.