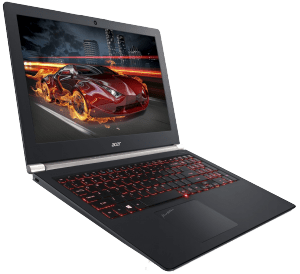 Although it falls short with storage, Acer's Nitro 5 latest edition is the best budget gaming laptop. It delivers great 1080p gameplay for below $700. The Nitro 5 series offers 15-inch and 17-inch models powered by Intel and AMD processors and an RTX or GeForce GTX graphics chip.
The Acer Nitro 5 is a laptop that students would love to own as it weighs in at 5.07 pounds, which is light enough to move around with. It also has thick dimensions which makes it sturdy enough. It has a 14.3 x 1.02 x 10-inch dimension. The Nitro 5 comes with attractive features that you would not find in many budget laptops before now. Features like the 144Hz IPS 1080p display makes it a decent gaming laptop for below $1000.
This budget gaming laptop ticks all the boxes you want for a portable gaming laptop. It is budget-friendly and can handle demanding games. The Nitro 5 offers more value for less. It has the 8th Gen Intel core CPU and a dual-cooling system, and a keyboard that is comfortable enough to have you playing games for hours.
Combining the good specs level, low price, and nice features, it is only right to say this might be the best value gaming laptop out there. Yes, there were some sacrifices made but it doesn't affect the general performance of the laptop, especially for the price tag.
Build And Design
When it comes to feel and look, the Nitro 5 has room for improvement. It is not all bad as there are things in the design that we appreciate. The subtle gamer look, red trimmings on the keyboard, touchpad, backlight, and bar at the top rear area features we like in the design.
Also, it has a secure and sturdy hinge and the right amount of ports. The keyboard is quite comfortable and the cooling system is user-friendly.
On the downside, the cheap plastic on the screen lid is not the best. Also, the top cover tracks fingerprints, while the bezels on the screen are about an inch. The modeling of the touchpad could also be better.
Display
The 1080p display is clear and sharp but it is still quite dark even at the brightest setting. It also has bezels than expected. The 1920 x 1080 pixel full HD screen is surrounded by medium-thin bezels. The white backgrounds are a little off-white, and the colors do not pop but are well saturated and averagely vivid. The refresh rate is set at 60Hz.
The brightness level peaks at 300 nits, which is only fairly bright and better suited for dark rooms than a bright environment.
Keyboard and Touchpad
For the keyboard, you get responsive keys that do not make noise when pressed and as well not mushy. The typing is quite comfortable. The symbols are red, and it is backlit, but this is only functional when the laptop is plugged in. The keys are difficult to see in darkness. There are no lags with the keyboard and it delivers well for both gaming and typing.
We were not impressed with the touchpad, as it falls well below standard. The touchpad travels a lot and it is quite stiff which means it has to be pressed hard for you to get anything done and this stresses the fingers.
It is better to switch to an external mouse when using the Acer.
Performance
As this is a budget gaming laptop, it is normal to expect limitations. The storage has been one major one, as it comes with 256GB SSD. It features an AMD processor, the Ryzen 5 4600H CPU, and Nvidia's GeForce GTX 1650 graphics chip. The graphics chip is low-end as it is from previous generations of graphics chips from Nvidia. It doesn't have support for real-time tracing like the current Nvidia GPUs.
The performance can be accommodated by budget gamers as it still delivers for demanding games at lower settings. The experience might not be as satisfying as a high-end gaming laptop but it will look good.
Battery Life
This is where the Nitro 5 pulls a shocker as it has a battery life that is so good for a budget gaming laptop. Generally, gaming laptops are not so good for battery life. The Nitro 5 almost clocks 4 hours of battery life at 50% brightness of gaming.
The Nitro 5 has a good battery life to play the games you will be needing it for. If you need more battery life you can trade in laptop for cash with us and get an ultrabook.
Final Verdict
The Nitro 5 might not deliver what you want at the level you want it as a gamer, however, you have to admit that this is a budget gaming laptop and it delivers decently well for its price tag of $800.
If what you want is a hardcore gaming laptop, it is advised that you look elsewhere. However, if you are ready to compromise to save money, the Nitro 5 is a good option.