Anker Soundcore Liberty Air 2: A New EarBud King?
Jan 21, 2021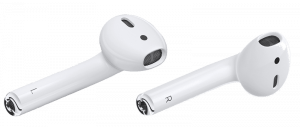 There's no denying that the Apple AirPods are a nice pair of wireless earbuds, perhaps the standard even. But at $250 they're pretty expensive and not everybody wants to spend that kind of money. If you want an affordable alternative to the Airpod Pro, then the Anker Soundcore will definitely impress you. That's right, these bad boys go for only $70 and just might be what you need.
So, let's break down all the aspects of the Anker Soundcore Liberty Air 2, we'll see what you can get in return for your money and help you decide if this is the right pair of earbuds for you.
Let's dive in.
Pros
Stylish look and shape

Great comfort and fit

Solid bass sound

Great battery life

Nice carrying case

Supports wireless charging

Inexpensive

IP X5 certified
Cons
Gimmicky companion app

No active noise cancellation

Bad onboard microphones

Spotty touch-sensitive controls

Rough mid-range sound
Design
Like most wireless earbuds, the Anker Soundcore Liberty Air 2 come in a clamshell-style charging case that is about the size of an AirPod case and easily slips into your pocket. The case's lid has a bit of a magnetic assistance to close and spring assistance to open which is pretty cool and makes the lid incredibly easy to snap open and close. Also, thanks to this system, the lid never flaps around on its own or falls open, keeping your earbuds safe and secure.
One of the main features I love about these earbuds is that the case supports wireless charging. This feature is hard to come by in low-priced earbuds but it is available in the Anker Soundcore Liberty Air 2. So, you can just toss your earbuds onto a charging pad, without worrying about cables at all, and grab it when it's time for use. However, just in case, the case can also be charged directly via USB Type-C with a port present on its underside.
Features
As for the Air 2 earbuds themselves, they look absolutely swanky. They have sleek curves and smooth lines, and their matte black finish helps to hide smudges from oils or fingerprints so they always look more or less amazing. The orange splashes at the end of the arms and under the silicone ear-tips add to their design.
The Air 2 also have programmable touch controls which also provide volume controls on the buds themselves which is one up on the AirPods. They're also light and comfortable to use for extended periods.
The Anker Soundcore Liberty Air 2 also beat the AirPods when it comes to battery life. Where the AirPods can last for 5 hours at a time, the Liberty Air 2 can deliver up to 7 hours of playtime. As the case can also be used to recharge the earbuds for up to three times, that gives you a whopping 28 hours of battery power on-the-go.
Audio
The Anker Soundcore Liberty Air 2 sounds decent too. The bass is punchy and they're reasonably open-sounding.
Overall, I'd say the Liberty Air 2 is brighter sounding than the AirPods Pro. Although with some songs they sounded miles better than the AirPods Pro, and with others they sounded the same or even worse.
When it comes to call quality the Air 2 really shines and you'll be impressed. Even when making calls in a noisy street, the performance and sound quality was quite impressive and you'll hear almost no background noise.
Performance
The Anker Soundcore Liberty Air 2 comes with a companion app available for both iOS and Android and it is actually pretty useful. With a little tweaking on the app, you could customize your sound output and the results are quite pleasing.
You can always use the HearID feature in the Soundcore's companion app which puts you through a hearing test and the sound you hear is personalized based on the test. Although I'm not too sure how well it works, it's worth mentioning.
However, I noticed the earbuds have little bit of treble push and the mid-range is a little forward, but the punchy bass makes up for this.
Also, as impressive as the touch controls are, thanks to programmability using the companion app, things might get a little irritating as they tend not to work unless you tap at the exact right place on the earbuds. This might take some getting used to.
The IPX5 rating of the Liberty Air 2 mean they can withstand a sustained spray of water but they're not fully waterproof. In other words, they're great for work outs and exercises but will not survive a dip in the pool.
My biggest problem with the Liberty Air 2, however, is the lack of active noise cancellation although it does have a noise-isolating design.
Final Verdict
Bottom line, at 40% the price of AirPods, the Liberty Air 2 delivers attractive AirPod styling plus most of the features found in AirPods. You can trade in electronic devices with us if you don't like them.
For most people not interested in spending $250 on a pair of earbuds, these little babies are easily on of the best alternatives. I say it's definitely worth giving Anker Soundcore Liberty Air 2 a look.