Lenovo Yoga C940
Aug 10, 2020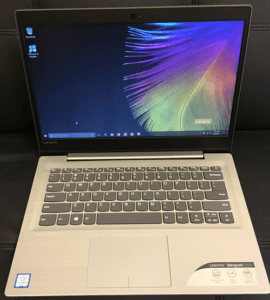 The Model Lenovo Yoga C940 is a hybrid computer with ultra-portable, 2-in-1 characteristics and larger screens and quicker desktop substitute laptop performance. The compact body makes it lightweight more than older 15.6-inch notebooks. It is much lighter in your lap and pocket because it's roughly 2 kg (4.4 pounds).
Pros
•
Slim, premium design
• Beautiful 4K display
• Fast performance
• Backlit Keyboard.
• 180⁰ screen rotation
Cons
• The stylus is difficult to remove
• No SD slot
• No HDMI
• Absence of an ethernet port
• RAM is not Upgradeable
Design
However, with its larger display, more space is available than with a small 2-in-1 like other 13.3-inch laptops. Still, the simplicity of size is not being sacrificed. Also, the six-core C940 processor packed with discrete graphics allows you to do stuff you just wouldn't be able to do with smaller variants.
The Lenovo C940 also comes with two Thunderbolt-3 ports and a single USB-A port, which definitely means you'll have to purchase an adapter if you would like to use an external display. In this era of technology, it is actually disappointing that there's no HDMI or SD card slot.
Lenovo C940 is ideal for full-time use. Another useful feature of the Lenovo C940 is the backlit integration keyboard has to make touch-typing and typing in low light environments comfortable. The C940 keyboard has media controls and a number pad too. The touchpad is smooth and responsive even to light touches.
Performance
The C940 comes with a combination of a six-core processor and high-end graphics. Features programmed to meet the heavy workload demands like handling media production tasks like photo and video editing. Lenovo C940 has its fun side. The C940 is capable of gaming at medium to high settings depending on the game you're playing. If you're a big gamer, then I'll advise you to get the model with a larger RAM. The reason being that the RAM is soldered on and can't be upgraded at will.
The C940 didn't disappoint when it came to battery life. It actually lasted longer than I expected. I got an approximate of roughly 10hrs while streaming videos. With basic use, I recorded about 6 to 7 hours of use. As always, your battery life is dependent on your usage pattern, i.e., it will vary depending on what you're doing with your laptop at the moment. For high power consumption tasks like gaming, you'll definitely have to be plugged in. The Lenovo C940 also comes with a Quick Charge feature that can be turned on by you to get the battery charged up to 80 percent in an hour.
The C940 stylus is nothing out of the ordinary, except that when not in use. Its slot is located at the rear of the laptop. This convenient and well-thought feature should prevent you from losing or damaging the pen in the long run. Also, removing the stylus out of its garage can be a pain for folks without long fingernails.
Final verdict
After all that's been said, my take on this is that Lenovo C940 is an excellent fit for students, business people, and content creators. It is packed with impressive features. Despite the shortcomings, it's still makes a great choice. You can trade in laptop online with us and purchase the new Yoga if you like it.