Dell Alienware Area 51M Review: Is It Worth It?
Jun 22, 2020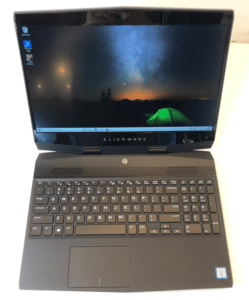 Starting at $2549 and weighing 4.76kg, the Alienware Area 51M does not care about you, your back, your ears, or even your flimsy opinions. All it cares about is insane gaming performance. However, can a laptop, albeit one as awesome as the Area 51M, tangle with a built gaming desktop? Is the Area 51M any good? What's under the Area 51M's hood? Superb engineering, alien technology, or maybe just plain old magic? Let's find out.
Pros
Upgradeable CPU and GPU

Stunning aesthetic

Top-notch graphics

Desktop-level performance

High refresh rate screen

Lightning-fast SSDs
Cons
Exorbitantly expensive

Bulky

Requires two power bricks

4K display option unavailable
Design
With an average price of $4500, the Area 51M is one serious piece of tech and it feels like it too. It's best to think of the Area 51M as less of a laptop or mobile computer and more of a "portable desktop". This is because this beast of a machine weighs more than 4kg but measures 4.32 centimeters at its thickest point- probably the slimmest design from Alienware. It has dimensions of 410 x 43.18 x 402.6 mm, humble numbers for an Alienware gaming laptop.
The Area 51M sports silky smooth finishes, rounded corners, and the majority of its chassis constructed from a magnesium alloy in a color Dell calls "Dark Side Of The Moon". The soft-touch finish, although sexy as heck, is resistant to even the oiliest of fingerprints.
The overall design is not your conventional Alienware design but it's a welcome change, putting the focus on the Area 51M's lovely display. The gaming laptop also sports Alienware's signature logo near the top of the lid. In the bottom left corner of this bad boy, the word A51 is spelled out in rather large, embossed letters.
The back of the 51M is vented with customizable LED lighting, showing off a beautiful honeycomb pattern. The internal design of the Area 51M is more familiar to Alienware enthusiasts, with the keyboard deck and palm rest coated and the keyboard, touchpad, and macro keys glowing expectantly.
This gaming laptop (desktop?) comes with quite an assortment of specs. From a CPU of 3.6GHz Intel Core i9 (8-core, 16MB cache, up to 5.0GHz) to an Nvidia GeForce RTX 2080 (8GB GDDR6); Intel UHD Graphics 630 GPU, the Area 51M is easily one of the top 5 gaming laptops on the market. Also, with 32GB DDR4 (2,400MHz) of RAM, 2 x 512GB RAID 0 SSD (PCIe), 1TB SSHD of internal storage, Alienware is obviously not messing around.
The Alienware Area 51M features a host of ports, including 3x USB 3.1 Gen2, a Thunderbolt 3 (USB-C), an Alienware Graphics Amplifier, mini DisplayPort, HDMI-out, Gigabit Ethernet, a Mic jack and a headphone jack. There is also Killer 1650X 802.11ac Wi-Fi and Bluetooth 5.0 for superfast wireless connections with the 51M.
Display
The 17-inch gaming laptop has a Full HD (1,920 x 1,080p) IPS, 144Hz, G-Sync display which is, for lack of a better word, extraordinary. With surprisingly thin bezels for a computer of this kind, the display is crisp, bright, and really good.
The Tobii Eye Tracking sensor beneath the display is also a big plus and will definitely come in handy for supported games. The high refresh rate of the screen, in conjunction with that superfast GPU, will have you hitting 144 fps on almost every game, making sure you're getting all the maximum use of the arsenal of weapons in this Alien's spaceship.
Performance
I'm sure you're thinking the Alienware Area 51M is probably too good to be true, and you may be right. Although the laptop handles more than awesomely, there a few trade-offs.
In the power department, the Area 51M makes everything work but requires two massive 330W and 180W power bricks to feed the beast. However, plugging in just the 330W adapter will keep the laptop running but will not charge the battery. The battery is also a little less than average and will provide screentime of about 2 hours.
The hardware of the laptop, although pretty slick, has some flaws. With trackpad that is straight-up trash, the only saving grace is that the other main input, the keyboard, is absolutely divine. The speakers also deliver great sound with clear voices and deep basses, you could enjoy gaming without using headphones.
Herein lies the biggest problem with the Area 51Ms- the noise. With desktop-grade specs and that high refresh screen, it's no surprise that the laptop can get incredibly hot sometimes and Alienware thought of that. The two massive fans inside the computer help to dissipate heat and prevent your laptop from a meltdown but can get pretty loud while doing their job. This can get pretty annoying and sometimes downright disgusting.
Final Verdict
The Alienware Area 51M is an awesome computer, not as a laptop maybe, but as a desktop replacement, and I believe that's what Dell was going for.
Here's the $4500 laptop trade question then, should you buy the Area 51M? Well, honestly if it was my $4500, as much as I think the Area 51M is pretty cool, I'd just get a desktop and a Surface laptop. However, if you're someone who is always on the go, or who has no space for a desktop, and who has bucketloads of cash to throw down, the Area 51M is going to make you feel like a badass every time you open it up.