Lenovo ThinkPad X1 Extreme Gen 2 Review
Jun 08, 2020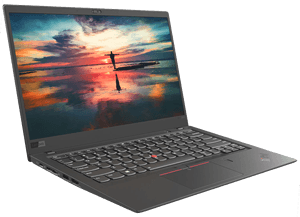 The ThinkPad X1 Extreme Gen 2 is a slight upgrade from its predecessor, the ThinkPad X1 Extreme. This is what I'd love to call an all-round laptop because it can do basically every bit of most jobs like content creation, gaming, and everyday work. The design is beautiful, there's also a slight boost in performance, and you also get several display options to choose from. No wonder it's a top pick by laptop trader.
Pros
·
Very upgradeable
·
A full array of ports
·
High performing
·
Anti-glare
·
Good thermals
Cons
·
Not touch-enabled
·
Attracts finger prints
Design
I love the design of this laptop because this year, instead of the matte black finish, they used a black carbon fiber finish. This gives the laptop a sleek and refined look. The only problem with this exterior build is it attracts fingerprints, and you'll need to clean it more often.
It has an array of ports that solves all your connectivity needs. Coming with two thunderbolt ports, an HDMI port, ethernet, two USB A ports, a smartcard reader port, SD card reader, and a Kensington lock. These ports are all you can ask for in a notebook.
This year's webcam comes with a shutter for enhanced privacy, so there's no need to use tape. The fingerprint sensor has been upgraded and is easier to configure, and it responds faster.
The keyboard is good enough. It has a nice travel, well-spaced concave keys, and is backlit. It great for typing and feels comfortable when in use.
The speakers in this model didn't impress me. However, they are still a decent set. If you are conscious about sound quality, then consider getting a headphone.
Display
The Lenovo ThinkPad Extreme Gen 2 comes with a 15-inch screen and a selection of screen resolutions to choose from. You have the 1080p full HD, OLED, and 4K IPS screens to choose from. However, you should note that the higher the resolution, the lesser the battery life. The full HD screen can give you up to 9-10 hours of battery life, the 4K IPS will get you through roughly 7 hours of use, and the OLED is somewhere around 4-5 hours.
Overall, they are all amazing display options and will come in handy for creatives and gamers. The screen also has an impressive anti-glare feature, which gives you a better viewing experience from any angle. Also, with 403 nits of brightness, you can use the ThinkPad Extreme Gen 2 comfortably outdoors or under well-lit environments.
There is a shocker, though, as this version isn't touch-enabled. If that's something you must have on a laptop, then look elsewhere.
Performance
It is high performing and is equipped with Intel's core i5, i7, and i9 processors. The i7, for me, is the best performing processor with the best thermals.
Graphics capability in this laptop is impressive as it is powered by a 4GB Nvidia 1650 Max Q GPU. This gets all your graphic designing, rendering, and video editing jobs are done easily. It's also suitable for gamers, and at 1080p display, you'll be able to play games like Fortnite and Far Cry at impressive refresh rates.
Another thing I really like and appreciate about this laptop is that it is totally upgradeable. The RAMs, SSD, and Wi-Fi cards can all be upgraded to what suits you.
Final Verdict
Overall, the Lenovo ThinkPad is worth every penny. It's a laptop for everybody. Whatever you do, you'll find it capable of meeting your work needs efficiently.