Origin Apollo Tesla: Fastest Gaming Laptop on Wheels
May 27, 2020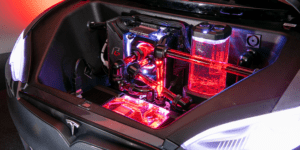 Origin Apollo Tesla S is a ridable gaming toy car made for children from a radio flyer. It has a fully functioning high powered control processing unit in the front bonnet. It is capable of moving at a top speed of little under 6 miles per hour; Tesla S has a remote control system that can shut down and also restart the gaming PC. The Origin Apollo Tesla is a toy car gaming PC designed for children between the age of 3-8 with a maximum weight of 37kg. It is not an adult vehicle because it is a small replication of the original Tesla S model.
Let's get into the details of the Apollo Tesla S gaming PC.
Firstly, as a precaution, the manufacturer warns that the gaming PC should only be driven by children. Adults should be there to supervise them to avoid slamming or crashing the PC to protect the hardware inside the vehicle.
Price
The price of this vehicle meets a small motor vehicle. The gaming vehicle will sell for about $13,373. Shipping of the PC is expected to start in around 26 business days or approximately five weeks. Although, the gaming PC is expensive and it is pretty evident to everyone, but you will enjoy the high-end specifications of the Apollo PC gaming car.
At no extra charge, after purchasing the gaming PC, you are entitled to receive a T-Shirt or a mouse pad for free. And also, have the company install either Mozilla Firefox or chrome Web browser as well as a battle.net client, Uplay client, Discord, carbonate cloud backup, and a Green man gaming.
Design
As a gaming PC vehicle to be driven by kids. Apollo origin PC was designed with durable metals such that it can withstand a few bangs without breaking. It is designed with four different exterior color options of midnight silver, metallic solid white, per metallic and deep blue metallic. Still, for an added $15, you can get a silver Turbine wheel.
For the size, the Apollo PC is 1321mm long, 533mm tall, and 724 mm wide while fitted with black Turbine wheels. For better connectivity, Tesla S comes with a fitted Intel 802.11 ax wifi and Bluetooth model module of 5.0. it also has a USB port and a headphone/AUX jack to play music while driving. The toy car is covered with a Tesla lettering and  'ORIGIN PC' plate number.
Performance
The Apollo origin Tesla S toy is equipped with a high functioning powered control processing unit. The control processing unit is a 12 Core AMD RYZEN 9 paired with an X570 phantom gaming TB3 motherboard with four 6.0 GB/s ports and an SF750 platinum SFX power supply.
It has a maxed-out Ram of 32 GB while the file storage is a large 4TB Samsung 860 pro series, and the hard drive is installed with windows 10. A cross-air hydro cooling X cooling system is installed to keep the temperature in check, especially when it is overheating.
Finally, the Apollo Tesla replica also has a forward and reverse gear, and it is battery powered.