Boost Your Productivity with Mobile Pixel Duex Pro
May 26, 2020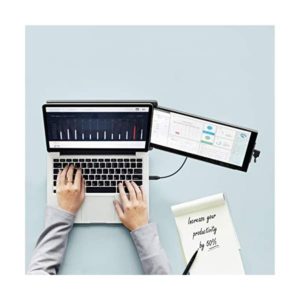 The Deux pro monitor is a portable dual-screen laptop accessory; it is a compact, effortless multi-screen monitor. All you have to do is attach the Duex pro behind any laptop, and you're up for the exciting experience.
It is a convenient and affordable on-the-go dual-screen option. With a second monitor hooked to your laptop, life feels somewhat easier even though carrying the monitor around and setting it up might be quite stressful.
The Mobile Pixel Pro is ideal for multitasking, and it also boosts productivity. Let me spare you the boring details and take you through a brief guide of why you should consider getting the Duex pro. Available at most stores that sell electronics.
Pros
Stellar design

Compatible with all laptops

Wide viewing angle

Compact
Cons
It needs to be supported by a table or desk

It works best with USB-C
Design
The Mobile Pixel Duex Pro is made of PC ABS plastic and is not just lightweight but an ultra go-to monitor, it weighs only 1.8 lbs. The monitor comes in an attractive matte black color and is 12.5 inches wide and 0.48 thick.
The duex pro is quite simple to use, and it provides flexible rotation with dual-sided sliding of 270 degrees rotation. It has three modes ideal for user-friendly screen sharing and comfort.
It has the landscape mode for spanning of workspace and to drag screens from one window to another. There is the presentation mode that duplicates your desktop for more comfortable sharing and the Portrait mode for navigating the web and scroll on vertical applications.
The Mobile Pixel Duex Pro has a 1080P screen that projects bright and sharp graphics, and the monitor is very durable and energy-efficient.
Performance
The monitor display uses IPS technology, which is the gold standard in terms of field of view, which allows unobstructed viewing. It is compatible with macOS, Linus, Chrome OS, and Microsoft Windows.
The Duex Pro has a power of 4.5 watts with a 300 nit brightness (adjustable) with a refresh rate of 60 Hertz.
One thing you have to know while setting up the monitor is that its metal adhesive plates have a 3-hour curing time. It's essential to make a cure for 3 hours, or they may fail. Duex Pro monitors cannot support the monitor on their own even after being set up fully; they need a large surface like a desk or table, which is a bit of a downside if you like working on your bed.
Final Verdict
The Duex Pro is very well designed, and the fact that its screen is made of IPS technology is quite impressive. The monitor is also very sharp, has a bright display, and weighs next to nothing. It is straightforward to install, and the fact that it works with any computer makes it worth your money, which is a bargain anyway.
If you multitask a lot, then look no further, the Mobile Pixel Pro is just right for you as it boosts your productivity by 50% and is efficient for multitasking.