5 Rugged Laptops for Engineering Students 2020
Mar 19, 2020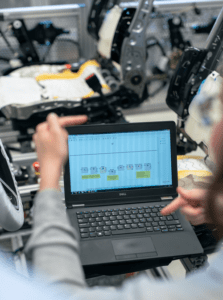 All engineering students want the best laptop for their work. Be it computer, electrical, civil or mechanical engineering students, having a laptop good enough to sort all your work seamlessly is the goal. We have come up with a list of 5 laptops ideal for an engineering student. You will find them at most stores that sell laptop and desktop computers whether in person or online.
Firstly, let's take a look at the benchmark specs in ideal laptops for an engineering student. At least the processor must be Intel Core i5, an 8GB RAM laptop at the least but 16GB is ideal if you do a lot of multi-tasking. Minimum storage should be 256GB, and at least a 13-inch screen size. An integrated Graphics Card is ideal for non-gamers, while Nvidia graphics card for people that plan on gaming on their laptops.
Here are 5 of the best and rugged laptops for engineering students.
Hp Spectre X360 15t
The HP Spectre x360 is beautiful inside and out. It comes with a lot of power ideal for the work, while it also doesn't lack in gorgeousness. The display is great and responsive, as it comes with a 4K touchscreen, and has the option of the HP Tilt Pen which can help design 3D models in a professional way. The 8th generation Intel Core i7 means it comes with enough power to execute the job. The 15.6-inch screen makes you see everything clearly.
Lenovo Thinkpad X1 Extreme
Talk about having a workhorse that offers so much power, then this is it. Only downside is the price tag, which can be heavy for some, along with its actual weight. It comes with several configurations which serves different budgets and purpose. The graphics card, Nvidia GeForce GTX 1050Ti with Max-Q design, is solid. The 4K screen display in its 15.6-ich screen size, is glorious. It is one of the best laptops an engineering student can dream of.
Samsung Notebook 9 Pro
Talking about an ideal 2-in-1 laptop, this is it. It has one of the best looks in the game, and comes with the S-Pen, a stylus that comes with 4,096 levels of pressure sensitivity. The battery life is also great, which makes it ideal for a long period job. Although, the battery life can be sometimes inconsistent depending on different factors. You might also have issues with the downward-firing speakers.
Dell G3 15
Talking about getting good value for a good price, then it is the Dell G3 15. It perfectly combines power and affordability, as it comes for under $700 with the 9th generation Intel chips and GTX graphics. Major issue you will encounter will be the build, which might be too heavy to carry around sometimes. However, it is one of the best laptops for an engineering student.
Asus K501ux
This laptop might be originally built for gamers, but its great processor, good storage space, and RAM makes it ideal for engineering students. The battery life is great, which means you can work on it for a long time without the worry of charging. It comes in a 15.6-inch screen that is great to look at, has the Intel Core i7 processor and 8GB RAM. Another lovely feature is that it is built to stay cool even after using it for a long period.