Samsung Chromebook Plus V2
Mar 16, 2020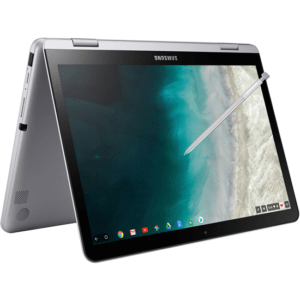 In 2017, Samsung released the Chromebook plus, which was widely named as the best overall Chromebook for the year. It had enough power in it to carry every Chromebook-like activity we wanted, the display was amazing, it had a great trackpad and keyboard, and above all, it came with a reasonable price. Although, we had a lot of powerful Chromebooks come into the market last year, while we also had Chromebooks that came for cheaper prices compared to the Chromebook Plus, we still did not find one that could beat it when we considered all factors overall.
Now, Samsung has come up with its latest Chromebook Plus V2 and we hope we have finally gotten a Chromebook that will surpass the Samusung Chromebook Plus.
Pros
Comfortable to move around with because it's light in weight

Comes in a solid aluminum build

Better performance than the Chromebook Plus

Comes with a Legacy USB 3.0 port

Gorgeous and bright HD display

Has two webcams

Has an in-built LTE modem
Cons
The keyboard doesn't have backlighting

Slow start of secondary camera

There is only 32GB of storage

Downgraded aspect ratio and resolution compared to the Chromebook Plus

Heavy for a Chromebook
Performance
When it comes to performance, the Chromebook Plus V2 definitely got better compared to the Chromebook Plus. It comes with the Intel Celeron 3965Y CPU. This processor is a 14nm chip, made on Intel's Kaby Lake microarchitecture and it was first used in 2017. It comes with two cores that can work at 1.3 GHz with a TDP of only 6watts. It supports 6GB of DDR4 RAM, and integrates Intel's HD 615 IGP graphics at 300 to 800 MHz. The Chip is great for a Chromebook of this stature, as it will perfectly handle whatever you want it to do for you.
Design
The Chromebook Plus V2's round corners and slim build stands out from most Chromebooks that are lumpy. The device comes with a 12.2-inch screen, designed with a touchscreen that is wrapped around in 360-degree. This makes it possible to use the Chromebook in laptop and tablet mode, depending on your choice.  Gently placed in the right side of the Chromebook Plus V2 is a little stylus, which gives you more control on the touchscreen. The two cameras are well placed in the front and the rear, which allows a variety of actions, from taking photos to video conferencing.
Display 
The Chromebook Plus V2 has a display which slightly taller than the regular 16:9 Chromebook display. It has a 16:10 aspect ratio at 1920 x 1200 resolution on a 12.2-inch IPS display. The colors are great for its price tag. It has good contrast, but video can seem brighter than it should be in some cases.
The Chromebook Plus V2 is great for users that are into graphics and require a high-level of performance. However, it is not perfect for the younger generation. The battery life is the major negative feature about this Chromebook. Asides that, it is good enough.