HP Elite Dragonfly G2. New in 2020
Mar 02, 2020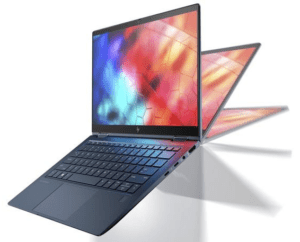 The HP Elite Dragonfly G1 earned a good reputation for itself when it first came out last year. The beauty and general design left a lot of people in awe, but it has one deficiency that diluted its awesomeness – it came with an 8th Gen Intel processor.
However, at the CES 2020, HP announced that they had improved on this issue that has held back this beautiful laptop in many ratings. The 10th Gen processor has been installed in the HP Elite Dragonfly G2 and this new version is guaranteed to turn heads. This 10th Gen HP Elite Dragonfly version also came with a number of new features, unexpectedly but definitely welcomed. This upgrade has improved the ratings of the HP Elite Dragonfly and firmly places it as one of the best laptops you can find in the market at this period.
Design
The HP Elite Dragonfly is an extremely gorgeous laptop and this beautiful design was kept for this newer version. It keeps its light nature, as the chassis was made basically from the beautiful Dragonfly blue CNC magnesium, like the 8th Gen version. However, this time, the HP Elite Dragonfly's design involves more recycled ocean bound plastics. The keyboard and speaker enclosures are the areas majorly made from this eco-friendly material. The chassis was completed with about 90% of recycled materials.
The HP Elite Dragonfly is light at 2.2 pounds, and it is 12 x 7.8 x 0.6-inch in size. The HP Elite Dragonfly is one of the lightest laptops you will find in the market.
Display
The HP Elite Dragonfly display is as gorgeous as ever, with its sharp detailing and color vibrancy, delivered in the a rich manner. The choice of displays HP has for this laptop is numerous, ranging from FHD panels that has 400 nits of brightness, to 1080p HP Sure View privacy screen at 1000 nits of brightness and a 4K, 550-nit display.
Battery Life
The 8th Gen version of the HP Elite Dragonfly had a battery that lasted over 12 hours. The 10th Gen version is expected to have a longer battery life or equal at most, but this depends on the screen size.
Connectivity
The latest HP Elite Dragonfly version added the 5G feature, and it joins the list of latest laptops to have this feature.
The HP Elite Dragonfly addressed the shortcomings of the previous versions. It added new features that will be greatly useful for the users, and this will improve the experience and satisfaction of HP's customers.