5 Best Alienware Laptops
Feb 07, 2020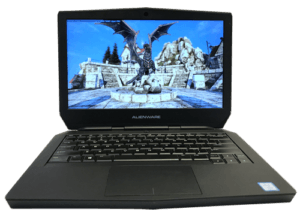 First Alienware gaming PC was introduced to the market in 1996, and it immediately became the gamers' delight. Fast forward to 2009; they decided it was time to introduce gaming laptops in the market and have since then stayed consistent in selling laptops for most demanding gamers.
Dell has stayed consistent with this brand and has tried its best in fulfilling the needs of gamers via the Alienware laptops. Now, we know there are loads of Alienware laptops in the market, and that is why we have decided to bring you the best 5 Alienware high end laptops you can get right now.
Alienware Area- 51m
This beast of a laptop weighs 8.4 pounds, a gaming laptop that doesn't compromise on its hardware. It comes with a new design, abandoning the usual sharp edges of past Alienwares for the new Alienware Legend design with round corners. The laptop is also upgrade friendly as you can easily upgrade the components when you need to. From the CPU, storage, battery, to the GPU, which is removable through Dell's nascent Dell Graphics Form Factor (DGFF) platform.
With 64GB of RAM, the Intel Core i9-9900K processor, and Nvidia's GeForce RTX 2080, the Alienware offers enough power. Also, the Alienware Graphics Amplifier allows you to access other desktop GPU cards from Nvidia and AMD.
New Alienware m15
The new Alienware m15 is Dell's slimmest 15-inch laptop, coming at 18.3 thin and weighs only 4.75 pounds. The New Alienware m15 might be slim and thin in design but is beast on the inside. The FHD options are good for gamers as it comes with 60, 144, and 240Hz refresh rates. However, for heavy content consumers, the OLED UHD option will be pleasing to their eyes.
The 9th generation Intel Core i5-9300H, i7-9750H, and i9-9980HK are the processors. While you also the option to outfit the laptop with up to 16GB of RAM and a combined 4TB of storage from two 2TB PCIe M.2 SSDs. The GPU reaches climax with the GeForce RTX 2080 with Max-Q Design. While the Allienware Cyro-Tech 3.0 system helps to keep things cool for sustained performance, no OLED UHD option, though, but its FHD display with 144Hz refresh rate is good for gamers but can't satisfy content creators.
New Alienware m17
The New Alienware m17 is close to the New Alienware m15 in terms of its specifications.  The 9th gen Intel i5-9300H, i7-9750H, and i9-9980HK are the processors, and the GPU maxes out with the Nvidia GeForce RTX 2080 with Max-Q Design. It is 18.6mm thin and weighs 5.8 pounds, making it Dell's lightest and thinnest 17-inch gaming laptop.
Alienware m15
The Alienware m15 might be an older version of the New Alienware m15, but it still has a lot to desire. FHD display with a 144Hz or 240Hz refresh rate, OLED UHD option for heavy content consumers, 32GB of DDR4 2666MHz RAM, and you can outfit it with a 90Wh battery.
Alienware m17
In terms of RAM and display, the Alienware m17 is better than its successor, the New Alienware m17. Also, in terms of display and RAM, it is better than its successor. The OLED UHD display is pleasing to content consumers, and its 32GB RAM is twice of that of its successor. However, gamers will not be pleased with its 60Hz refresh rate.
The GPU of the Alienware m17 maxes out with the GeForce RTX 2080 with Max-Q Design. The 8th-gen Intel Core i7-8750H, 8th-gen Intel Core i9-8950HK, and 9th-gen Intel Core i7-9750H are the processors. It also features up to 2TB of PCIe storage.