Usually, to get a laptop with excellent battery life, you would probably be looking at getting a MacBook. That means you would have to spend almost a couple grand. However, the introduction of the LG Gram 2018 has made that a thing of the past. The LG Gram is a reasonably priced and portable laptop with the best battery life in the market right now. We like it so much that we decided to carry out a full review of the device to see how well it does.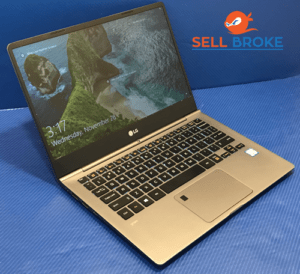 Design
To begin, the LG Gram 2018 isn't the most beautiful device on the market. Laptops like the Surface laptop. The MacBook Pro and the Razer Blade which are in the closest competition are a lot more attractive. However, the Gram isn't ugly either; its magnesium chassis gives it a rigid look and has a surprisingly light and clean design with a thin bezel.
Performance
The laptop comes with specs which put it a shoulder above most laptops of similar price mark. It has a full-sized HDMI, a couple USB Type-A and three Thunderbolt ports (in the 15-inch model). The internals don't disappoint either as the four cores on the i7 models would easily chew through most heavier tasks. Also, the fact that it comes with the 8th gen Intel processing chips means it runs at insane speeds, placing it well above any other laptop that hasn't been updated this year.

Gaming
Playing video games on this laptop is decent as it manages to avoid thermo-throttling. And if you are willing to invest in an external GPU, you will get a pretty good gaming experience. However, the Gram isn't quite the go-to if you are looking to do some serious gaming; it was designed to handle simple productivity tasks, and it does that well.
Keyboard and Trackpad
The trackpad is fine, and the keyboard has a quick tactile travel that is clicky enough and actually, pretty satisfying.
Display
On paper, the resolution seems a bit utdated (it has 1920 by 1080 touchscreen display), falling well behind the pixel density of competing models but at 1080p. That's the same pixel density you would get on a 4K 27-inch desktop monitor. The IPS panels look great with deep blacks and just enough brightness to make use outside possible.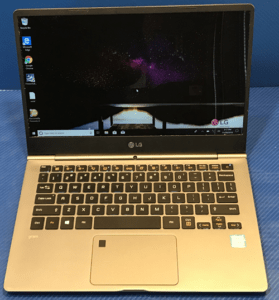 Security
Another downside of the Gram is its lack of the Windows Hello facial recognition although the presence of the fingerprint scanner on the power button makes unlocking much easier than having to type a password.
Summary
LG seems to sell laptops that are aimed at travelers and people anyone who appreciates their extreme mobility considering low weight and long battery life. Thanks to its 72-watt-hour battery, the 13-inch Gram performs better than most laptops and would allow for almost an entire days work. The 15-inch has good battery life as well, just not as impressive as the 13-inch model.
In summary, the Gram might not be the prettiest, most powerful or highest resolution PC out there but its lightweight (with a touch screen), killer battery life, full size ports and the price make it arguably the best ultarbook to buy. It's my personal choice for my trip to Europe. And I have a feeling that even after it will replace for good my Dell XPS 13 which for its small size is really heavy.