Toshiba Radius 15 Laptop
Aug 01, 2018
Nowadays, fifteen inches laptops are harder to come by. The majority of notebooks tend not to exceed displays beyond 13.3 inches. However, only a few short years ago, the standard screen size of a laptop was 15 inches. These machines are now greatly considered to be a desktop replacement class machine. They tend to offer high-end specification and targets the more business inclined segment of the market.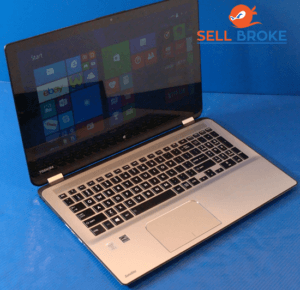 The Toshiba Satellite Radius 15 is a 15.6" laptop running Windows 10. It features a 360 hinge that allows the user to flip and fold the screen to a variety of positions. This makes for the perfect laptop and tablet experience in one neat package. The brushed aluminum finish of the chassis and the large palm rest are most welcome. The full-size keyboard and the numerical keypad further adds to the machine's productivity potential.
The Toshiba Radius 15 is by modern standard a big laptop and it's not the thinnest in the market either. It won't compete in the aesthetic department, with the likes of Ultrabooks and Chromebooks but it's certainly not a behemoth monster either. In fact, Toshiba has done a commendable job in shaving the millimeters of this machine.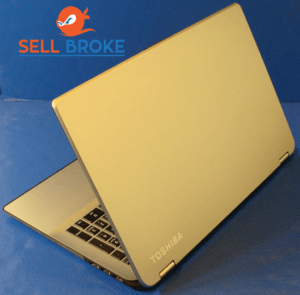 Specifications
The specs include a 2.2 GHz, fifth generation core i5 processor, 16 GB worth of RAM, 256 GB of SSD, with supports to up to 2 TB of a normal hard drive storage. A stock Intel HD 5500 GPU powers graphics processing. For connectivity, three USB 3.0 ports, HDMI port with support for 4k screen SD MMC card reader webcam and Harman Kardon speakers. Oddly though, there is a Windows button on the side which behaves precisely as the keyboard's Windows key does. Perhaps, it's there for when the machine is being used in the tablet mode.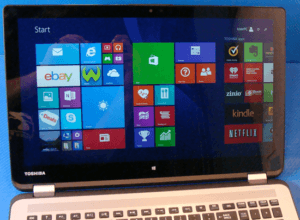 Battery Life
Battery life is rated for 7 hours and 40 minutes, which puts this convertible laptop at the upper end of the longevity spectrum.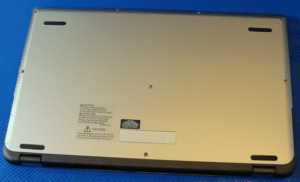 Operating system
Windows 10 functions flawlessly, it's quick to boot, super responsive and a nice improvement over its predecessor, Windows 8. I especially like converting the Toshiba satellite radius 15 into tablet mode and positioning the keyboard in a rare kickstand configuration. This makes the screen ideal for desk-based touch screen usage, bringing web browsing to life and offering a surprisingly intuitive natural feeling to touch bases experience.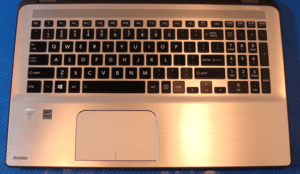 Media Display
Watching videos on the laptop was excellent as well. The Harman Kardon produced speakers has an excellent sound quality. As I held the machine on my lap, the large size of the 15-inch display with a 1080P resolution, indeed took a new dimension. It's ideal as a mobile work PC, and honestly, I think that graphic designers and creative types will have a field day with the combination of having a full Windows desktop OS with a large IPS touch panel. There are much more screen real estates on offer than a comparatively diminutive 10-inch iOS or Android tablet.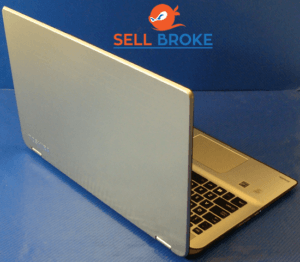 Gaming
Gaming performance is pretty sleek for a primary game. The stock Intel GPU isn't up to much, so don't expect to be putting on some high-end games here. I played a number of mobile games such as Asphalt 8 airborne, and I must say, holding a 15 inch 2.25 kg laptop in the air for long period while trying to use the accelerometer in a racing game is quite sturdy. On the plus side, your arms will be getting a bit of a workout. I found out that the machine tends a little on the warm side which when you place it in tablet mode, feels very strange because the keyboard now bears the brunt of the heat.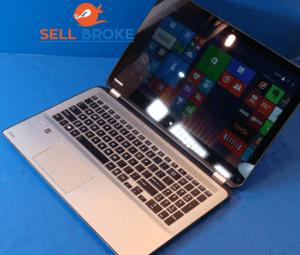 Conclusion
I found this machine a joy to use in windows 10 mode. The interface felt really effortless and extremely fluid. Windows 10 comes packed with all the standard desktop apps you'd expect. Build quality is excellent. It's not manufactured from one solid block of aluminum or anything, but the multiple parts of the chassis feel well processed and just well put together. I'd be a little bit more concerned about the keyboard keys when slipped around in tablet configuration. They are exposed to whatever surface you place them on underneath, which is just something to think about.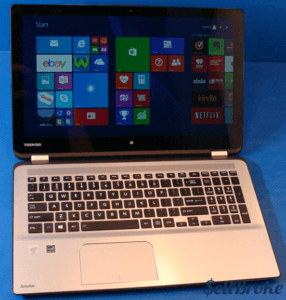 The Toshiba Radius is now the most aesthetically pleasing laptop in the market. It offers an excellent bargain for Business users and those looking for a desktop laptop-tablet hybrid experience. Overall I'm very impressed by the Toshiba satellite radius 15 as a compatible tablet notebook.