Toshiba Satellite Radius 12 Convertible Laptop
Jun 26, 2018
Satellite Radius 12 laptop is an exclusive laptop produced by Toshiba, one of Japanese leading electronics company. This is the latest and smallest convertible laptop made by Toshiba and it comes with an optional 4K touchscreen. Other features include video editing and high mobile photography displays, giving it more color options than the competition. It is a 3-pound hybrid computer which comes with a 6th-gen Intel Core i7 processor, 8 GB RAM, and 256 GB solid-state storage. Radius 12 weighs about 2.9 pounds with 4K (3840 x 2100) IPS display, 100% Adobe RGB Gamut.
This laptop comes with Windows 10 operating system and Microsoft's voice assistant when F1 key Cortana button is pressed. However, a short battery lifespan is one of the shortcomings of the Radius 12. The features which follow show exactly why this Toshiba is among the best in its category. The laptop is sold for $1,300.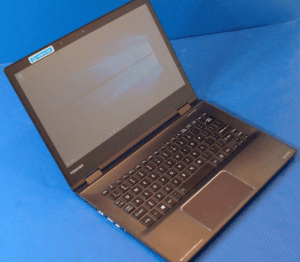 Design
Radius 12 is gorgeous, modernly designed laptop with an impressive performance. The exterior is made of dark, brushed aluminum. The body is also accented with bits of black while the edges are made of rubbery plastic. The rear of it is made of an extra bit of rubber which gives it a nice touch; this is also an added advantage for towing around the laptop.
The bottom lip of the laptop's screen juts out enough to comfortably rest your thumb against it while using the device as a tablet. The screen size is about 12.5-inch and 2.9-pound weight. Radius 12 has the ability to rotate 360-degree, this feature makes it possible to be used in tent, stand and tablet modes.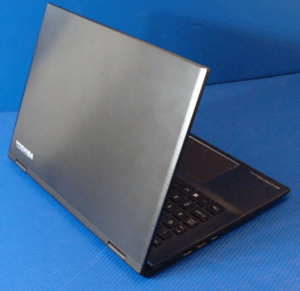 Display and Graphics
Toshiba Satellite Radius 12 laptop's is 11.8 x 8.2 x 0.61 inches or 300 x 208 x 15mm (W x D x H), the laptop also comes with 100% Adobe RGB color gamut, 4K (3840 x 2100) IPS display and facial recognition camera. When compared to Dell XPS 13 and Lenovo Yoga 900 benchmark testing revealed that Toshiba Satellite Radius 12 2-in-1 laptop has faster performance than others.
Toshiba Satellite Radius 12 battery last for 4 hours and 22 minutes and the 4K screen has a beautiful colorful display with excellent contrast. Radius 12 has a higher level of sharpness and color depth for watching movies, and the laptop is built with a very nice speaker.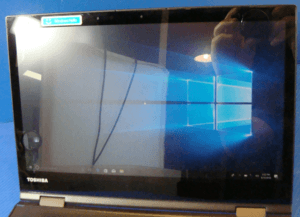 Performance
Toshiba Satellite Radius 12 laptop has the following features; CPU – 2.5GHz Intel Core I7-6500U (dual-core, 4M Cache, up to 3.1 GHz with Turbo Boost). Graphics – Intel HD Graphics 520 RAM – 8GB (1600MHz) Screen – 12.5-inch, 4K Ultra HD display (3840 X 2100 IPS display) Storage – 256GB of Solid State Storage 1 USB 3.0 port, 1 USB 3.0 w/sleep and charge port, 1 SD card reader, headphone/mic combo Jack. Connectivity – Intel Dual-Band Wireless-AC 7265 and Bluetooth 4.0 Camera – HD Webcam with TruTalk Dual Microphones. Weight -2.9 pounds Size – 11.8 x 8.2 x 0.61 inches.
Radius 12 Chrome Tune gives you the ability to change the color profile to one of the following settings: Technicolor, cool, warm, Rec. 709, Adobe RGB or Native. The utility can automatically be configured to change profiles depending on which application you are using. The Toshiba Satellite Radius 12 laptop is more affordable when compared to Dell XPS 13 and Lenovo Yoga 900. Toshiba Satellite Radius 12 laptop cost $1,300 while Dell XPS 13 and Lenovo Yoga 900 cost $1,599 and $1,799.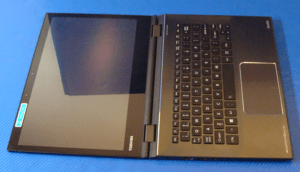 Pros
 4K Ultra HD (3840 x 2100 IPS display), Technicolor-certified  Lightweight design (2.9 pounds weight)  Facial Recognition camera  More ports than its competitors  Sound Audio  Better performance  Better entry-level specs  Keyboard performance is better than it looks  100% Adobe RGB  A volume toggle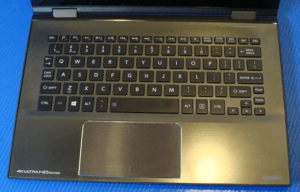 Cons
 Short Battery Lifespan (about 4 hours).  The premium design is less when compared to it competitors  Touchpad problem.  The screen is gray reflective and when the display is off it looks like a mirror.  4K videos are not accessible on websites.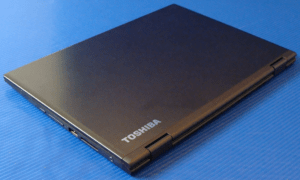 Conclusion
The Toshiba Satellite Radius has a simple look with an attractive little package, and is one of the best 4K displays. Unfortunately, the Radius 12 has a weakness which is the short battery lifespan of about 4 hours. This weakness gives its competitors like the Dell XPS 13 and Lenovo Yoga 900 an edge over the Radius 12 especially since they offer better keyboards and much longer battery lifespan.
The Radius 12 cannot be recommended for gamers especially considering the short battery lifespan. However the Toshiba Satellite Radius 12 is worth considering for most other use due to its lower price, stronger performance, and much better endurance.