2018 Asus Zenbook Pro UX580 Laptop
Jun 15, 2018
So, here's what's on the horizon as we begin our downhill slide into 2019. Today, I am going to talk a little bit about the new 2018 Asus Zenbook Pro UX580. Before I go too much further, this is what you really came here to know. It has a 5.5" 1080p touchscreen in the trackpad! yes, *in* the trackpad!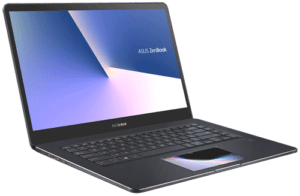 2018 updates
This is a device that gets updated fairly regularly and annually, and every year there is some type of iterative change to it. However this year, in 2018, they brought something that was well, maybe the first true innovative laptop technology in a long time. Every year we see things like thinner bezels, better and lighter materials, thinner laptops, and that's cool and all, but we don't really ever see anything that actually changed how you interact with the device. Now, the aforementioned are nice to have in upgrades, but this is different. This is a screen that's built right into the touchpad.
This is something that you can use with the Asus apps and Asus interface. If you pull it down you can see things such as your calendar, a calculator, Spotify, and it even has a number pad since the keyboard itself doesn't have one. When you're not using Asus apps to interact with it you also have the option of using it as a secondary screen. So yeah, a smaller secondary screen right in the touchpad, how cool is that?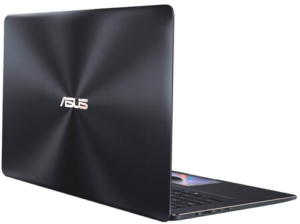 Zenbook vs MacBook
Apple's MacBooks have the touch bar at the top of their keyboard. Unfortunately, its actual functionality is pretty limited to developers that either account for that strip in their apps or not. In some ways, it's nice to have, but it's not as practical as something like having your secondary screen in your touchpad. When you first play with it you can only think about how cool and new it is but is it really that practical to have as well? Clearly, the viewing angle isn't that awesome given its location. However, after a couple of days' use of it, it becomes quite natural to have down there.
For example, let's say you're running Adobe Premier, you can have the color palette there, if you want to watch videos on YouTube you can pop that window down there, and it's in a position where you can keep tabs on whatever is happening on the screen without actually using any display real estate. Since it's a regular added screen you can use whatever apps on it you like and you're not dependent on the developers' desires to create functionality for it to work.
How's the rest of this devices? It's a Zenbook, it's built pretty well. It's not built like a Dell XPS or a MacBook Pro, but it's still nice. Our particular device happens to be blue with copper trimming and it looks good. It also has the normal characteristics with its textured metal and logo.
Display and keyboard
The screen is a 4k panel with an 83% screen to body ratio. The color gamut is 100% Adobe RGB and sRGB and is color calibrated at the factory with Pantone certification. It's a nice looking screen but it's not super bright. It doesn't quite achieve the brightness of a MacBook Pro, but it is still a very, very good product for content creators.
The keyboard feels like a standard Zenbook Pro. It's slightly mushier than I hoped for but it has a good layout and overall it's a good unit.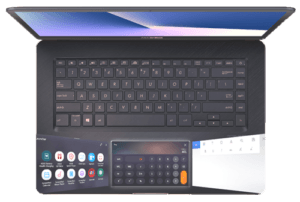 Ports
The port selection is a little bit strange. They put in a microSD. I really wish on a device like this that is obviously geared towards content creators that they also include a full-size SD card reader. It does have two USB-As, two Thunderbolt 3s, and a full-size HDMI out port.
Performance
Getting inside of this laptop pretty basic; remove a lot of screws and there you are. Once inside you'll see that there are only 2 heat pipes. You may expect more since it's running some pretty powerful hardware. What they ended up doing is putting a third heat pipe under the motherboard to help keep things cool. The i9 is a beast that's running a GTX 1050 Ti and the components are run by 2 fans that are supposedly upgraded from the previous generation. The preliminary results are good and it doesn't seem to throttle too much, but it runs a little warm.
The 16GB RAM on this unit is soldered onto the board. The SSD and the WiFi card can be removed and upgraded if you so desire. The battery is decent but it still has a lot of work to do in the software department to optimize everything to make it last longer. The speakers have always been good on the Zenbook and these are no different.
This is probably going to change the way some people use their laptops. The little screen is useful for a lot of people. The best part is that the functionality of the trackpad isn't compromised with this screen. When the screen is off it looks like a regular black trackpad with a glass finish.