Apple's AirPods for the iPhone
Dec 23, 2016
As always Apple is selling a ton of products on the market, anywhere from the best selling iPhones, MacBooks, and iPads to their newest addition: the AirPods. Apple has made many versions of the iPhones and MacBooks, but when it comes to their patent design for the Air Pods, they only give us a one-size-fits-all approach.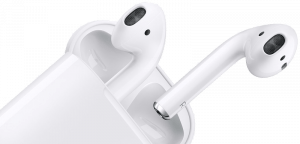 Truly wireless
Apple's AirPods are truly a wireless earpod that allows you to listen to your music, make and receive phone calls as well as talk to Siri. Basically it looks like is that Apple just took the old earpods and cut off the cords. That means it kind of looks a bit strange when you have them in your ears. Apple claims they kept this design because it made for more battery room inside the iPhone 7 and 7 Plus and it also puts the microphone a bit closer to your mouth.
Design
The biggest problem is that now matter how cool the design may be, it doesn't really matter if the AirPods don't fit your ears. This needs to be talked about because with the regular earpods I have a troublesome time keeping them in my ears. And at least when they fall out I have the cords to keep them from getting away. Apple is essentially playing a numbers game and know that X amount of people won't be able to keep them in their ears. However, they are hoping that the number is small enough that it won't affect their sales.
W1 chip
There really is a lot to like about the new AirPods. Apple has resolved some of the biggest problems with wireless earbuds. They did so with their W1 chip. This new chip basically helps optimize the connection to your phone so it doesn't cut out all of the time. It also makes pairing these really easy. And that can be one of the biggest headaches with Bluetooth products no matter what they are. Once you open the AirPod's storage box the first time your phone will automatically recognize them and connect them for you. You will never need to pair them again. They will always auto-connect as soon as you take them out of their case. If you are the type of person with a lot of Apple devices, this is the product that will work really well with all of them.
If you're not a fan of the AirPods have no fear because because Apple is in the process of putting the W1 chip is other products, most known the Beatz headphones. So, that functionality will spread to other devices in the future. If you are and Android user this work really well with Android as well. You won't get that immediate automatic pairing function with an Android device but since the W1 chip is so well designed it will beat almost any other wireless headset on the market.
Charging case
The actual case itself is worth mentioning on its own. Yeah, it looks like a dental floss box but it has a ton of design in them. Not only does the case offer a place to stow the AirPods, but it also has a day's worth of charge in them. The AirPods themselves have a 5 hour battery capacity too. The case also charges them really quickly. You can get about 3 hours of battery time in just 15 minutes of charging them in their box.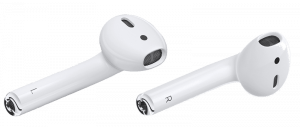 Sensors andaccelerometers
There's also some really smart stuff taking place inside the AirPods themselves that set them apart from normal earpods. One, there are accelerometers so that you can tap them to interact with things like Siri. Another thing is that there are sensors on the inside of the earbuds. So when you take them out of your ears the music will stop. And when you put them back in the music will begin again.
That brings us to the most important thing about the AirPods: they sound really good. They really reproduce music clearly and have a low frequency too that allows for the bass and deep drums to be heard well, and that's really uncommon for really small earbuds. They even sound better than their EarPod counterpart.
5 hour battery life
Battery life is something that is generally a struggle with most Bluetooth devices. But we are happy to report this is not a concern for these at all. They really do provide the Apple 5 hour battery life claim. For most people that is well enough on most cases.
$159.99 price tag
These bad boys will set you back $159.99, which is not cheap. Yet compared to some of their competitors they are decently priced. All of this is great, but if the AirPods don't stay in your ears then what's the point is dropping $160? Apple is not wrong in saying that wireless is the future; however, a one-size-fits-all approach may not be the way to get us there.
Looking to upgrade your Apple device? Sell your iPhone and MacBook, even broken one to SellBroke.