Acer Aspire F15 F5-571t-569T Gaming Notebook
Dec 05, 2016
Today we will talk about another casual gaming laptop like the Lenovo Y40-80FA that we reviewed in our last post.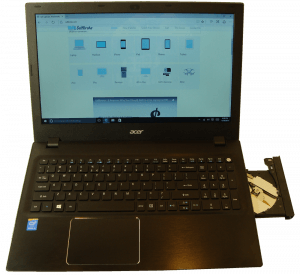 To game or not to game is the question. This is something that the casual gamer needs to keep in mind when in the market to pick up a new laptop. Today's market can be divided into various different working needs. Many times people want a well-performing laptop for work and/or school. But they also would like to casually game if they so desire. Luckily Acer has released the Aspire F15 F5-571t-569T that does just that; it's a work style of computer with very decent gaming components to give you that option.
Here are some quick specifications of the Acer Aspire F15 Notebook. It is a beautiful 10" x 15.6" notebook with an Intel i3 or i5 built in processor with up to a NVIDIA 950 GTX graphics card for gaming. You also have two battery size options, a 4 cell or a 6 cell. The 6 cell is for the higher end, higher resolution version screen and the GTX 950 higher performance graphics card. You need the extra power to keep these upgrades going and in that case you'd get the 6 cell battery pack. It also comes with (up to) 32GB of RAM and (up to) 2TB of hard drive. This makes this a perfect size for the notebook enthusiast that doesn't want to spend a ton of money yet still have a high performing laptop.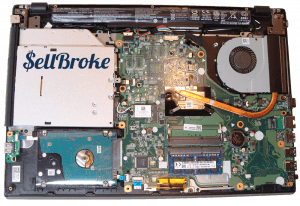 This laptop runs Windows 10 and features a 15.6" LCD touchscreen. The screen is glossy and reflects back a lot of ambient reflections if in a sunny or strangely lit area. For those that don't like, or need a touchscreen, it also comes with a matte, non-glare, non-touchscreen option. Both have a resolution of 1366 x 768.
This computer is made up of a lot of plastic but the Acer also incorporated some aluminum as well which really makes for a sleek looking and sturdy machine. It weighs in at 5.3 pounds so it's not terribly heavy for transport. The inside palm rest is aluminum that provides a solid substrate for typing. The keyboard features nice traveling chiclet keys. Unfortunately they are not backlit which is a little counterintuitive for a gaming laptop today. The top lid cover is also made of aluminum. And comes in various color schemes like: black, white and silver.  Lastly there is a blue/purple option for those of you that like a little bit of unique style.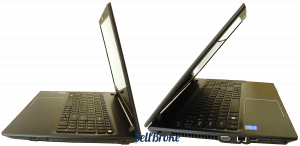 This Acer has pretty good portability. On the right hand side you have the charging port, DVD optical drive a USB 2.0 port and the headset microphone combo jack. Turning it around to the left side we have the newer ports like the USB Type-C port, Ethernet, VGA port andanother HDMI. Next are the two USB 3.0 ports and the Kensington Security Lock Slot. Lastly on the front of the machine Acer has put the SD card reader and the power and status LED lights.
The bottom plate is plastic and that's where you will find some more fan exhaust ports. Also, gaining access to upgrade your HD or GPU is pretty easy. There are three small screws on the underside that are removable and viola, you're inside and able to upgrade to your heart's desire.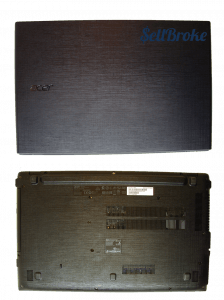 The built in camera is a High Dynamic Range (HDR) camera. Those are only usually found in smartphones but Acer has gone ahead and built one in for the webcam. What this does is give you the option to have a very good video recording camera for video conferencing or Skype type of applications. This camera is much better and more accurate than the regular 720p webcam that's typically found on laptops.
Acer has provided us with a gaming laptop that will hold its own in the office for the working hours. Yet allows you to be a casual gamer on your down time at a decent price of about $500 USD.
If you're looking to sell Acer laptops check out the Acer section on our website.