HP ENVY 17t-s000 Core i7 Laptop Review
Oct 17, 2016
The HP ENVY 17t-s000 Core i7 is the big screen desktop replacement of the HP's Envy line. We have already seen the 13", 14" and 15" versions, so here's the 17" beast. It makes for a great home theater laptop with its huge full HD 1920 x 1080p and Blu-Ray DVD drive.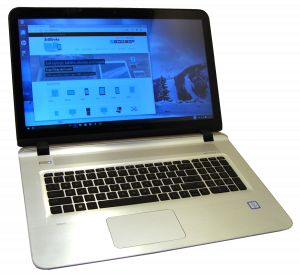 Quick Specs:
The HP ENVY 17t-s000 Core i7 comes equipped with an Intel Quad Core i7 processor, 12GB of RAM, 1TB hard drive, and a 17t 17.3" (non-touch and touch screen) display. Laptop is powered by Beats Audio and a HD webcam as well as high-end AGI graphics.
Design and Build:
It has a super solid metal construction about it that makes it a very heavy laptop; 6.23 pounds. It has a very "MacBook" look to it as it's encased in aluminum. It has a great two-tone look to it with its black keyboard palm rest nicely laid within the gunmetal silver exterior. It's definitely heavy, but it's also truly durable. However, this is a more stationary type of laptop. And it shouldn't be in much contact with too much in its limited travels.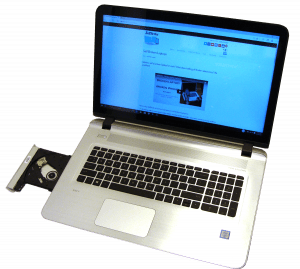 Connectivity:
The right-hand side has an exhaust fan vent, VGA port, mini HDMI, a full-size HDMI, SATA port USB 2.0, a microphone jack and also a headphone jack.
Taking a look on the left side we see 2 more USB ports, a SD card reader and the Blu-Ray DVD tray. Next are the charging port as well as the Kensington Security Lock Slot.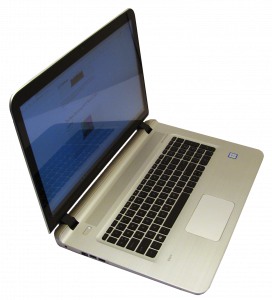 Keyboard and Trackpad:
The keyboard is pretty nice. It feels real natural because of its full size feature. The 10-key number pad that comes in handy for many people. It has the same backlit keyboard that so many of us have grown accustomed to with the Envy line and other brands. Really, once you go to a backlit keyboard there really is no going back.
The trackpad seems to be very finicky. But since it's more of a home computer, more than likely it will have a mouse connected to it. But if not, you will have a good experience with the new clickpad. Just like as seen on the MacBooks, the Envy has an integrated clickpad. It doesn't have separate right and left buttons, they are integrated into the trackpad. Going forward clickpads will be more common in all brands.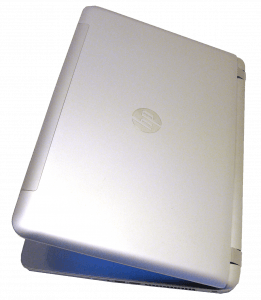 Audio:
Perhaps one of the most notable standout reasons to get this laptop is its audio configuration. The techs at Beats by Dre have collaborated with Beats Audio and have put the hardware and software already built in. You also get a Beats control panel which allows you to adjust the sound settings for theater, gaming or headphones. It's also advertised that if you get the high-quality Beats by Dre headphones, you'll get an even better sound performance.
You might think that a laptop like this would really break the bank and in years past you could easily see paying $2,000+. But fortunately the lowering prices of laptops in general means the high-end bar price has really lowered and this Envy 17" can be purchased for less than $1,500, depending on the setup and configuration.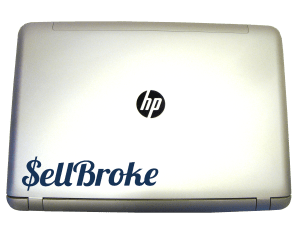 Once you sell your old laptop it may be time to check out this HP Envy on the used computer market.