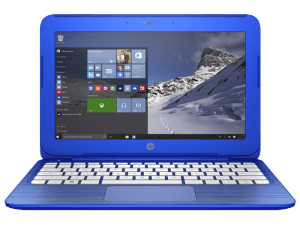 The HP Stream has developed a newer version of its predecessor and the new Stream 13c-110nr has been released with some much needed improvements from the prior generation. The ever so stealth looking cobalt blue HP updated their processor, runs Windows 10 and it took the time to also slim down the physical machine itself, giving it better portability and a cleaner look. If you're in the market for a no-frills laptop and a reasonable price the new Stream just may be what you're looking for. You're not going to be a gamer or handle really heavy apps with this machine, it was designed to be a internet browsing machine with good to decent productivity. Its productivity comes with the fact that it can use Office Online and use Clouds for 1TB of storage (only for 1 year) since the hard drive is very small, only 32GB.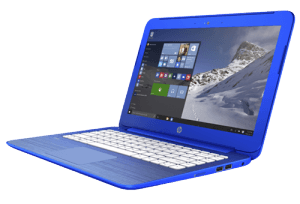 Although smaller than the traditional rotating drives the 32GB HDD is more than ample for all of your programs and works-in-process files. Because of the Solid State Drive you can access your data more than twice as fast as a normal rotating drive because it uses flash memory storage. Another key aspect about that is it boots up really quickly, in just a few seconds you can be up and going on Windows 10 and cruising through the internet. For more local storage it is advised to purchase an external hard drive. This machine was truly designed to use cloud features, and in addition to the Cloud storage capacity there are plenty of other services that are available like DropBox and Google Drive.
The processor is an Intel Celeron N3050. It is a Dual-Core, power-efficient system on a chip (SoC) for notebooks that are based on the Braswell platform. The processor cores have been based on the new 14nm Airmont architecture which replaced the older Silvermont version. At normal settings it not incredibly fast only measuring in at 1.6GHz, but through Burst it can be kicked up to 2.16GHz.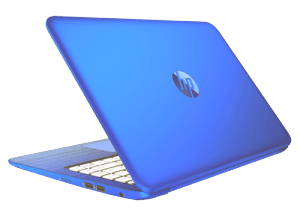 The display is a 13.3-inch HD WLED backlit display of 1366 x 768 resolution. It has three USB ports, of which one of them is a USB 3.0, which comes in handy since it transfers info much faster than the USB 2.0.
A few disadvantages of the HP Stream 13-c110nr is that it is not equipped with an optical drive of a sort. It also requires a Wi-Fi set-up as you cannot directly connect via a LAN port, also the keyboard is not backlit. Since it was designed to work from the Cloud many will find the 2GB DDR3L SDRAM to be fairly small and you may noticed that video playback at times can be very slow and spotty.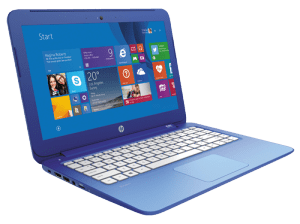 This computer is an ideal purchase for students on a budget and most of what is being done are simple online tasks and for entertainment on-the-go style. The quick start up times make it a great go-to computer when you need to look up something fast on the internet.
Specs:
Screen Size – 13.3 inches
Screen Max Resolution – 1366 x 768 pixels
Processor – 1.6 GHz Celeron N3050
RAM – 2GB SDRAM
Hard Drive – Flash Memory Solid State
Card Description – Integrated
Wireless – 802.11 b/g/n
Number of USB 2.0 ports – 2
Number of USB 3.0 ports – 1
Operating System – Windows 10
Item Weight – 3.4 pounds
Dimension (LxWxH) – 9.02 x 13.12. 0.08 inches
Color – Cobalt Blue
Processor Brand – Intel
Processor Count – 2
CPU Memory Type -DDR3 SDRAM
Flash Memory Size – 32
Battery – 1 Lithium Ion
Planning on buying one? We buy laptops, tablets, or smartphones and help you get some money to put towards a new device! Get a quote right here on our site.