Selling your laptop in 2022
Aug 09, 2022
Things have changed after the pandemic disaster in the last two years and are not going back to the normal before 2020.
We have seen every aspect of business, education and essentially our lives slowly shifting from in person interactions to online over the last two decades. But the last two years accelerated this transformation beyond everyone's imagination. That happened to the way we buy and sell goods of course too. Just look at the giant Amazon that grew its profits by hundreds percent.
Addiotnally ever growing popularity of laptops makes their numbers multiply every year. With owning too many electronic devices we have to really think smart about recycling them. Dumping them into landfills will pollute the environment and worsen the climate change crisis.
Unfortunately we are usually made to believe that old computers are not worth anything and nobody wants them. In this article we will show you the best ways to sell your laptop for cash in the US.
Pre sale wipe off
Computers nowadays store so much information about our lives that handing it away to the wrong person could cause a disaster for us. Just to mention stealing your money or your identity.
So the first thing you will do before selling your laptop or even a phone is to permanently erase your personal data. What if the computer or phone are broken and you cannot access and erase anything. Well this is where SellBroke excels, but we'll talk about it little later.
New laptops are easy to be restored to factory settings through their recovery settings. If you are able to do it, perform a factory reset and you are good to go. Otherwise you can try to format the hard drive using the tools built in your OS. Lastly if none of the above are options for you pull out the hard drive and destroy it physically.
Prepare for the sale
Evaluate your laptop based on its performance and condition. You shoudl know the specs of your computer like the processor speed and generation, graphics performance, size of ram and storage and the size and resolution of the screen.
To check the price go to eBay. It's the largest platform of sellers and buyers worldwide and you will get the best idea of what your laptop is worth. Don't think about how much you paid a few years ago because electronics devalue rather quickly and you will not be able to recover most of the money originally spent.
Once you have some idea of what you can get research different places to check you luck.
Local stores
If you have time and transportation you an check your local pawn shops and electronics stores. Your will probably be offered the least at pawn shops. Some of the local electronics stores and ever computer repair shops offer recycling gadgets for cash so you can check them too.
But if you want to find a local buyer quicker you must try Craigslist, the undisputed classifieds king. You will still need to meet your potential buyers but they will come to you. You will still waste time as not all buyers will end up buying and they will try to haggle with you and unless you like it it's not the best way to sell a laptop. To post it on Craigslist or eBay you will also need to take pictures and make a listing. People also complain about getting scammed on eBay and Craigslist.
Selling online
But back to how we started this article everything is done through the internet. You will not only save time but you will also get more money for your device. There are many services that will offer you cash and will take care of the whole transaction for you. They will take care of you privacy in case if you're not able to erase your data. They will also send you free shipping label or even an empty box, so you don't have to worry about any of these things. You just find the online and check their offers before you find one that you like and you place your order with the company.
Some of the best websites that buy laptops online are SellBroke, Gazelle and SellLaptopBack just to name a few. SellBroke offers the best value and impeccable service reflected in customer's reviews. Every transaction is quick, easy and hassle free.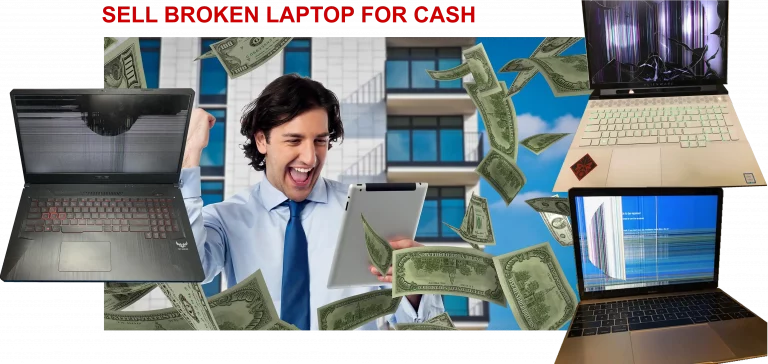 SellBroke will not only offer you the best value for your laptop but also will make the transaction seamless and hassle free. You will receive a free shipping label instantly and your device will be processed within 24 hours from its arrival at the destination. Within the 24 hour time you will also get paid through PayPal, Zell or Cash App. Lastly SellBroke guarantees to professionally and permanently erase all your private data protecting you from hackers. Afterwards rest assured that your old deice will find a new home and will be put to the best use. That is extremely important for our natural environment. 
Consider this
Whether you decide to sell your laptop online to one of the online Buy Back Platforms or on eBay or in person at a local store or through Craigslist remember about the steps to take to protect your privacy and to get the best value for your device. Also be sure to sell your old computer right after buying a new one before it looses its value completely. That way you will have extra cash for the new laptop and will get a higher end machine. There are really nice new models that came out in 2022 and you will sure be happy with the newest gadgets.