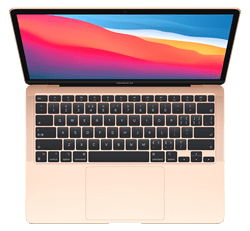 Today is Thanksgiving and one day before Black Friday sale. It is a great time to sell your MacBook if you want to buy a new one tomorrow. But it is essential to reset your MacBook before selling so that a third party won't gain access to your accounts, pictures and personal information. These easy steps will show you exactly how to reset your Mac before letting go of it. It does not matter if it is a MacBook, an iMac, or MacBook Pro; the process is all the same even if you want to sell an iPhone.
1. Backup with Time Machine
The very first step to take is to backup your MacBook with Time Machine. This is really easy to do, and all you need is an external drive or an iCloud account. It will save all your information by backing up your info periodically on whatever drive you pick. You can gain access to your backed up files from your iCloud or external drive. And you can also use Migration Assistant to move your data and files into your new Mac.
Overall: Be prepared to save the things you care about. 
2. Unpair Bluetooth Devices That Work With it
Your MacBook could be connected to a external Bluetooth device such as a mouse or keyboard that you want to keep with you. The best thing to do in this case is to unpair it. While this is optional, it is important because it can prevent an accidental input from the new MacBook owners that are still within range.
To unpair a device from Bluetooth:
go to your system preferences

click on the device you want to unpair

remove it
Overall: Keep the things you want by removing them. 
3. Sign Out
The next step is to sign out of iCloud, iMessage, iTunes, etc. All you have to do is go to the overview to find a sign-out. Depending on your operating system, it might be different but just look for the sign-out.
After signing-out, you can go to your System Preferences and iCloud to check off Find my Mac. When you turn it off, you no longer need to worry about it attached to your iCloud. You have to make sure you sign out of everything, so you don't have problems later.
Overall: Clear it out for the next user. 
4. Reformatting the Hard Drive
This will erase everything, so make sure that you are backed up and signed out of everything. Then you will erase everything and start from scratch.
To do this:
Restart your computer.

While it is rebooting: press Command+R

right when you see the Apple logo

It will take you to the Mac OS utilities.
This is where you erase your hard drive and choose Disk Utility, which is the last option. It is going to let you erase your disk and hard drive. You will lose everything using this option, so be very sure to have files backed up. Let this process complete before you can press Done after seeing the checkmark.
Overall: Clean it up for the next user. 
5. Reinstall Mac OS
Buying a new computer means you can choose a new OS or restore the one from the Time Machine backup. If you follow the first step of backing up with Time Machine, recovering your files on the new Mac will be easy.
Reinstalling the OS means you have to agree to the terms and conditions. After which, you will choose the disk-like Apple SSD that has already been formatted. Next, you will press install. This will take a little time because it is uploading directly from the internet.
Overall: Make the right choice. 
Conclusion
Selling you laptop can be long process to do it right. But doing all of the mentioned steps, makes it so you don't have worry about anything in the future. Sell with the confidence of knowing that everything you've done was correct. And look forward to using the new machine you bought to replace it.
For more news on the latest tech, or replacing your old tech, visit sellbroke.com where you can even sell a broken MacBook if you don't want to invest in parts and a repair.