Lenovo ThinkBook Plus Gen 2 Review: Dual Screen Frenzy
Nov 23, 2021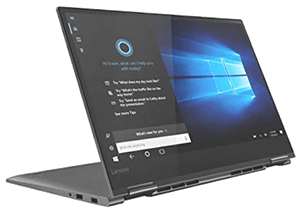 The Lenovo ThinkBook Plus Gen 2 has an excellent concept. It is not the regular laptop, where you have your main display and keyboard fully presented to you. This one comes with an added display, and not in the same way ASUS has it. The placement can be either to the top deck of the keyboard or somewhere below.
Lenovo tuned the back panel of this laptop into an e-ink display. While not the best display for watching content or drawing on, you will have significantly better battery life while using it. This should help Lenovo sell laptops in higher quantities in 2022.
How does Lenovo's dual display stack up with the rest of its competitors? Let's look at the Lenovo ThinkBook Plus Gen 2.
Design
What Makes it Work
The cool thing about this laptop is despite the second display, Lenovo was able to put it in a thin and light form factor. You will notice a unique cover and the 10.8 e-ink display. It provides a unique ability with the panel. Lenovo brought what was learned from the Yoga Book series and integrated it into this ThinkBook.
Looking at this device, it is like a laptop and iPad rolled into one. It weighs 1.2kg and comes with the latest Intel processor. And it comes with an included pen that can be attached to either side of the device magnetically.
There are not many ports on this laptop.
On the left side:
a Thunderbolt 4 port

an audio jack
On the right side:
a place to put your pen

a power button
Overall: FULLY PACKED
Display
What Makes it Work
The 12-inch top display is not as big as the laptop's display, but it has a very pixel-dense resolution. So there is a lot of space to write and take notes. My reservations with taking notes on this laptop is that e-ink technology has never been the best for writing because it is slow. However, it is excellent for using it as a tablet and reading off it.
The internal display is quite nice. It has a 16x10 aspect ratio, with 2560x1600: making it very pixel-dense. The color accuracy is fantastic; it scored 100 percent in the sRGB, 76 percent in the Adobe RGB, 77 percent in the PCI3, and is up to 417 nits of brightness.
Overall: COMPLETE CLARITY
Keyboard and Touchpad
What Makes it Work
The keyboard is pretty comfortable on this laptop. Yet, it has a very shallow depth to it. You can use the function cube to change the different profiles to cycle between intelligent cooling, battery, and performance.
The glass touchpad is very easy to use. It is super accurate, and the sticker placement is one of the best I have seen on a laptop.
Overall: SOLID
Performance
What Makes it Work
Ultimately, this laptop is similar to the previous models. It has the same performance levels as most ThinkBooks with up to 16GB of RAM and an 11TH Gen Core i7 processor. And it also includes an integrated Intel UHD graphics and 1TB M.2 SSD.
The laptop comes with a PCIe Gen 4 processor giving you some fantastic read and write speeds. It has a mobile CPU of Core i7-1135G7.  There was excellent productivity in the PCMark 10 test.
During web browsing, Microsoft Office, and video streaming, the Plus Gen 2 breezed through it. During the Cinebench test, it could transcode a short movie to 1080p from a 4K resolution.
What it's Lacking
During the Benchmark test, this laptop was matched against the Asus ROG Flow X13, ZenBook 13, and the Razer Book 13: it did not do so well. It lacked the power and multitasking ability present in its competitors.
Overall: Not up to par with the rest of the competition.
Battery Life
What Makes it Work
The battery life of this laptop is fantastic. If you are using the main display, you will get about 8 hours before needing to charge. And you will get up to 14 hours of usage if you are using the ink display. During the rundown video test, with a 100 percent volume and 50 percent screen brightness, the Plus Gen 2 lasted for 15 hours and 30 minutes.
Overall: A STRONG LIFE
Final Verdict
My problem with this laptop is its upgradability. The RAM and even the Wi-Fi cards are soldered onto the motherboard. In my opinion, this laptop is not for everyone. If you carry two devices and want to reduce that to one, this will work for you.
Overall, it is a fantastic concept, and the pricing is in the mid-range. My only drawback to this laptop is the poor performance and the fact that everything is soldered on.
Should you Buy it?
I do not think many would find a need for this laptop. Though it is a unique dual screen machine with a lot to offer, I cannot get past its lack luster performance.
For more news on the latest tech, or replacing your old tech, visit sellbroke.com.