Dell Inspiron 14 2-in-1 AMD: Powerful and Affordable
Nov 02, 2021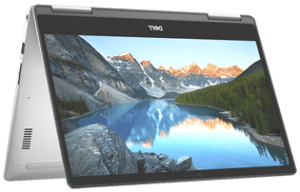 The Dell Inspiron 14 2-in-1 is an interesting device. One of the fascinating features is its price and the fantastic specs that come in a light and thin package. It comes with AMD's Ryzen 5000 U-series processor and costs less than most laptops in its range. Dell is currently offering the 14 2-in-1 with the Intel Tiger Lakes CPUs.
Since it features a more prominent display, this device is bigger than the XPS 13 14-inch display, but they have managed to keep it thin and light. With its new look and upgraded features, is the 14 2-in-1 worth your money? Will Dell succeed in making it the best selling laptop this year? Let's take a look at it in our review.
Design
What Makes it Work
On seeing the laptop at first glance, you will be able to tell that Dell is taking a page out of its flagship XPS and Latitude series. The chassis is made of plastic and aluminum materials, and the front lid comes with a beautiful finish; that gives it a high-end device feel.
It does a good job resisting fingerprints and has a smooth hinge. No matter what position you put the lid in, there is barely any wobble. The base lifts itself when you open the lid, placing the keyboard at a good angle for typing.
Given that this is a two-end device, you can flip it into tablet mode or tent mode if you want need to a closer view.  If you are a student looking to take notes in class, you can use the stylus pen (for an added fee).
This laptop has a decent port selection.
On the left side:
an HDMI port

a USB-C 3.2 Gen 1 port

a USB-A 3.2 Gen 1 port
On the right side:
a microSD card reader

a 3.5mm audio jack
Overall: A MODERN, VERSATILE STAND
ARD
Display
What it's Missing
The 14-inch 1080p display with wide viewing angle panels is a poor display. It only covers 62 percent sRGB, 46 percent Adobe RGB and dcip3. The contrast ratios are off, and the colors are muted. This makes it a poor option for watching movies, but simple productivity tasks like Word documents are feasible. The screen has a touch function, but it can be an issue if you value a good quality display.
The brightness levels are alright. It only goes as far as 240 nits which is not recommended for anybody looking to get a good display laptop in 2021.
Overall:
DISAPPOINTING
Keyboard and Touchpad
What Makes it Work
The keyboard layout is very similar to the Dell XPS 13, except for the smaller keycaps and adequate spacing. You will also be getting the stand LED backlit system that gets the job done in dim light.
What it's Lacking
The keys are good, but they lack feedback when typing. It feels mushy, and the travel distance is also shallow.
The touchpad is okay, but you might find it hard to get used to. It is made of a smooth plastic surface, but it does not feel very responsive to your touch input. I noticed a bit of delay when it came to dragging icons and resizing windows. So, it would be best if you get a dedicated mouse if you intend to get significant work done. The primary left and right buttons feel sticky, and I didn't get good feedback as well.
Overall:
Lackluster
Performance
What Makes it Work
This laptop delivers respectable performance. Using Cinebench as a performance test, it demolishes any tasks that come its way. It scores high on single-core and multi-core tests. There is no complaint about the performance, as it will burn through any productivity task no matter how challenging it is.
What it's Lacking
However, gaming is not one of the significant strengths of this laptop because of the poor display. Although, there are some games you can play on this device. But, you will have to turn the laptop down.
Overall:
A WORK HORSE
Battery
The battery life is spectacular on this device. Despite a full HD display, the 54-watt hour battery provides decent power. This laptop lasted for over 12 hours during web tests. And during video tests, it lasted for over 16 hours.
Overall, the 14 2-in-1 has good battery quality. It will promote productivity for a full day without having to worry about a charge. The power adapter is pretty compact, with a 65-watt charger, and it tops the laptop through the USB-C.
Overall:
BUILT TO LAST
Bottom Line
If you have a demanding productivity workflow and do not mind wide colors, this laptop will meet your needs. However, there are several other laptops with better displays or similar performance in the same price range.
The only drawback of this laptop is the display and the touchpad. The Asus Zenbook 13 is a good option if you want a similar laptop within this price range. But if you are on a budget and want more versatility, you should consider the Dell Inspiron 14 2-in-1.