Surface Laptop Studio: Almost Perfect
Oct 18, 2021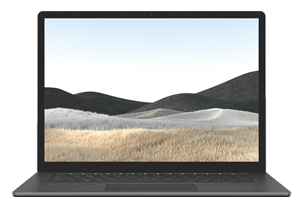 The newly announced Surface Laptop Studio is supposed to replace the Surface Book of the past. This is a convertible device with a versatile hinge that makes the screen rotate freely and create several modes for the laptop. These modes are:
regular laptop mode,

the tablet mode,

and the in-between (the stage mode).
It also has a Haptic touchpad, so if you are a profoundly entrenched Windows user and you have never tried the MacBook style, the touchpad does not physically click down. There is a Haptic motor that simulates the sensation of force.
This device has a massive chance of making the best two in one laptop list, and here is everything we know for now.
Design
What Makes it Work
The most significant change on this Surface model is its form factor switch. It is no longer the detachable tablet/ laptop hybrid anymore, and it is now a multi-mode device that lets you put it in any angle you choose with its floating display and easel hinge.
The primary purpose of this kind of laptop is its versatility. It can be used as a tablet and a laptop. And even though it is no longer detachable like the Surface Book, it solves the issue of the top-heavy component. This device is better and lighter, and it comes at less than 4 pounds. It's got a 14-inch, 120 Hz display, and it has Surface Pen support.
The Surface Slim Pen 2 that comes with this Laptop Studio can be sold separately, and it is usually stored with a magnetic attachment below the keyboard. The pen has some new upgrades that give it Haptic feedback to make you use it on paper. It feels excellent.
It no longer has the chassis of the Surface Book and Surface Tablets. Now, it has a unique design that gives the keyboard deck a floating look. While it is not exactly comfortable or slim enough for mobile use, Microsoft built it well.
There are pros and cons when it comes to the port selection of this device. We are finally getting a Thunderbolt port—this ensures you get the fastest transfer speeds, docking experience, and support for external GPUs.
What it's Lacking
The problem with the port selections is that is all you get.
A headphone jack

magnetic Surface connect port

two Thunderbolt 4 ports
We are not expecting a USB-A, SD card slot or an HDMI.
Overall: A MODERN UPGRADE
Display
What Makes it Work
The Laptop Studio has several upgrades, including the display. The new 14-inch display has a perfect resolution and comes with the Pixel Sense touch display. It gives good contrast and multi-touch support.
The Laptop Studio offers the support of Dolby Vision for HDR, which is excellent for gaming and creating content. The Surface Book was an intelligent device, and the engineering behind the hinge was very well done. But I prefer the Surface Laptop Studio because of its rotating body.
What its Lacking
This version has a lower resolution and lower pixel density of 201 PPI, unlike the Surface Book (260 PPI).
Overall: A BEAUTIFUL SIGHT
Performance
What Makes it Work
The Laptop Studio runs on the 11th gen H processors from Intel. The CPUs have four cores, making them limited to how powerful they can be. It has 35watt chips, so it is not super lightweight. Its AMD equivalent—the 5000 series chips will blow it right out of the park with the same kind of thermal output.
What it's Lacking
It would have been better as a 120 Hz screen, eight-core CPU, capable GPU and AMD chip because it could have done so much more. These four core Intel will suffice, but it could have been more.
Overall: Not up to par right now
Battery Life
What Makes it Work
Microsoft claims that the Laptop Studio will run for up to 19 hours of battery life under regular usage. This is better than what we have in the Surface Book, which runs on a 15-hour battery life. So, a content creator or student can use this device without needing a power outlet for a full day.
Overall: CAPABLE OF SO MUCH
Final Verdict
At first look, this device has a typical laptop look, but it can do so much more. Its adjustable 120 Hz screen can move in any direction. Regardless of how you want to categorize it, this new Surface Laptop Studio is arguably the best Surface device to be made. If you're trying to gather cash to buy one you can sell laptop that you currently own to us.
There are certain reservations concerning this Laptop. While significant and unique, the hinge may or may not be reliable and could give the keyboard scratches. But overall, we love how Microsoft is trying to stand out with the accomplishment of this laptop.
For more news on the latest tech, or replacing your old tech, visit sellbroke.com.