ThinkPad X1 Extreme Gen 4 Review
Oct 11, 2021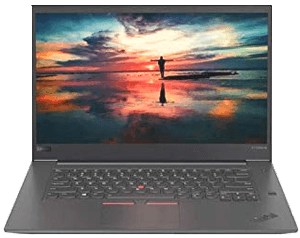 The new ThinkPad X1 Extreme Gen 4 has recent changes, but it is still very much a ThinkPad like it's predecessor. The new 16:10 display makes watching and working on multimedia better. And with the newly added NVIDIA and Intel components, the Extreme Gen 4 has turned out to be a very powerful device.
Is the Extreme Gen 4 for you? Let's go to our review where we break down anything you would need to know about the Lenovo Thinkpad X1 Gen 4. It's a one of best selling laptops in it's category.
Design
At 4.3lbs, this laptop is pretty easy to carry around. Most laptops with this kind of hardware are usually heavier. In my opinion, the Gen 4 is a competitor to a  MacBook Pro 16, rather than a gaming laptop. It comes in a black rectangle chassis and houses the ThinkPad logo on the top right corner and the Lenovo logo on the bottom.
The port selection of this laptop is pretty decent.
On the right side:
an SD card slot

USB Type-A 3.2 Gen 1 ports

a lock slot
On the left side:
an HDMI 2.1 port

a headphone jack

a thunderbolt 4 port

a power jack
Overall: A HIGH END LOOK
Display
The 16-inch Extreme Gen 4 laptop comes with a 16:10 display, making it more extensive than the screen on the XPS 15. The new display is better than the 16:9 panel on the previous generation's laptop. This model comes with a 2560x1600 resolution, yet it is not a touch-screen. But if you choose higher-end panels, you can get the touch option.
During the DCI-P3 test, the screen reproduced 83.5 percent of the color gamut, and it measured brightness of 426 nits—which is just below the Surface Laptop 4 and XPS 15.
Overall: UP TO PAR
Performance
The performance of the Extreme Gen 4 is pretty good. It transcoded a 4K video to 1080p in 8 seconds in the Handbrake test. It also copied a 24GB file at the rate of 1400MBps, which is better than the Surface 4 and XPS 15.
On the Benchmark tests, it scored 12,178, which is pretty remarkable compared to its contemporaries. While it is not exactly a gaming laptop, it runs at excellent speed to give you the best experience.
Overall: A HIGH END MOTOR
Keyboard, TrackPoint and Touchpad
The keyboard is one of the essential features in the Lenovo designs. They make constant subtle changes to it, but they still have the same island-style keys and red colored TrackPoint core. As expected, the Extreme Gen 4 keyboard is a good one; it has an excellent click-clack sound and feels good to type.
Although it required a little force while typing, the ten fast fingers typing test typed 103 WPM with a 2 percent error rate. There are 12 function keys on the keyboard layout, and they include some dedicated keys for Calls, Delete, End, Insert and Home keys on a row.
While TrackPoint seems a little archaic, some people find it to be necessary. From the red TrackPoint, you can access Windows and adjust its sensitivity.
The touchpad measures in at 4.5x2.6-inch. While in use, it felt like it had a little too much grip to touch. It would take some getting used to, but it enables you to perform finger gestures perfectly.
Overall: A GOLD STANDARD
Battery Life
Most laptops with discrete graphic features usually have poor battery life, but the Extreme Gen 4 is impressive. During web tests, it ran for 8 hours –this is after
streaming videos,

web browsing,

setting the screen at 150 nits,

and connecting to Wi-Fi.
It is enough to let you work during the day without having to worry about charging it. This makes it an excellent option for content creators, business people and even gamers.
Overall: BUILT FOR WORK
Final Verdict
The ThinkPad X1 Extreme Gen 4 promises significant changes in the coming generation, especially if you need more graphics power. It is a powerful device with a 16:10 display and Dolby Atmos audio. The screen significantly improved from the previous gen, and we love that.
However, you might find it expensive because of its high-end components and it being more business inclined. But regardless of the price, if you want to have a laptop with high-end features, then the Extreme Gen 4 is your best option.
For more news on the latest tech, or replacing your old tech, visit sellbroke.com.