Lenovo ThinkBook 16p: Expensive But Worth It
Oct 07, 2021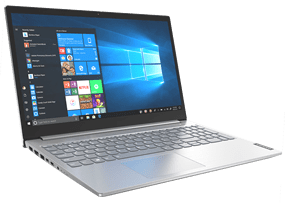 This 16-inch laptop comes with a gorgeous 2.5k display, a 16x10 aspect ratio, the Ryzen 7-5800h processor paired with RTX 3060 GPU. The specs look great but is it worth it? Today we look at the Lenovo ThinkBook 16p.
Design
What Makes it Work
At first touch, the ThinkBook 16p has a premium feel and look. It is rock solid, and the two-tone finish gives it a sleek and modern look. Coming in at 2kg, it is portable for a 16-inch laptop. On the chassis, there is very little flex like on most modern Lenovo laptops.
There is a decent port selection on this laptop.
On the left side:
a microphone/headphone combo jack

a full-sized SD card reader
On the right side:
two fully-serviced USB-C 3.2 gen

two ports you can use for data charge and display out

a Kensington lock
At the back:
two USB-A 3.2 gen 2 ports

a power port
What it's Missing
Unfortunately, it does not come with an HDMI port, but other than that, it is a good port selection. And since this laptop is running on an AMD processor, there is no Thunderbolt 4 port. If you can't live without it you can sell your laptop and purchase one with the ports that you need.
Overall: PHENOMENAL PRESENTATION
Display
What Makes it Work
The laptop's display is a 16-inch IPS non-touch display with a 2.5k resolution. These specs mean less scrolling when it comes to web browsing as it is more optimized for productivity. When consuming media, you will notice black bars on the top and the bottom. Do not worry, that is actually made for a 16x9 aspect ratio, which the ThinkBook supports.
It has good deep blacks, excellent white points and contrasts, and a very accurate color display: with a Delta E score of 0.79. It covers the color gamut well:
100 percent sRGB

75 percent Adobe RGB

77 percent of the DCI P3 wide color gamut

70 percent NTSC
This laptop is an excellent choice for content creators and video editors. Even more so than the smaller Lenovo ThinkBook 14.
The slim bezel display has a 60Hz refresh rate and a brightness of 415 nits- making it an excellent choice for indoor and outdoor use. The matte display will also cancel any unnecessary glare or reflections. It is also a Dolby Vision display, so if you are watching high dynamic content, it is optimized for that viewing experience.
Overall: OUTSTANDING LOOKS
Keyboard and Touchpad
What Makes it Work
The keyboard is the same smile shape we have seen before from Lenovo. Overall, it is a good keyboard with nice tactile feedback. A bit shallow in terms of key travel, but works well, especially for typing extensively.
There is a Numpad on the right side for number crunchers that use Excel spreadsheets and the like. It also has a multi-stage backlight that allows you to work in the dark or a dimly lit environment.
The precision touchpad is glass, and it is very responsive. Two-finger scrolling is buttery smooth, and all the gestures work as expected.
Overall: A CLASSIC STANDARD
Performance
What Makes it Work
The performance of this laptop is excellent for everyday use. While it is not a gaming laptop, it is competent for playing games. The Geekbench 5.1 scored 1456 for the single-core test and 7,366 for the multi-core test.
Overall: A POWER HOUSE
Battery
What Makes it Work
The ThinkBook 16p has a 71Wh battery, and it did eight hours and 45 minutes on continuous web browsing test over Wi-Fi at 115 nits. So, depending on what you are doing, you can expect around 7-8 hours of usage.
The 230w power adapter that comes with this laptop supports the Rapid Charge Pro, giving you 50 percent in 30 minutes and a full charge in about 80 minutes.
Overall: BUILT TO LAST
Final Verdict
There are so many things to love about the Lenovo ThinkBook 16p. From its gorgeous display to the function of the screen going back, giving you the perfect viewing angle. The Ryzen 7-5800H comes with excellent performance, a very comfortable backlit keyboard, a responsive touchpad, and that there is no screen flickering below 50 percent.
The negatives on this laptop are the lack of HDMI port, the RX16 ram instead of the faster RX8, and it is pretty expensive with the price of $2300. Especially if you compare its features with some of its competition.
With all that being said, you are getting a premium build, rock-solid laptop, that is worth your money.
For more news on new tech, or replacing your old tech, visit sellbroke.com.