Alienware X17 Review: A True Upgrade
Sep 28, 2021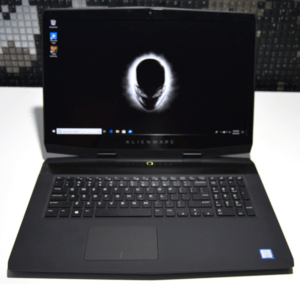 The first thing we expected to see in the X17 was how thin it will be. Alienware claimed it is the thinnest laptop they ever produced, and we were not disappointed. Despite its thinness, it still kept its structural rigidity. The X17 comes in a white new chassis, making you see the details better.
This device is better than the past Alienware laptops that run hot. The X17 is better than even the competition. But do all the new features make it worth your money? Here's our look at the Alienware X17.
Design
What Makes it Work
Unlike the previous white and black design options, Alienware has given us one option combining both: with white on the outside and black on the inside. Overall, the laptop feels pretty solid and is made out of quality materials. Despite how thin the laptop is, the lid is pretty thick, giving it a lot of strength and little screen flex. The hinges feels smooth and sturdy, and screen-wobble was only average.
On the back you have:
 a USB 3.2 gen 2 type-C Thunderbolt four-port

with power delivery capable of 4K

with speeds of up to 40GB per second,

a USB 3.2 Type-A port

with power share,

an E 3100 RJ45 Ethernet jack,

an HDMI 2.1 port,

a microSD slot,

and mini DisplayPort 1.4 port.
What it's Lacking
If you want access to the CPU and GPU, you may have to deal with a very extensive disassembly.
Overall: FULLY LOADED
Display
What Makes it Work
The screen of the X17 comes with three options:
a 4K panel

and two 1080p options.
The 4K panel is incredible, bright and very color accurate. It tested up to 100 percent sRGB and 100 percent Adobe RGB.
What it's Lacking
My reservations with this panel are the lack of advanced Optimus or any MUX switch. Meaning, playing certain games at specific resolutions with the built-in display, will have some issues. A laptop with this kind of caliber and price range should have it.
Although a 1080p, 360Hz mid-tier option panel supports advanced Optimus, the 4K panel and the entry-level screen cannot directly connect to the video card. Thus resulting limiting the best performance you could be experiencing. Despite its thin bezels, the panel of this device cannot support the newer 16x10 aspect ratio screen. Alienware will have to redesign the whole front panel if they intend to stick in a taller screen.
Overall: Powerful yet faulty design
Keyboard and Touchpad
What Makes it Work
The keyboard of the Alienware 17 uses the same Cherry MX mechanical switches that came in the previous generation. It is not a regular keyboard, and it has tactile feedback when you type fast on it. This could be a problem if you are do not want a loud keyboard, but most people will enjoy the typing and gaming experience.
The laptop's stainless steel is engineered to allow smooth key travel straight down, no matter what part of the keys you hit.
It does not come with a number pad like the last mechanical keyboard, but ventilation was installed instead. It also has dedicated media keys on the side.
What it's Lacking
My reservations about the keyboard are the lack of backlighting in the secondary function keys like the numeric or "F" keys. Aside from that, the keyboard is excellent.
The trackpad of the X17 is great, but it only lights up with the highest configurations, such as the RTX 3080 configurations. It is not necessarily bad, but they should have put the lights in the lower configurations.
Overall: Somewhere in the between
Performance
What Makes it Work
This laptop is one of the coolest high-performance laptops on the market, despite its thin build. During benchmark tests, the X17 scored 11,769 overall, and for Geekbench 5, we got a single score of 1505 and a multi-core score of 9133.
Overall: A POWERFUL BEAST
Battery
What Makes it Work
The 87Wh Alienware X17 comes with a big battery that lasts for 8.5 hours during regular testing. However, this was due to the 4K panel display that it is equipped with. You may get up to 20 percent extra battery life if you get a lower resolution display like the 1080p options.
On the higher model of this laptop, there is a 330W big and heavy AC adapter. But the lower specs X17 like the 3060, or 3070 come with a smaller 240W adapter with gallium nitrate-based tech. That way, you get a smaller, thinner, and more portable package on your gaming laptop.
Overall: BUILT TO RUN
Final Verdict
For a thin laptop, there are many unique features on this laptop, such as its speed. It is one of the fastest laptops out there, and it will be a dream for gamers and creatives. It is also well built and has a sleek design.
But it is very expensive, and it comes with no secondary key glow – which we were expecting. Aside from the minor dislikes on this laptop, it is a good buy if you have the money for it. If you need extra cash you can trade in laptop that you currently own with us.
For more info on the latest tech, or replacing your old tech, visit sellbroke.com.