Eluktronics Prometheus 16: A Better Performing Alienware Alternative
Sep 27, 2021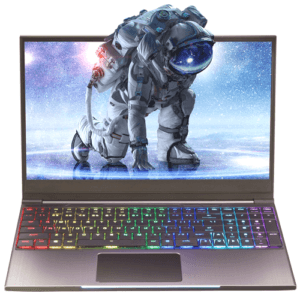 Bringing new and fresh designs for gaming laptops is not a new thing for Eluktronics. They go all out with producing unique laptops, and this has continued in the Prometheus 16. Like every gaming laptop, the Prometheus stands out in terms of performance and other special features.
The best part of it is that it is cheaper than most gaming laptops on the market. It ships with the Windows 10 Pro and a clean install. But you will have to download the extra drivers for customization of the fan and RGB keyboard.
With it being a more affordable high end gaming laptop, there are bound to be questions. The biggest one being: Is it worth it? And is it a good alternative to Alienware laptops? Let's answer that today in our review of Eluktronics Prometheus 16.
Design
What it's Lacking
At first sight, the laptop has an overall cheap look, with there being a little flex on the lid. The Prometheus 16 is not a super-thin laptop, unlike most of its competitors. It comes at approximately 2.56kg, and that makes it a little heavy. In the middle of the back cover, there is their glowing emblem. Surprisingly, it has zero branding on the side, and it comes with an orange plastic chassis- rounding out its cheap feel completely.
On the left:
a USB 3.1

a microphone port
On the right:
On the back:
two exhaust vents HDMI 2.0

Thunderbolt 4.0

a mini display port
This gaming laptop is also called the Thunderbolt ZERO, and it comes with an RTX 3070, and two PCIe 4.0 ports: with one being occupied with a 512GB SSD.
Overall: Not made for high end quality
Display
What Makes it Work
This laptop comes with a very nice and sharp panel in a slim bezel. For a gaming laptop, it is very good. You can open it easily with one hand, and that will show you a premium looking keyboard layout. It comes with 94 percent sRGB, 70 percent NTSC, and Adobe RGB at 74 percent. The 16-inch laptop has a refresh rate of 165GHz and a resolution of 2560x1600. It also has DC dimming so that you won't experience any flicker from the screen.
Overall: A SOLID LOOK
Keyboard and Track Pad
What Makes it Work
The keyboard of this laptop is an all backlit RGB keyboard. It has a very nice look and feel, easy to type on it, and you have a NumPad on the right side. However, the shortcut arrow keys are half sized, but that does not change its greatness. The keypad is also noiseless and it has different zones on it- that you can adjust with downloadable software.
Although the backlight looks a lot duller in the dark, making it hard for people who game at night. There is a red button on the right end side of the keyboard layout which is used to boost the fan.
The touchpad is pretty decent. The finder movements are sensitive and precise. The right and left mouse buttons are tactile and crisp.
Overall: A REAL CLEAN FEEL
Performance
What Makes it Work
Unfortunately, the Prometheus 16 is still stuck with the Ryzen 5000 series. The write speeds are not as fast as we expect in a PCI3, but it is upgradeable, and there is a spare slot that you can insert a PCIe4.0 and get blazing fast speed. For Geekbench scores, it gave us over 1500 single-core scores and almost 9000 for multi-core scores. With the NVidia GeForce RTX 3070, the gaming performance did run very smoothly. And during the video file transfer test, the Prometheus 16 Encoded a 4K video into 1080p in less than a minute.
Overall: UPGRADABLE TO A HIGHER STANDARD
Battery
What Makes it Work
The 64W battery is not amazing, but it is better than most gaming laptop batteries. I achieved up to 6.5 hours of battery use with light tasks like watching videos through YouTube and Chrome. But with gaming, you could be getting up to 2 hours on usage. However, to achieve the best battery life, you have to be on the integrated graphics.
Overall: SOLID STRENGTH
Final Verdict
The Eluktronics Prometheus 16 is a decent laptop overall. It has many excellent features like the 500 nits of brightness, refresh rate of 165Hz, a 5ms response time and the sharp QHD resolution. I also love that it comes with a Thunderbolt 4 port for its price and the second PCIe port.  Another fantastic perk to this laptop is the one-year warranty that comes with it. You can send it back to the service center in Germany if there is a need for repair. Otherwise you can sell laptop to us, even broken one and use the cash to buy another one.
The bad part of this laptop is the noise- especially during gaming or encoding a video. And the cheap look and feel of the orange plastics.
The comparatively moderate cost of the Prometheus 16 makes it a decent buy for gamers that don't want to splurge. However, if you are looking to get the full package from a gaming laptop, you can always find a premium product better than the Prometheus 16.
For more info on the latest tech, or replacing your old tech, visit sellbroke.com.