Asus ProArt StudioBook 16 Review: Every Creators Dream
Sep 17, 2021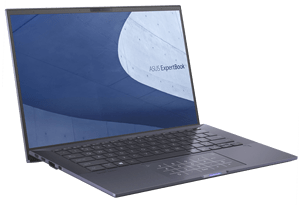 The ASUS ProArt StudioBook 16 is one of the best content creation laptops on the market. It's multiple functions and versatility make it the premiere laptop for content creators of all kinds. A lot is going on with this high-end creator laptop, and I cannot wait to get into it. Here is our first look at the ASUS ProArt StudioBook 16.
Design
The highlight of this laptop is the inbuilt Dial pad. It is very similar to the Microsoft Dial. The purpose is to allow you easily interact with the programs or create content. You can customize its functionality as you work.
The idea of a Dial is not new, but this is next level. It has excellent Windows support and integration and other functionality because ASUS has added customizable and software controls to help you do a lot of stuff with this Dial. While it helps with volume and brightness control, you can also use it to tweak things like adjusting your brushes or layer in Photoshop. Or manipulating your timeline in the premiere- all without taking your hands off the keyboard. This is a nice feature for video editors, graphic designers and even gamers.
There is a decent port selection on this laptop; on the left side:
two USB 3.2 Gen2 Type-C

that works as Display ports and 100W charging

an HDMI 2.1

a USB 3.2 Gen2 Type-A port
On the right side:
a 3.5mm audio jack

a USB 3.2 Type-A port

an SD Express 7.0 card reader

an RJ45 port on the right-hand side
Overall: NEW POSSINILITIES
Display
There are two variants of the screen. There is the 16-inch, 1440p with an aspect ratio of 16x10. But if you want a more color accurate and vibrant screen, you can go for the 4K OLED panel. It is the same 16-inches, but it comes with an HDR 4K super accurate OLED panel. Whether your choice is the Intel or AMD display, the StudioBook 16 will wow you. It is the first StudioBook that has an HDR, 4K OLED display.
ASUS claims that the display panel is cinema-grade, and it covers 100 percent DCI-P3 color gamut. This is a piece of good news for video editors, content creators, and digital designers because color accurate and ultra-vibrant displays will work the best.
Overall: STUNNING THROUGHOUT
Keypad and Touchpad
The keypad comes with a Numpad for people that want to use it. It is a standard and good keyboard with tactile feedback and good bounce. It is also equipped with full-sized arrow keys and a dedicated mouse button.
The StudioBook 16 touchpad is very unique. It registers your style inputs and can notice sense gestures. You could almost feel like you have a digital drawing board right on the deck of your laptop. There is an extra button in the middle, which will be of great use to 3D artists. Allowing them to easily pan, orbit, and rotate their creations from several perspectives and angles with just a press of a button.
Overall: MORE ACTION POSSIBLE
Performance
The StudioBook 16 is configured with high-performing processors and discrete graphics that allow you to handle:
photo editing,

video editing,

digital designing,

and a lot more.
The laptop is powered by a third-gen Intel workstation CPU or AMD Ryzen 5000 H-series processor. It is capable of handling analysis applications, photorealistic rendering, and multi-threaded visualization or simulation.
The StudioBook 16 Intel Core i7 CPU comes with NVIDIA RTX 3060 graphics. While the AMD Ryzen 5000 H-series processor comes with an NVIDIA RTX 3070 GPU. And both models are equipped with super-fast, dual PCIe SSDs and can be be upgraded up to 64GB RAM.
Overall: PERFECTLY SMOOTH
Should You Buy?
It the Asus ProArt worth the price? This laptop is the best option for professionals that frequently work on:
Photoshop,

Lightroom,

Adobe Premiere,

After Effects,

InDesign,

Illustrator,

DaVinci Resolve

and much more.
Although if you are an engineer or architect and use CAD modelling apps, you may want to focus on the StudioBook Pro 16.
The review of the AMD StudioBook 16 will come with battery life results and a benchmark review to see if the ASUS ProArt StudioBook 16 is meant for you. If you are a creator and need to work on the go, the ASUS ProArt StudioBook 16 is a resounding option for you. If you need extra cash you can trade in laptop that you own with us for the best value.
For more of the latest tech news or looking to replace your old tech, visit sellbroke.com