Gigabyte Aero 17: The Best 17" Laptop For Content Creators
Sep 07, 2021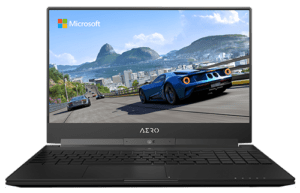 The one thing I love about laptops for creators is looking forward to the design and performance. The Gigabyte Aero 17 is a sleek looking, high performing laptop with great specs. It has excellent unique features that make it perfect for content creators. Is this the laptop for your next creative endeavor? Here is our review of the Gigabyte Aero 17.
Design
What Makes it Work
The sleek Aero 17 comes in an all-metal aluminum chassis and a lit-up Aero logo that pops up when turned on. It is an attractive laptop and has a premium feel, and is the lightest of all its competitors. It comes with a weight of 5.5 pounds and measures 15.6 x 10.6 x 0.8 inches.
The Aero 17 has an inbuilt fingerprint scanner for security purposes and quick access to previous works. It has a decent port selection that provides an instant connection.
On the left side:
an Ethernet port

a headphone and mic jack

an SD card reader

two USB Type-A ports
On the right side:
a mini Displayport

a USB Type-A port

a DC power port

USB Type-C port

an HDMI port
Overall: FULLY LOADED
Display
What Makes it Work
The Aero 17 comes with a 17.3" display with an ultra-slim bezel. It has a stunning and immersive panel that works perfectly for gaming, multimedia purposes or content creation.
The Aero 17 scored 79 per cent of the DCI-P3 color gamut and 468 nits in the color display test, which is remarkable for its range. Watching movies on this laptop was crisp and clear. You see the profound clarity in the scenes and displays.
Overall: A VIBRANT LOOK
Keyboard and Touchpad
What Makes it Work
The Aero 17 has super responsive and impressive Chiclet-style keyboards. While I was typing, I felt a clicky but soft bounce. During the 10fastfingers typing test, I registered at 89WPM with a 92 percent accuracy. Its huge deck creates enough space for both hands, whether they are small or large.
The touchpad is accurate and responsive whether you are scrolling or clicking. At 4.2 x 2.8-inches the touchpad was seamless in every action. All Windows 10 gestures, including three-finger taps and two-finger swipes, was smooth and functional. Using the left or right clicks gave brilliant feedback.
Overall: MODERN PERFECTION
Performance
What Makes it Work
The best part of this laptop is the insane amount of workload it can carry. Content creators will have a field day handling tasks with 32GB of RAM and an Intel Core i9-11980HK CPU. Whether using a GPU-heavy app or a CPU-intensive app, you will get an outstanding performance.
The Aero 17 comes with a temperature issue. After a couple of minutes there is a noticeable difference in the warmth being radiated. However, this does not affect its performance in any way. I was playing several YouTube videos and had opened almost 100 Google Chrome tabs, but it was still working fine. If you don't want to deal with the issue you can sell your laptop to us for cash and buy one that totally fits your needs.
During the Geekbench test, this laptop scored 9,484, which is higher than a premium gaming laptop score of at least 7,006. For the file transfer test, Aero 17 duplicated 25GB of files at 1,729 per second. And during the video editing test, this laptop transcoded a 4K video to 1080p in 6 minutes.
Overall: IT'S A MONSTER
Battery
What its Lacking
This laptop comes with a pretty poor battery life. So to enjoy it, for content creation and heavy tasks, you will always need to have a power outlet ready. When tested, the Aero 17 lasted for 5 hours. If you need your laptop as a workstation or use it as a gaming laptop, this will be a problem. The smaller Aero 15 has a better battery life and is rated as one of the best travel laptops.
Overall: Not enough juice
Last Words
The Gigabyte Aero 17 has everything a content creator may need in a laptop.
light

great display quality

perfect color grading results and accuracy

4K display
A NVIDIA GeForce RTX 3080 GPU, coupled with the Intel Core i9 CPU, offers the best combination to deal with your image and video editing needs.
However, the downside to this laptop is the price, and the temperature running hot during high-performance usage. There is also the problem with having to deal with poor battery life and searching for a power outlet everywhere you work. But that aside, the performance level is top-notch, and you will not have a problem.
If you want more power, you can consider the Origin Eon 17-X. However, it is more expensive and has a worse battery life. So, if you consider any high performance computer, the Gigabyte Aero 17 and 15 are some of the best laptops for content creators.
For more info on the latest tech or selling your old tech, visit sellbroke.com.