Samsung Galaxy Z Fold 3: Impressive in Numerous Ways
Sep 06, 2021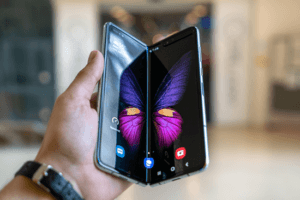 The soon-to-be-released Samsung Galaxy Z Fold 3 comes with a lot of skepticism about its durability and screen. This is due to its unique foldable feature. But our review has led us to believe that the phone is a remarkable one. Even though it has an awkward shape when it is closed, it looks like a pretty fun tablet once opened.
It is a perfect option for people who want a tablet and phone on the same device. There are a lot of features that make this phone an impressive one. Read on t see if you want to sell your iPhone and switch to an Android.
Design
What Makes it Work
The Z Fold 3 comes in three different colors: phantom silver, phantom green, and phantom black. It comes with a Gorilla Glass Victus display and an Armor Aluminum body: making it highly resistant to drops, smudges or scratches. Also included is a PET film, resulting in a 90% more durable screen when you add it to an enhanced main screen layer.
This phone has:
up to 80% tougher display,

an S pen support,

and an under-display camera for penetrative viewing.
It is water-resistant with all these great features. And it comes with upgraded multi-tasking features and a brighter display.
Though it is a bulky phone, it does not diminish the Z Fold 3's durability. It is easy to note that it is water-resistant even from afar because of its build. So, for up to 30 minutes, the phone can be at a water level of 1.5 meters. However, it is not dust resistant.
When opened, the Samsung Z Fold 3 measures at 6.2 x 5 x 0.25 inches and 6.2 x 2.6 x 0.56 to 0.62 inches when it is closed. This makes it even heavier and thicker than most phones.
Overall: FILLED TO THE BRIM WITH STYLE
Display
What Makes it Work
The Z Fold 3 comes with dual displays. A 7.6-inch screen when it is open and a 6.2-inch cover display. On both displays, you can get a refresh rate of 120Hz to get smooth performance during use. Due to the new Eco display technology, the display of the Z Fold 3 is about 30 percent better than its previous screen.
The 2208 x 1768 resolution display comes with an under-display camera which makes the screen look elegant. The Z Fold 3's UDC is almost invisible, and you can barely notice it on a dark display. This display is tougher and better than the previous foldable phone.
What its Lacking
The nits are the unfortunate part of this phone as it comes at 422 nits during tests.
Overall: A DIVERSE LOOK
Performance
What Makes it Work
This Samsung Galaxy phone delivers solid performance with 12GB of RAM and 256GB of internal storage- although it can be upgraded to 512GB. It also comes with the Snapdragon 888 processor. This solid hardware makes the performance rate go off the charts.
The Z Fold 3 provides quick performance on regular use whether you are gaming or running multiple apps at once. This phone scored 1,107 on a single core and 3,418 on a multi-core during the comprehensive performance test. And during the video editing test, it easily transcoded a 4K video to 1080p in less than one minute.
What it's Lacking
There are occasional glitches that happen when you go from the main display to the cover display.
Overall: A HEAVY MACHINE
Battery
What Makes it Work
This phone comes with a 4,400 mAh dual battery that lasts for about 8 hours on a display mode of 60Hz and around 6 hours at 120Hz. However, it lasts differently depending on the screen modes.
The good thing about this phone is the wireless charging feature that comes with it. You can even charge other devices wirelessly from the back of the phone for up to 4.5W. During web browsing tests, the Samsung of 150 nits on a 5G network was pretty disappointing, though.
Overall: JUICED UP
Going Forward
Looking at the Z Fold 3 at first glance, you might think you are looking at the older Samsung phone. But it has more upgradeable features such as the S Pen support, better design, and many more foldable friendly apps.
We expect to see better features in the new foldable series, such as an inbuilt S Pen holder and camera upgrades. If you are willing to put a lot of money into a foldable phone, the Z Fold 3 should be at the top of your list.
For more info on the latest tech or replacing your old tech, visit sellbroke.com.