Samsung Galaxy Book Pro 360 15: Better Than the 13-Inch Model
Aug 31, 2021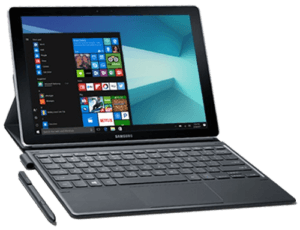 After so many years, Samsung has finally decided to take their laptops seriously. And this laptop is an attestation to that fact. It syncs perfectly with a Samsung Galaxy phone, comes with an AMOLED screen, and might be the slimmest laptop you will ever see.
But is the Pro 360 worth the price point? Here is our look at Samsung's Galaxy Book Pro 360 15.
Design
What Makes it Work
This model of Samsung Galaxy Book Pro is the only convertible laptop in the series. Unlike the 13" model, the 15" cannot be used as a tablet, but the S-Pen that comes with the laptop makes up for that. Although due to the size of this laptop, the S-Pen feels more like an essential writing tool instead of something that is used for tapping the screen. It makes tasks like navigation, illustration, and note taking quick and straightforward.
The Pro 360 is a standard looking  Samsung laptop, with a mixture of plastic (on the bottom panel) and aluminum throughout. It looks well-constructed, but you may notice some disappointing aspects. Many convertible laptops come with an exceeding weighty screen, and the Samsung Galaxy Book Pro 360 is no exception.
Like most midrange Windows laptops, the Pro 360 touchscreen might be awkward to use, and the design quality may not fulfill expectations. Yet, it is super slim and very light. This laptop comes with a limited number of ports. You will find:
a headphone jack,

two standard USB-C ports,

a Micro SD card slot,

two Thunderbolt 4 ports,

a Bluetooth 5.1,

and a Wi-Fi 6E.
Overall: Awkward yet viable
Display
What Makes it Work
The Pro 360 screen has one of the most impressive features, and although it is not the first laptop that comes with an OLED screen, its application comes with unique features. The 15" laptop comes with a 1920 x 1080 resolution.
The color coverage on this laptop is precisely what we expected. It scores 100 percent in AdobeRGB and sRGB. This was surprising to see, especially on a 1080p screen.
What its Lacking
However, it comes with the downside of dullness. If you are used to working on sharper screens, you might squint a bit when using this laptop.
It was not a problem per se on the 13" screen. But seeing as it is supposed to be one of the most impressive features on this laptop, it is disappointing. Microsoft's Surface Pro does better in tis department.
Overall: Not the greatest looker
Keyboard and Touchpad
What Makes it Work
Using this keyboard is fun; it comes with 1mm of travel and a bouncy feel. The new 15" model has a number pad on the right and an in-built fingerprint reader. In the white backlighting key features, you will get three brightness levels.
The Pro 360 comes with a premium touchpad. It quickly registers multi-finger gestures, has swift tracking, and is vast with a nice feel overall.
What its Lacking
You may have to deal with the noise of the touchpad, especially when you are in a quiet space. The noise can be pretty irritating if you compare it to the soft click of the MacBook Pro or the Surface Pro 4.
Overall: NOISY BUT WELL BUILT
Performance
What Makes it Work
The Intel Core i7-1165G7 in the 15" Pro 360 is usually only reserved for 13" laptops. It was a surprise to see it on this 15" laptop. It comes with Intel's Xe integrated graphics instead of discrete graphics cards. I was surprised at how much this laptop scored on every performance test, including:
word processing,

video editing,

conferencing,

and web browsing.
Having tested several laptops with Intel Xe graphics, I can honestly say this laptop outperforms every one of them. It even goes as far as being in advance of the pictures in some Ryzen 5000 processors.
It is also a relatively quiet laptop, and surface temperatures weren't much of an issue. This is an advantage of having a low power processor in a big build.
What its Lacking
This, however, does not mean it is suitable as a gaming laptop. During the gaming test, it had an inconsistent frame rate at medium settings.
Overall: A TRUE WORKHORSE
Battery
What Makes it Work
I'm not overstating it when I say this laptop has excellent battery life. This should not be much of a surprise given that the Pro 360 has
a 1080p screen,

a large 64 watt-hour battery,

and a power-saving processor.
Using 1080p is vital for the battery life of this laptop.
During the web browsing test, this laptop lasted for 13 hours and 30minutes. Even though your daily workload is probably more than that, you should not have an issue with using apps, streaming, and browsing without needing a charge.
Overall: EVERLASTING LIFE
Bottom Line
The Samsung Galaxy Pro 360 did not meet our expectations as we wanted more in terms of design quality and port selection. Still, the battery life, performance and slim body make it an appealing choice. But if that's not enough, you can sell laptop that you don't like for cash to us and buy one better fitting your needs.
For more reviews, info or personal hardware, visit sellbroke.com.