HP Elite Dragonfly Max Review: Big On Privacy
Aug 13, 2021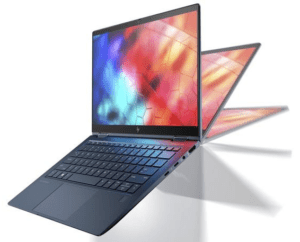 The HP Elite Dragonfly Max was expected to be bigger, but it is the same size as its predecessor. It is one of the most amazing Ultrabooks, with its appealing look and new features. In our review, we will look over what makes the HP Elite Dragonfly Max a great option for you.
Design
What Makes it Work
The Dragonfly Max is a portable and lightweight laptop that handles whatever business you bring to it. It weighs 2.5 pounds, making it easy to carry. Its matte black chassis gives it an elegant and stylish look; not drawing a lot of attention to it.
It has a decent port addition, not enough to give you connectivity options but so little as to not stress you out over where to plug in stuff. It comes with:
an HDMI 2.0 port,

a 3.5 mm audio jack,

one USB Type C Thunderbolt 4 port,

and a USB-A port.
What its Missing
The downside to this laptop is that it does show fingerprints. So if you use this laptop for a long time, you risk leaving a smear of fingerprints all over the place.
Overall:
A Simple but Dirty Design
Display
What Makes it Work
This laptop features a 13.3-inch touchscreen display that comes with effervescent colors. And while it is restricted to the FHD display, the Dragonfly Max has a beautiful design with its specified screen length. The color reproduction of the IPS panel is fantastic, and it produced 115 per cent of sRGB during a colorimeter test.
It makes it great for multimedia content, although you might want to look for other options for graphic design or photo editing. During testing, the screen brightness reached about 706 nits at maximum. Even with it putting your eyes under stress indoors, it is an excellent option for use outdoors.
One of the cool features of the Dragonfly Max is the Sure View integrated privacy, which allows you to dim the screen when viewing the screen at a 45 degree angle. It is an excellent option for discretion. All you need to do is press a button, and the screen becomes almost invisible at that angle.
Overall:
It's a Beauty
Keyboard and Touchpad
What Makes it Work
The touchpad is a 2.6 x 4.3-inch fast response and easy to use one. It is a big enough trackpad that you can efficiently operate without the need for an external mouse; making it is the bounciest trackpad of the HP laptops. And while it does not have significant improvements from its predecessors, the Dragonfly Max touchpad has a nice touch.
What its Missing
The keyboard on the Dragonfly Max is the usual slight clicky keyboard that comes with most HP laptops. And even though it is a traditional backlit keyboard, its layout makes it feel a little cramped. Because of the small size of the Dragonfly Max, the keyboard comes in a tenkeyless format.
And while it comes with a number pad and a number lock key, it has a slightly crowded feel. It scored 50 words per minute during the typing test of 10 fast fingers. This is a better result than 43 words per minute that a mechanical keyboard might give.
Overall:
Keyboard is lacking the care of the touchpad
Performance
What Makes it Work
The most significant change that came with the Dragonfly Max is the CPU. Its performance level was upgraded, and it now comes with an 11th gen Intel Core i7-1185G7. During the Geek Bench test, it was able to get to 4,900. The new CPU performance runs smoothly daily, although it has lousy video editing experience and slow transfer rates. The Dragon Max converted a 4K video to a 1080p in less than 20 seconds in the Handbrake test.
The Dragonfly Max, while not having the perfect power to handle high resolution or intense graphic games, it is still useable for a less demanding gaming experience. There is no card mainly dedicated to graphics, but there is a GPU integrated Intel Iris Xe.
Overall:
A Working Mans Laptop
Battery
What Makes it Work
There is an improvement in the max version of the HP Dragonfly. While on a nit of 150, it lasted for about 14 hours with just web browsing. This makes it one of the longest-lasting Ultrabooks in the HP Series. It compares similarly to the Samsung Galaxy Pro Book, which lasted for around the same time.
Overall:
Just Keeps Going
Final Verdict
The HP Elite Dragonfly Max is the perfect fit for you if you want a laptop with:
excellent connectivity,

a great display,

and a superb camera.
Its screen will save you from prying eyes, thereby reducing leaks or security risks.
For your needs on new tech and fixing old tech, come over to sellbroke.com.