The Best Budget CPU Coolers: A Must Read For Gamers
Aug 04, 2021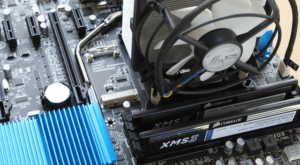 Coolers may not be the first thing you check for when picking a laptop. But it is essential to have, especially when dropping the temperature of your PC.
Using your PC can be inconvenient, especially when you play high-definition games. Prolonged periods of playing games can slow down your performance. It is crucial to keep your PC cool even with continuous usage. If your PC overheats, having the best GPUs or state of the art processors will not mean anything.
This is why we have curated a list of the best coolers that will function well for your CPU. And, at the same time, not create a hole in your pocket.
Cooler Master Hyper 212 EVO V2
A Fully Packed Budget
The Cooler Master Hyper 212 EVO V2 is a great performance cooler, long-lasting and very compatible. It comes with a dimension of 155 x 120 x 80mm / 6.1 x 4.7 x 3.1" and fan dimension of 120 x 120 x 25mm / 4.7 x 4.7 x 1". And it provides extra clearance for RAM and comes with a 2-year warranty.
The Cooler Master Hyper 212 EVO V2 is an exceptional mid-sized cooler at a great price. Impressively, it works well with both AMD and Intel CPUs. It could be a little hard to install, but it does not require any tool to set up. And as soon as you get past the installation, you will get brilliant results on your rig. When installing it, you will find easy to follow pictures and video instructions.
The Cooler Master Hyper 212 EVO V2 comes with
a powerful fan

a vast collection of heat sink fins

and four heat pipes
These help with the temperature dropping off even the most powerful CPUs. The Hyper 212 EVO V2 fan may be noticeable during use, but it won't obstruct anything. The tiny audio footprint it comes with makes it hard to notice with the mid-range physical profile.
Some Hesitations
The reservation about this cooler is the 2-year warranty. And while most of the disasters will be happening during the installation, you should be set for the next two years. Although as soon as two years is over, you will be on your own.
This cooler is one of the best budget air coolers, provides excellent cooling power, and is compatible with all CPUs.
Arctic Cooling Freezer 34 eSports
The Straightforward Performer
The Arctic Cooling Freezer 34 eSports is a traditionally designed cooler with sharp, clean, and aggressive style. It is not only on the affordable side, but it also has stunning performance. The Freezer 34 eSports has the cooling ability to surpass the other four heat pipe coolers.
Even though it is an average-sized heat pipe cooler, it comes with a cooling fin with sides to stimulate direct air tunneling via the cooling tower. And no matter the cooler orientation, these heat pipes balance evenly to allow the cooler to be fixed above your CPU.
The Installation Process for the Freezer 34 eSports is straightforward. With the same PWM header, you can control both fans because it simplifies the management of the fan RPM when they attach.
Scythe Mugen 5 Rev.B
Silent High Performance
The Scythe Mugen 5 Rev.B has an overall dimension of 155 x 130 x 110mm / 6.1 x 5.1 x 4.3" and a fan dimension of 120 x 120 x 27mm / 4.7 x 4.7 x 1.1". The cooler has wonderful cooling performance, an easy installation process, and is very quiet with no clearance issues.
Performance is a big deal for the Scythe Mugen 5 Rev.B.  With the large selection of heat sink fins and direct contact heat pipes, you will see a drop in average temperatures when overclocking.  It is pretty easy to install and comes with detailed provided instructions. It has thermal paste and a screwdriver, which helps to create a more straightforward set-up.
The Scythe Mugen 5 Rev.B is an excellent budget CPU cooler with longevity and effortless installation. It is compatible with almost every CPU. This cooler stays very quiet despite its high level of performance.
Last Words
Getting the most of your CPU means getting a better cooler that will stay quiet: even when the CPU is at its hottest or coolest.  As much as you might want to get a budget cooler for your CPU, you need to consider many essential things:
the PC

the processor

speed control

design

and processor socket
If you're searching for coolers and other essentials for your PC, come over to sellbroke.com. We can help with any need you might have for your PC. You can also sell your PC for cash to us if it's defective or if you're just looking to upgrade to a better and newer machine.