Asus ROG Zephyrus S17: Super-Fast But Super Expensive
Aug 03, 2021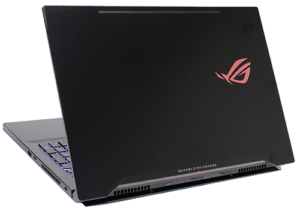 The Asus ROG Zephyrus S17 is one of the fascinating gaming laptops in the market today. The Zephyrus 17 is a Windows 10 laptop and comes with pre-installed software such as Microsoft 365, Dolby Access, and McAfee. It comes with the wireless connectivity of Bluetooth 5.2 and Wi-Fi 6.
The interface of this laptop is the same as most Asus laptops. However, it comes with extra features: different RAM, GPU and CPU fan speeds and usage. Even though the Zephyrus Duo 15 went with a unique feature like the secondary screen, the Zephyrus S17 turns out to be the most powerful gaming laptop in the company's line.
Here's what we found out and thought about the Zephyrus S17.
Design
What Makes it Work
Saying the Zephyrus S17 is a solid laptop is underestimating it. The stealthy-looking laptop comes in an aluminum body, laser-polish accents, and a dot insight pattern. This machine has a very sturdy feel, and you can notice how premium it is from the look.
This laptop features several ports that can house a meaningful wired connection. However, there is a weird positioning for the docks throughout.
On the right side there is:
an SD card reader,

a vent,

two USB 3.2 Gen 2 Type-A
On the left there is:
USB 3.2 Gen2 Type-C,

3.5mm audio jack,

USB-C with Thunderbolt 4,

LAN RJ-45 port,

DC-in,

and an HDMI.
What it's Missing
There are no ports on the back of the laptop, however, just vents. These ports are placed on the same row as the trackpad, and this could become an inconvenience when you want to keep things besides your laptop.
Overall: STRANGE DESIGNS
Display
What Makes it Work
The Zephyrus S17 is a 17-inch laptop with:
a 4K UHD (3840 x 2160) IPS anti-glare display,

valid Pantone,

and 100% DCI-P3.
It has a nice screen that produces bright, accurate and rich colors. And despite the thick bottom bezel, it looks immersive.
The laptop comes with an AURA Sync feature that tweaks lighting effects and color calibration. The GameVisual feature lets you tweak your display how you want, depending on your usage.
Overall: IMMACULATE
Keyboard
What Makes it Work
Typing on the Asus Zephyrus takes getting used to as it might feel weird at first. The keycaps are 0.15mm thick and come with a travel distance of 1.9mm. The keys come with mechanical switches and are optical.
The keyboard layout is the desktop type, and it supports the ASUS AURA Sync.
Overall: STRANGE BUT WORKS WELL
Performance
What Makes it Work
The Zephyrus S17 has significant performance level. At their highest graphic settings in the higher definition resolution, the Zephyrus S15 is strong enough to push reasonable frame rates. However, we recommend that you play at FHD or low QHD if you want more than 60 FPS.
This model of the S17 comes with:
3TB of SSD,

an Intel Core i9-11900H CPU

32GB of RAM

and an NVIDIA GeForce RTX 3080 16GB GDDR6
This makes it powerful enough to handle creative applications and high demanding games.
The Zephyrus S17 comes with different modes that let you choose between Silent, Turbo, Performance and Manual. This allows you to:
adjust lighting effects,

customize multi-wheel functions,

snap iGPU mode to better battery life

activate two-way AI noise cancellation

and microphone modes.
It was tested at an idle temperature of 53 degrees, and during AIDA64's stability test, it ran for 90 degrees.
Overall: FULLY LOADED
Battery
What Makes it Work
The battery life of the Zephyrus S17 is pretty remarkable for a gaming laptop. It comes with fast charging support with its sizeable 90Wh capacity. The charging brick in this model comes with a 280W output, and it also supports 100W USB Type-C charging.
During a video loop test, to check the battery life, the Zephyrus S17 lasted for 7 hours of playback. When set on idle mode, it lasted for 9 hours.
Overall: JUST KEEPS ON GOING
Final Verdict
The ASUS ROG Zephyrus S17 is one of the best premium laptops available, especially in the ROG line of laptops powered by the Intel 11th-gen CPUs. The unique feature of this laptop is its keyboard that comes with optical-mechanical switches. It might take some getting used to if you are not familiar with mechanical keyboards.  It also comes with a convenient multi-wheel that makes gaming easier for you.
Although other laptop lines also come with powerful GPUs and CPUs, wider screens, lid LEDs, and so many remarkable features, the Zephyrus S17 offers a better mechanical keyboard.
Looking to step into the world of gaming laptops? For a reasonable price? Take a look at our shop to start that journey at sellbroke.com.