Origin PC Eon-17x: Not Your Regular Gaming PC Replacement
Jul 27, 2021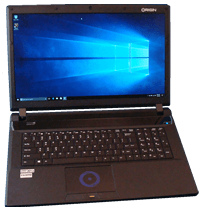 Just like its predecessors, the Origin PC Eon17-X is a powerful gaming laptop. How does it stack up with the rest of the competition out there? Throughout this review, we will be looking at what exactly the Eon17-X has to offer. And whether it's worth your time and, more importantly, your money.
A Quick Overview:
RTX 2080 graphics

9th Gen Core i9 processor

lack of windows ten bloatware

one-year warranty

Control Centre 2.0

entertainment,

quiet, performance

power saving

adjustable the power output

customize the GPU, CPU, memory, and fan output.
Design
What Makes it Work
The Eon-17x is a beautiful laptop with a groovy lid, soft edges and an Origin logo in the middle of the cover. It measures 16.4 x 11.6 x 1.6 inches and weighs 9.5 pounds, making it thinner than most of its competitors.
The Eon17-X comes with several ports:
On the Right:

a security lock slot

four audio inputs

two USB 3.1 ports

On the Left:

one thunderbolt

a three-port

two USB 3.1 ports,

an RJ45 Ethernet port

an SD card slot

one Type-C USB

The Backside is not left out as it has

two mini display ports

a power jack port

an HDMI port
Overall: FULLY LOADED
Display
What Makes it Work
The Origin PC Eon17-X is a 17.3-inch laptop that has a 1920x1080 inch display.
What it's Missing
Even though it has a refresh rate of 144—Hz, the display screen is duller than what should be on a premium gaming laptop.  The dull screen makes it harder to use outdoors.
When tested, the Origin PC Eon17-X panel covered 120 percent of the SRGB color gamut. The Origin PC Eon17-X display has a dimmer and duller screen than expected.
Overall: Left Wanting More
Keyboard and Touchpad
What Makes it Work
The Eon17-X keyboard is a comfortable one. The keys are spacious, cozy and bounce fast, making it super easy to type on. It has three-zone lighting that can be customized by the LED device tab Control Centre 2.0. The Eon17-X has key travel of 1.5mm, and when put to typing test, our 10 fingers were able to get to 78 WPM.
The touchpad of the Origin PC Eon17-X comes with separate buttons. However, it is soft to touch and is embedded with a fingerprint reader. It also allows a three-finger tab, two-finger scrolling and pinching and zooming gestures: thanks to the Windows 10 precision drivers. We always like keyboards on Origin laptops.
Overall: EXCEPTIONAL
Performance
What Makes it Work
The Eon17-X has 16GB of RAM that comes with an Intel Core i9-9900K processor. This processor can power through high-resolution videos and several web tabs smoothly.
During the Geekbench test, the Eon17-X scored 27,347. The handbreak benchmark got to 7 minutes which is a more than the expected speed of 10 minutes. It is faster and quicker than most of the laptops in its range.
What it's Missing
The Eon17-X was able to copy 5GB of data in 10 seconds during the SSD test, with an X's 500GB Samsung 970 EVO Plus SSD. This speed is below expectation from most high-level gaming laptops. If you're looking for a faster machine you can sell your laptop to us for cash and use it towards a new one.
With hours of multimedia content, the Eon17-X got to a 110 degree instead of an expected 95 degree. However, it does not go past 112 degrees, which is just under the vent's hinge; the touchpad got to 90 degrees while the keyboard got to 100 degrees.
Overall: Somewhere in the middle
Battery
What it's Missing
If there is anything that should have been better in the Origin PC Eon17-X laptop, it is the battery life. It comes at a cost, and after continuous web usage at a brightness of 150 nits, the Eon-17X  lasted for a little over one hour. A gaming laptop should have a good backup, especially a premium gaming one like the Eon-17X. Because of this, you will need to always look for a power outlet and have a charger close to you.
Overall: EXTREMELY DISSAPPOINTING
Final Verdict
The Origin Pc Eon-17x is a powerful gaming laptop both inside and out. It's great and comfortable keyboard, and the performance was able to withstand every high-resolution feature thrown at it. Additionally, it comes with great speakers and a beautiful design.
The downside, however, is the dull display; it gives it a low-quality feel and makes you want better. If you can look past the exorbitant price, its dim display and the overall outlook, the Origin Pc Eon-17x is a laptop to consider.
However, if you want a better gaming laptop, with the same price and features but with a better display, a high-quality design and better display, you can go for the MSI GT75 Titan. If you want a gaming laptop with excellent battery life, you should look towards the Gigabyte Aero 15 classics.
Whatever your gaming needs, always feel free to check out the shop at sellbroke.com.