Dell XPS 15 9510 Full Review: Premium or Nothing
Jul 26, 2021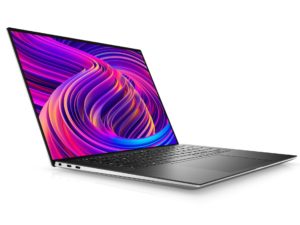 For years, Dell has created some of the most premium Notebooks in the market place. With the newest model in Dell's library, that legacy continues. Recently, the Dell XPS 15 was updated to the 9510 model. This new model contains multiple new features:
a display option of 3.5K OLED

Intel's 11th gen H-series CPUs

two thunderbolts

four ports

RTX 3050 Ti discrete GPU
Let's take a closer at Dell's XPS 15 9510.
Design
What Makes it Work
The Dell XPS 15 has a premium look and feel with its Silver metallic chassis and shiny emblem on the lid. However, the materials do not retain the heat that would be expected. It stays cool whether you are typing or using multimedia features.  It also comes with rounded corners and a beautiful black interior. Closely resembling its predecessors, the Dell XPS 15 is a very premium looking and sleek laptop.
The ports on the left side of the Notebook are:
a Thunderbolt 3 port,

Type-A port,

a headset jack,

an AC adapter port 

and an HDMI 2.0 port.
On the right side there is:
an SD card reader,

a USB 3.1 Type-A port,

a set of five lights that indicates battery status,

and a noble lock slot.
What it's Missing
The 15-inch Notebook is a beautiful and sleek machine. Yet, despite its excellent display, up-to-date design, and skinny bezels, it has a poorly placed webcam. However, this does not stop it from being one of the best laptops, especially with its amazing battery life.
Overall: NEAR FLAWLESS
Display
What Makes it Work
The display of the XPS 15 9510 is lovely, sharp and vivid. It was able to produce 115% of the sRGB gamut, and this delivers an incredible display. However, if you want a better display that is possible. You can upgrade to the 4K panel to get up to 160% of the sRGB gamut. When tested, the XPS 15 could get to 371 nits which makes it luminous and bright.
The infinity-edge 16:10 display features a beautiful edge to edge view. This provides better productivity for you whether you are creative, want to use it for multimedia purposes or even gaming.
What it's Missing
No matter what kind of model you choose, the XPS 15 9510 has an average refresh rate of 60Hz. This could make it an issue for gaming: slow response time could affect fast and high-resolution games. 
Overall: A PIECE SHY OF PERFECTION
Keyboard and Touchpad
What Makes it Work
The upside to this laptop's keyboard is the extra bounce that you get during typing. During typing tests, we were able to get to 70 WPM on ten-finger fast tying.
The touchpad of the XPS 15 9510 is large and responsive, which gives a lot of room for navigating the web or documents. On the 4 x 3.1-inch touchpad, it is easy to decrease and enlarge images with the pinch zooming, and you can also launch the Action Center quickly by doing a three-finger tap.
What it's Missing
The XPS 15 9510 has a backlit keyboard of 0.7mm travels, which is less than what we prefer.
Overall: NEEDS A BIT MORE SPEED
Performance
What Makes it Work
For a laptop so slim, the performance of the XPS 15 9510 is a high mark. It comes with 16 GB RAM and a 2.2-GHz Intel Core i7-8750H processor; making it easy for multi-functioning. When tested on Geek Bench 4, it achieved 19,775, which is better than an average laptop.
While testing productivity for the hard drive, XPS 15 9510's 256GB M.2 PCIe SSD replicated about 5GB of media files in less than 30 seconds. During video editing, the Notebook transcoded a 4K video to 1080p within 10 seconds.
Equipped with an NVIDIA GeForce GTX 1050 Ti Max-Q GPU, the XPS 15 9510 also runs effortlessly during gaming, providing you with seamless experience during regular or high-performance games.
Overall: A POWERHOUSE
Battery
What Makes it Work
The battery life of the XPS 15 9510 is long-lasting and efficient. With continuous web usage at 150 nits, the Notebook lasted for almost 12 hours. Additionally, it lasts for about 8hours during a battery test of continuous web usage.
What it's Missing
When the XPS 15 9510 uses its Core i9 CPU and 4K display, it does not last as long.
Overall: STRONG ENOUGH
Final Verdict
The Dell XPS 15 9510 is an unexpected powerhouse with many impressive features such as:
a beautiful display,

large touchpad,

excellent battery life,

and high-end performance.
It delivers a stunning performance and comes in an attractive package. If you are looking for a big productivity laptop, with excellent features and the money is right, you should pick one of the several models.
For any more of your laptop needs, please look at our shop at sellbroke.com.