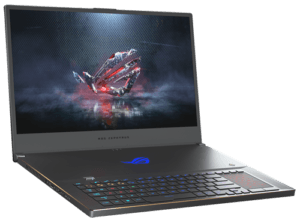 The ASUS ROG Zephyrus G14 is an excellent gaming laptop. From insanely powerful performance to outstanding portability and unbelievable battery life, this 14-inch laptop is a gamer's dream. But not only gamers will find use in this machine. This Ultrabook would fill the needs for those looking for a high end laptop. 
What the Zephyrus G14 offers sounds so good, you might struggle to believe it until you lay hands on one. Lucky for you, we were able to lay my hands on one. This is our review for the ASUS ROG Zephyrus G14. 
Design
What it Gets Right
The Zephyrus G14 is so fantastic in its design. It is slim and lightweight for a gaming laptop, finding a way to store all the gaming power in its 14-inch build. This substantially makes it stand out from Ultrabooks, past and present.
It measures 12.8 by 8.7 by 0.7 inches and weighs only 3.5 pounds, earning the tag of the lightest and smallest gaming laptop available right now. The materials used for the build are the major reason for its light weight. Rigid aluminum and magnesium makes up the lid, deck, and chassis.
ASUS offers the Zephyrus G14 in moonlight white and eclipse grey colors. There are ventilation grilles on the edges of the laptop's exterior – helping release heat from the laptop, as with all high-performance PCs.
What it's Missing
Some major features are missing to make the design remain compact. The absence of a webcam is the biggest of them all. 
Overall: Really solid but missing a standard
Display
What it Does Right
The unit we reviewed came with a 20Hz 1080p 14-inch display. It's display showed good colors and decent brightness. 117% sRGB is better than some of its highly rated pairs. Brightness would reach 323 nits: standard for most units.
AMD's FreeSync ensures an excellent gaming experience. When we played Batman: Arkham Origins, it displayed vibrant greens and reds. The neon signs were bright, and the dark alleys were still visible.
Overall: GREAT
Performance
What it Does Right
The Zephyrus G14 is a beast when it comes to gaming. Equipped with the GeForce RTX-2060 Max-Q NVIDIA GPU and a 6GB VRAM, the power level is top-notch.
While the Zephyrus G14 is a gaming beast, it is not all about gaming. The Ryzen 9-4900HS CPU from AMD, and its 16GB of RAM, ensures that it is highly productive and delivers well creatively. We opened several browser tabs, and it didn't affect the performance at all.
The 1 TB SSD is also as fast they come, copying a 4.97GB folder under 5 seconds while clocking 1,131 Mbps.
Overall: FANTANSTIC
Keyboard and Touchpad
What it Does Right
The QWERTY keyboard is a standard one, and the keys are tiled. There is enough spacing between each key which makes it well suited for gaming. As well as the multi-touch gestures working well. 
Key spacing is solid. The keys are also responsive during typing.
It's touchpad is good, measuring 4.1 by 2.4 inches with its smooth and glassy surface. The click is clean and distinct.
What its Missing
Zephyrus G14 doesn't have an edge-to-edge keyboard despite the small size – this made the typing experience somewhat cramped. Depth for the keystroke is a little shallow as well, making it prone for misreads.
The lighting on the key is what we call lousy, as each key glows white in its transparent form when the backlight is on.
Overall: Hanging in the middle
Connectivity
Zephyrus G14 has a good range of ports for Asus laptops. The right side has a Type-C USB port, dual USB 3.0 ports and the Kensington lock-slot.
On its left side: a Type-C USB port, a power connector, the HDMI 2.0, the DisplayPort, and a headphone jack.
Overall: NEAR PERFECT SYMMETRY
Battery life
What it Does Right
With the level of power and gaming performance, it would have been understandable if the Zephyrus G14 didn't have enough battery life to handle it. Yes still better battery life than the Razer Blade 14. However, that is not the case, as the battery life is awe-inspiring. Lasting an incredible 11 hours, 32 minutes while put to the test. Most of the laptops in its category average 4-5 hours, and the G14 lasted for almost double the time.
Overall: EXCEPTIONAL
Final Verdict
Positively Good
Slim and lightweight
The highest end of Ultrabooks
Sleek color variants
High end display

Good color presentation

Works with darker gradients

MONSTER GPU
TOP NOTCH CPU
Fast SSD
Nice Keyboard

Tiled keys

Multi-touch

Good spacing

Touchpad is clean and glossy
Diverse and multiple port selection
Impressive battery life
Mediocre Whatever
No edge-to-edge keyboard

Cramped at times
Shallow depth= miscommunications
White back light can make keys hard to read
It is not Here at All
The Asus is not only an excellent gaming laptop but also the thinnest one you will find. However, this has not stopped it from carrying so much power, as it blew us away. Its lasting battery life and display also add to the impressive performance of the G14. If you like that you can trade in laptop that you currently own for case with us and use it to be the Zephyrus 14.
There are some downsides- like the absence of a webcam and the keyboard issues- but they are issues one could live with. ASUS went in hard on this one, and we highly recommend it for both gamers and regular users. 
Whatever your needs may be, remember to check our site for all your computing needs.