Razer Blade 14 Vs Asus G14: Which Should You Buy
Jul 20, 2021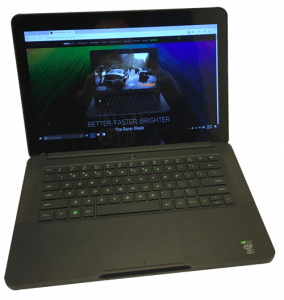 VS
Smaller gaming laptops are a rare breed for consumers lately. Their sleek and light-weight design can have consumers believe that they are lacking the power of a traditional gaming laptop.
For the past few years, the ASUS G14 was one of the most powerful 14-inch gaming laptops. Recently, the Razer Blade 14 just stepped into the competition just a few weeks ago. Today we look at both laptops and answer the obvious: which should you buy? 
Design
The ASUS G14 is a lightweight, slim and portable laptop. For a gaming laptop, it is surprising to see such gaming prowess shoved into this 14-inch chassis. Weighing at 3.5 pounds and measuring 12.8 x 8.7 x 0.7 inches, the G14 is close to being the smallest gaming laptop on the market.
On the other hand, Razer has always been known for creating sleek laptops. The Razer Blade 14 comes in a solid aluminum chassis and weighs 3.92 pounds, making it a little heavier than the Asus 14. It measures in at 12.6 x 8.7 x 0.66 inches, making it just a few hundredths of an inch thinner than the ASUS G14.
The G14 and the Razer 14 have parallel ports. The G14 has two USB-A PORTS, 2 USB-C PORT, two power delivery DisplayPort 1.4, an HDMI 2.0b port, a kessignton lock, and a 3.5mm audio jack. The Razer 14 has two USB-A PORTS, 2 USB-C PORT, power delivery DisplayPort 1.4, an HDMI 2.1 port, Kensington lock, and a 3.5mm audio jack.
Round Overview: Design
ASUS is the lighter weight

Razer's aluminum chassis makes it feel sturdy 

Razer is barely thinner than the ASUS model

Each have identical ports 

Winner: Razer 14 
Display
The G14 comes in a 14-inch 1080p 120Hz display and only offers its 1440p WQHD. Although a higher resolution panel would have been better, this laptop comes with a refresh rate of 60Hz. The Razer 14 comes in both a QHD, 165Hz screen or a HD 144Hz screen. It has an efficient GPU and CPU, which makes for a superfast refresh rate.
The G14 has an anti-reflection coating, making it easy to use in the sun. However, the Razer 14 does not come with an anti-reflective coating. They both have an LED-backlit display. 
Round Overview: Display
ASUS G14 has less reach with its limiting 1440p WQHD.

ASUS G14 does have a fast refresh rate

Razer 14 has massive range with QHD, 165 Hz screen or a HD 144Hz screen

Razer's GPU and CPU makes for a lightning refresh rate

Anit-reflection of ASUS but not for Razer

Winner: Razer (very close call)
Keyboard and Touchpad
The G14 has an easily spaced keyboard with a tiled QWERTY layout. It has fast keyboard travel and is highly responsive to touch. The 4.1 x 2.4-inch glassy touchpad comes with a smooth surface with good clicks. Its multi-touch gesture is soft, and its two-finger precision is flawless.
The Razer 14 has a cramped keyboard, which can make it hard to type on or play games. It has shallower travel and spongier keys. The 11.1 x 7.6 touchpad compensates for it. It is only a few inches from the spacebar, so thumbs cannot mistakenly rest on it, preventing mis-clicks and typos.
Round Overview: Keyboard and Touchpad 
The ASUS G14 is a class act 
Tiled QWERTY layout 

Responsive to the touch 

Smooth touchpad w/good clicks

Soft to the touch and precise 
The Razer 14 is a scrapper 
Cramped keys 

Shallow travel with spongy keys 

Yet, great spacing

Touchpad has great distance from the spacebar

Winner: ASUS 14
Performance
When it comes to performance, the Razer 14 outshines the G14. This could be because despite being a solid laptop, the G14 is an older model. At 1080p, the Razer 14 gives at least 60fps.
Due to the 16GB memory and AMD Ryzen 9 4900HS processor, the G14 makes an excellent performance laptop. It runs well for multimedia playback or gaming. When tested on the web browser and many tabs opened at once, the system did not hang or slow down.
When you put gaming into consideration, the Razer Blade 14 shines again since it can be configured with the 100W RTX 3080, unlike the G14 that is limited to 80W GeForce RTX 3080.
Round Overview: Performance
Razer 14 gives the heavy blows
1080p at 60 fps

100W RTX 3080

Great for gaming
ASUS G14 is no slouch
AMD Ryzen 9 4900HS

No hang or slow down web browsing

Great performance

Winner: Razer 14
Battery
The battery life for both laptops is not exactly impressive; this could be due to their weight or build. The battery life of the Razer 14 lasts for a little over an hour during gaming. Still, during tests for web browsing, it went as far as 6 hours and a little over 3 hours for multimedia playback. You want to plug the Razer 14 whatever chance you get if you have plans of using the laptop for a long time.
The G14 shines bright in performance and gaming speed, but the battery life is below par, albeit better than the Razer 14.  When you are not charging it, the G14 still can last more than a few hours more than the Razer 14. Making it a well rounded machine for productivity. 
Round Overview: Battery
Both lack what it takes to go the distance

Razer 14: 1 hour+ while gaming

6 hours while web browsing

3 hours multimedia playback

ASUS G14: lasts longer than Razer 14

Can go longer without being connected

Spreads battery life well

Winner: Split
Final Verdict
You can't go really wrong with either one. And if you do, you can sell laptop that you don't like to us for cash and use it to buy your dream machine.
The Razer 14 and the G14 almost have the same features. They are both 14-inches gaming laptops, although the G14 looks lighter and the Razer is thinner. For gaming purposes, most people will want to consider the Razer 14 because of its smooth and fast performance. The Razer 14 have a better design too, this could be because it just came out, unlike the G14 that has been around for almost two years. The Razer is more expensive than the G14, but the G14 speakers are to die for. Despite the high-performance level of the Razer Blade 14, it runs on a very cool engine.  The reviews show that the Razer Blade 14 is better in terms of performance, temperature, and size. But in terms of battery, weight and keypad feedback, the ASUS G14 is better.