How Much Do You Really Need to Spend on a Gaming Laptop?
Jul 19, 2021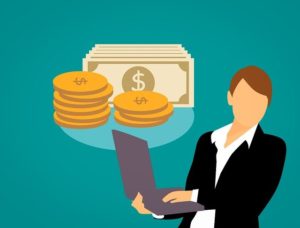 Buying a gaming laptop should not be a rushed decision. But what's the best for you? There are many features to consider, as there are several options to choose from; ranging from a low-end budget laptop to a high-end type. What you should first realize is your expectations from a gaming laptop.
Cost
For you to really enjoy a gaming laptop, you should consider the following: getting a laptop that, at the very least, has an NVIDIA GeForce GTX 1060 GPU, HDMI 1.3 port, and an Intel Core i7-6700HQ processor to enjoy virtual reality games. To get a low budget laptop with low quality specs and great for esports, you could be spending around $600 and under.
An average gaming laptop that will suit everybody's needs would cost around $700-$1000. The type of gaming laptop that is good for 4K tasks and will fill the needs of any gaming enthusiast should cost about $1000-$1500. While from $2000, you should expect to get a high-end laptop and is strictly for 4k gaming.
The Point 
$600-under: Runs well, low specs

$700-1000: Runs most things, solid specs

$1000-1500: Runs nearly everything, far above quality specs

$2000- Runs it all, every spec you could want
Features to Look for
Now you know price ranges, it's time to look at the internal and external components of your gaming laptop. When you want to get a gaming laptop, there are guidelines to follow to get the best option that will serve you well. The things to consider when you want to get a gaming laptop are:
A comfortable keyboard

Avoid mobile chips (GPUs are preferred)

A high-resolution display  

Laptops with traditional screens- touch screen laptops tend to drain batteries faster, and are more expensive.

SSD for good storage.
There are several brands of gaming laptops, but there are major ones that are sure to give you the best features you need. Brands such as Alienware, ASUS, Lenovo, MSI, Aorus, Razer, OriginPC, HP and Acer will give you the best features for the best prices.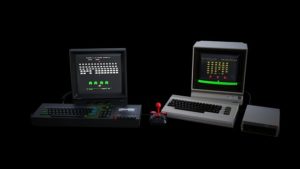 Display
Although some gaming laptops now have touch screens, it is better to go for a regular screen to get the most out of it. Except if you want to play simple games like Cut the Rope or Candy Crush.
You need to go for laptops with at least QHD 4K (3840 x 2160) or (2560 x 1440) panels as they really bring color and details to your gaming experience. And a G-sync technology that removes graphical tears on screens from 1080p onward.  You should also consider laptops that come with an organic light-emitting diode (OLED) technology. This technology comes with efficient panels that give premium contrast and color.
The Point
Touchscreens are for touchscreen games

QHD 4K (3840 x 2160) or (2560 x 1440 panels) at the very least

G-sync for optimal clarity

OLED for the best contrast and color 
Keyboards
It is essential to get a comfortable keyboard when choosing a gaming laptop. You have to consider one with good key travels of at least 1.5mm-2mm depth. It should also come with a springy bounce to avoid any missed inputs in the middle of a game. You should also consider a laptop with an anti-ghosting feature. This will let all keys register as soon as you press them simultaneously for any power move. Most importantly, a good gaming laptop should have customizable backlit features. The customization that this gives you really makes the laptop feel like your own.
The Point
Depth of 1.5mm-2mm is perfect

Good spring back= better inputs

Anti-ghosting for no lag

Good and variable backlights make it personal
Sell LENOVO Legion 7i Intel Core i9 10th Gen. Nvidia RTX 2080 laptop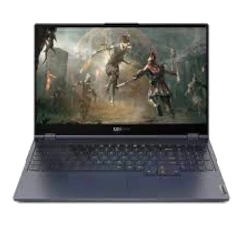 Performance
When choosing a laptop's CPU, you must consider selecting a 6th-Gen Core and an Intel laptop. It must also have a good clock speed and an Intel core i5 as the slowest CPU to consider getting. Additionally check out AMD Ryzen based laptops as they are on the rise.
The performance of a gaming laptop has to be top-notch, so having a GPU is something you need to look into for your gaming laptop. A GPU will process data and transmit the signal to your screen, providing the necessary image for it. A discrete GPU is better because it comes with its own video memory. Most gaming laptops come with NVIDIA GPUs, but the more storage that comes with them, the better. Although most new gamers should be okay with 4GB of VRAM, a more seasoned gamer should expect nothing less than 8GB.
If you spend enough money you can rest assured that your laptop will last longer and you won't have to worry about updating it any time soon.
The Point
At the very least, a CPU with a Core i5

A solid GPU (more storage is better)

If you're new, 4GB VRAM is for you

If you're not, 8 GB VRAM is the minimum
Getting a gaming laptop should not require spending massive amounts of money; it is very possible to spend less and get a high-performance laptop. To get good CPUs and displays, you need to consider spending up to $1000 to get the best performance. But to get the most of a gaming laptop- a 4K and OLED screen, you would be spending from $2000 and above. 
Choosing the right gaming laptop can seem like a difficult decision. Fortunately, the guide above has given you a solid foundation to pursue exactly what fits your needs. For best performance you need to focus on fast GPUs and CPUs.
The Fastest Gaming CPUs and GPUs in the World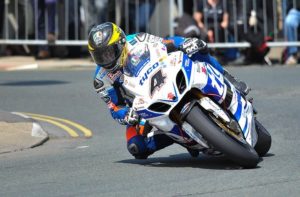 Having a top-class processor is vital for gaming PCs. Combining a fast CPU and GPU will help your gaming PC produce the best performance it is capable of. You want processors and graphic cards with numerous cores for streaming, content creation, productivity and other functions for your PC.
Intel recently released its Rocket Lake chips, and there have been complaints about the Core-i9 11900K. However, there are still other Intel processors that offer top speed and performance. AMD still maintains its top ratings with the remarkable Zen 3, specifically the Ryzen-9 5900X that delivers excellently.
Here are some of the fastest gaming processors and graphics card currently available. This will help you avoid mistakes when buying a gaming laptop.
The Fastest Gaming CPU 2021
AMD Ryzen 9 5900X
AMD has improved Zen's architecture for each passing generation, but the latest leap with the Zen 3 is even more remarkable. AMD showed that it can now stand on the same level as Intel on gaming PCs. It offers your graphics card with juicy frames, and it can withstand any resolution you throw at it. It has 12 cores and 24 threads, which means it can handle everything you request from it. From the 3D rendering to video editing and other tasks, it will handle it properly.
It offers you a top-level of freedom when gaming, and you will never feel held back, with the only drawback being the pricing and the cooler.
Intel Core i5 11600K
This is one of the newly released Rocket Lake Gen, and it is a favourite in the lineup. It is an excellent processor, and it comes with six cores and 12 threads well utilized for gaming. The pricing is also reasonable, costing less than the Ryzen-5 5600X while going head to head with the AMD's Zen 3 in terms of performance.
AMD Ryzen 5 5600X
This chip is the affordable version of the 5900X. All the Ryzen 5000 AMD chips offer you the same level of gaming performance, which means you will get similar frame rates to that of the 5900X. However, it doesn't have as many cores, with six cores and twelve threads.
AMD Ryzen 7 5800X
This processor is similar to other Ryzen 5000 chips, coming with top-class architecture and excellent gaming performance. It produces similar figures like the 5600X and 5900X, and it has 16 threads and eight cores, which sets it well for future gaming.
Intel Core i9 10900K
The 10900K was placed as the fastest gaming CPU until the introduction of the Zen 3 by AMD. When it lost that position, it lost a lot of the hype around it. It has ten processing cores, being the first Intel processor to have that.
The Fastest Gaming GPU 2021
Nvidia RTX GeForce 3080
The RTX GeForce 3080 brought a lot more accessibility for 4K gaming. Formerly, you needed to get the RTX 2080 Ti for playable framerates on 4K gaming and this cost over $1,000. But with the RTX GeForce 3080 and other Nvidia GPUs, you can now access the same framerates for half the price.
It delivers up to an 80 percent performance boost from what the RTX 2080 offers and up to a 30 percent increase from the RTX 2080 Ti.
Nvidia RTX GeForce 3080 Ti
This beast of a GPU rises above all other Nvidia GPUs in its category, as it perfectly combines performance and power while making it affordable. It delivers a performance similar to that of the RTX 3090, and it offers a breathtaking 4K gaming performance at 60fps. It also has ray tracing for users that care about it.
Nvidia RTX GeForce 3090
The RTX 3090 is top-notch in terms of performance. The 24GB memory means no shortage of performance regardless of the game or the project you are executing. The RTX 3090 can deliver 8K performance. Although it is costly and extensive, which means it might be a handful for most users.
Nvidia RTX GeForce 3060 Ti
Nvidia challenges AMD with this graphics chip when it comes to value. The performance to price ratio is excellent, as it punches above its class with a performance rivalling the RTX-2080 Super and an affordable price tag. It also has excellent ray tracing for users that care about ray tracing.
Nvidia RTX GeForce 3070
Nvidia offers top performance with the RTX 3070, and it doesn't cost too much. It delivers 4K gaming with affordable pricing, and you don't have to compromise the settings to achieve this. Now you know what to look for when buying. You can also sell laptop to us if you need extra cash for a new one.
HP Victus 16: The Affordable OMEN 15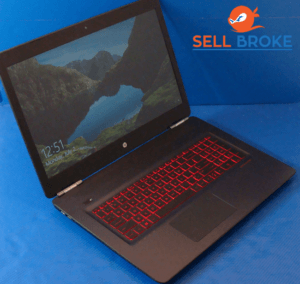 The HP Victus 16 is the affordable version of The OMEN 15. They have the same black aesthetics, design, and feel aside from the material. The Victus can be bought if you get into gaming and are under a tight budget.
The HP Victus 16 is a mid-range gaming PC with a minimalistic but sophisticated design. It comes with the recent gaming and hardware features that let you have a good gaming experience. Throughout this review, I will be looking at where the Victus is comparable to the OMEN 15, and where it falls short. Here is our look at the HP Victus 16.
Design
What Makes it Work
Each laptop has rubber feet on the deck of the keyboard so the display can rest on it when it is closed. The gap between the OMEN 15 panel and deck makes the logo in the middle a little squishier. Both HP laptops can be opened with one hand, but the screen of the Victus is wobbly, and the hinges are stiff.
Both laptops have almost the same port selection. The only difference is that on the OMEN 15, the USB-C port is on the right-hand side and a mini display port connects directly to the dedicated GPU. On the Victus laptop, there is a:
RJ45 port,

USB-C port,

headphone jack,

SD card slot,

and two more USB ports.
Overall: A Solid Package
Display
What Makes it Work
The display on the Victus stops at the middle while the OMEN 15 can go back. Both laptops have identical intake grilles, and because of the chassis of the Victus, the keyboard layout looks more significant. The bezel sizes and thinness are the same size as the one in the OMEN 15.
However, compared to the OMEN 15, the Victus has very poor color saturation. Yet it will be fine for gaming.
What It's Lacking
It might, however, pose to be a problem with accurate colors for creative work.
Overall: Could be Crisper
Keyboard and Touchpad
What Makes it Work
The keyboard layout is also identical, and both come with a backlight. However, the OMEN 15 comes with the option of using RGB lighting. There is a full-sized numeric keyboard on the Victus, unlike the OMEN 15: where you will be getting just the end, home, and macro keys. It is usually quiet during typing and performs well overall. But it would have been best if the keyboard bounced like the OMEN 15. Yet, considering the price it came at, the Victus is a great deal.
The touchpad of the Victus is more extensive than the previous generations. It reacts well to multi-touch gestures such as drag, zoom, pinch, and double finger. The right and left click are also very functional with the touchpad, resulting in a smooth experience overall. Even with all this present, the OMEN 15 touchpad makes less noise with the same features.
Overall: A Well Designed Victory
Sell HP Victus 16.1" Intel Core i5-12th Gen RTX laptop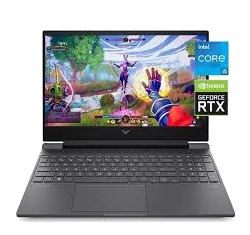 Performance
What Makes it Work
Unfortunately, you may not be getting high end performance on the Victus. It comes with:
an i5 -11400H CPU,

8 GB RAM,

an RTX 3050 GPU (80W),

and a 512 GB NVMe SSDM.
Whereas, on the OMEN 15, you get:
a Ryzen 5 5600H,

16 GB RAM,

RTX 3060(100),

1TB NVMe SSD,

and a 15" 144HZ IPS display
Both of the laptops get the same fan noise. But unlike the OMEN 15, you can undervolt the fan noise on the command center of the Victus. Heat is excellent on both laptops, and thermal management is fantastic. Although, on the OMEN 15, there is a bigger blade, bigger fan and an extra heat pipe that runs below the left fan on the bottom.
The RAM is upgradeable up to 64GB on both laptops, though the OMEN 15 uses the rank 8 memory while the Victus uses the rank 26. They both have two slots for NVMe SSDs. The ONLY difference is you can use a PCIe Gen 4 into the Victus Intel CPU for faster read and write speed.
Overall: Lacks the Power
Battery
What Makes it Work
The battery size is identical on both laptops. The 71Wh battery lasted for about 4 hours on the Victus, compared to a 3 hour of use on the OMEN 15. This fell below expectations because most Ryzen processor laptops offer better battery life. So, to uninterruptedly game on either laptop, you need to use it on constant power.
Overall: ON PAR WITH ITS PREDECESSOR
Final Verdict
While the panel quality, color saturation, and wobbly display may be a problem, the Victus is a good laptop for the price range, especially for a new gamer. If you want a better option that is light, durable, and with a better display, you can go for the almost perfect OMEN 15. Particularly if you cop an excellent deal. But if not, the HP Victus 16 is a great laptop for an affordable price.
For more on the latest tech, or replacing your old tech, visit sellbroke.com.
MSI GS76: Thin and Light Gaming Laptop at an Affordable Price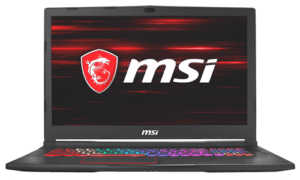 MSI GS76 Stealth is a thin, sleek and portable laptop packed with up to 10th Gen. Intel Core i9-11900H processor and the NVIDIA GeForce RTX 3080 SUPER™ graphics. You can hardly tell it's a gaming laptop from its feel and look, unlike most gaming laptops.
The GS76 is an improved version of the GS75; its heavier and thicker build makes an excellent cooling system.
MSI is currently making many good features into their new generation laptops, both for gaming and creativity, and the GS76 is one of the newly released premium laptops. Unlike the previous laptop that came before this (the GS75), the MSI redesigned and made the GS76 laptop closely looks like the GS66.
Design
The MSI GS76 is, in a way, like the MacBook Pro. It comes in a thin body, which it's hard to tell because of its large screen—coming at 5.4 pounds (2.45kg). Like the MacBook Pro, the MSI GS76 has its logo at the back of its metal cover. The laptop is furnished with Thunderbolt 4 support and an SD slot.
The inside of the laptop does not have much going on, and it has its power button right above the keyboard. The laptop has two audio speakers, plus a subwoofer when is excellent for multimedia screenings and gaming.
Keyboard and touchpad
The keyboard of the MSI is one of the most critical features of the laptop, it is an island-style, beck lit, flat-topped keyboard, which could raise an eyebrow for some gamers, but it does not stop its smoothness delivery. It also allows for the customization of each key.
The touchpad on the laptop is large, click pad style pad. It does not have different right and left click buttons, and that does not disrupt everyday use. The GS76 keyboard contains a touchpad and a numeric keypad about the same size as the MSI GS66 Stealth.
Display
The computer comes with a 17.3-inch QHD (2560 x 1440), 165 Hz, IPS display. Extra display options are available from 1080p up to 4K with different color coverages and refresh rates. MSI finds it comfortable to add the matte IPS.  Since the production of the MSI laptops, no G series machine carries glossy touchscreens or OLED.
Performance
The MSI GS76 is an impressive, high-performance laptop, perfect for games. It comes with an NVIDIA GeForce RTX 3080. It scored 16.0 of connectivity frames per second in challenging games and 67.6 frames per second n average use when tested.
The laptop tends to get a little hot while in use because of its tiny structure and extensive gaming. It causes the fans to run on loud noises and hot to touch. The MSI GS76 runs on games well, and at high detail setting, the full resolution enables a seamless gaming experience.
Sell MSI GS76 Stealth 17 Intel Core i9-11th Gen RTX 3070 laptop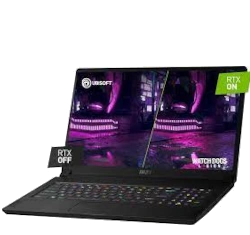 Connectivity
One of the best things about using this 17-inch MSI GS76 laptop is a lot of connectivity. Notwithstanding its thin body, the MSI GS76 comes with a two 3.2 Gen Type-A USB ports, one 3.2 2nd Gen. Type-C USB (10 Gbps), a DisplayPort, one Type-C USB Thunderbolt 4, the Power Delivery (PD), and the DisplayPort connections.
The laptop lets you use the video outputs all at once for getting a large multi-view.
Even though in terms of performance, you can't compare it to regular standard gaming laptops. But with Intel Core i7-4710HQ CPU and 64GB of RAM, it is good enough to get even the most tedious work done. So when you're playing new games, you can hardly tell the difference.
Battery
The battery is surprisingly stable pre even though the MSI GS76 is a gaming laptop. When tested with multimedia playback, it lasted for almost 4 hours.
However, playing a game lets it drain faster as it hits the GPU and the CPU harder. The MSI GS76 99.9 mm four-cell battery is suitable for a couple of hours with average use. If you want to do is write or edit, it could last for up to 8 hours.
Final Verdict
The MSI GS76 cannot be compared to other heavy and bulky gaming laptops. Its slim and sleek design will not give it away as a gaming laptop at first glance.
Although it costs more than most gaming laptops, the design and premium features that comes with it makes it worth it. And with the new different features MSI keeps adding to their new generation gaming laptops, it is safe to say that it is one of the best options for gaming laptops out there.
Asus ROG Zephyrus G14 2021 Review: Still Insanely Powerful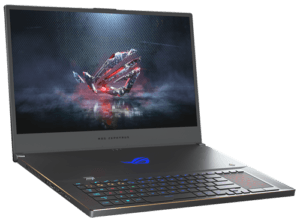 The ASUS ROG Zephyrus G14 is an excellent gaming laptop. From insanely powerful performance to outstanding portability and unbelievable battery life, this 14-inch laptop is a gamer's dream. But not only gamers will find use in this machine. This Ultrabook would fill the needs for those looking for a high end laptop. 
What the Zephyrus G14 offers sounds so good, you might struggle to believe it until you lay hands on one. Lucky for you, we were able to lay my hands on one. This is our review for the ASUS ROG Zephyrus G14. 
Design
What it Gets Right
The Zephyrus G14 is so fantastic in its design. It is slim and lightweight for a gaming laptop, finding a way to store all the gaming power in its 14-inch build. This substantially makes it stand out from Ultrabooks, past and present.
It measures 12.8 by 8.7 by 0.7 inches and weighs only 3.5 pounds, earning the tag of the lightest and smallest gaming laptop available right now. The materials used for the build are the major reason for its light weight. Rigid aluminum and magnesium makes up the lid, deck, and chassis.
ASUS offers the Zephyrus G14 in moonlight white and eclipse grey colors. There are ventilation grilles on the edges of the laptop's exterior – helping release heat from the laptop, as with all high-performance PCs.
What it's Missing
Some major features are missing to make the design remain compact. The absence of a webcam is the biggest of them all. 
Overall: Really solid but missing a standard
Display
What it Does Right
The unit we reviewed came with a 20Hz 1080p 14-inch display. It's display showed good colors and decent brightness. 117% sRGB is better than some of its highly rated pairs. Brightness would reach 323 nits: standard for most units.
AMD's FreeSync ensures an excellent gaming experience. When we played Batman: Arkham Origins, it displayed vibrant greens and reds. The neon signs were bright, and the dark alleys were still visible.
Overall: GREAT
Performance
What it Does Right
The Zephyrus G14 is a beast when it comes to gaming. Equipped with the GeForce RTX-2060 Max-Q NVIDIA GPU and a 6GB VRAM, the power level is top-notch.
While the Zephyrus G14 is a gaming beast, it is not all about gaming. The Ryzen 9-4900HS CPU from AMD, and its 16GB of RAM, ensures that it is highly productive and delivers well creatively. We opened several browser tabs, and it didn't affect the performance at all.
The 1 TB SSD is also as fast they come, copying a 4.97GB folder under 5 seconds while clocking 1,131 Mbps.
Overall: FANTANSTIC
Keyboard and Touchpad
What it Does Right
The QWERTY keyboard is a standard one, and the keys are tiled. There is enough spacing between each key which makes it well suited for gaming. As well as the
multi-touch gestures working well. 
Key spacing is solid. The keys are also responsive during typing.
It's touchpad is good, measuring 4.1 by 2.4 inches with its smooth and glassy surface. The click is clean and distinct.
Sell Asus ROG Zephyrus G14 Ryzen 7 4800 GTX 1660 Ti laptop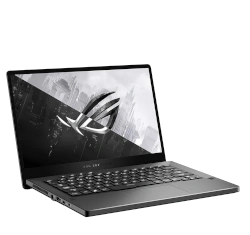 What its Missing
Zephyrus G14 doesn't have an edge-to-edge keyboard despite the small size – this made the typing experience somewhat cramped. 
Depth for the keystroke is a little shallow as well, making it prone for misreads.
The lighting on the key is what we call lousy, as each key glows white in its transparent form when the backlight is on.
Overall: Hanging in the middle
Connectivity
Zephyrus G14 has a good range of ports for Asus laptops. The right side has a Type-C USB port, dual USB 3.0 ports and the Kensington lock-slot.
On its left side: a Type-C USB port, a power connector, the HDMI 2.0, the DisplayPort, and a headphone jack.
Overall: NEAR PERFECT SYMMETRY
Battery life
What it Does Right
With the level of power and gaming performance, it would have been understandable if the Zephyrus G14 didn't have enough battery life to handle it. Yes still better battery life than the Razer Blade 14. However, that is not the case, as the battery life is awe-inspiring. Lasting an incredible 11 hours, 32 minutes while put to the test. Most of the laptops in its category average 4-5 hours, and the G14 lasted for almost double the time.
Overall: EXCEPTIONAL
Final Verdict
Positively Good
Slim and lightweight

The highest end of Ultrabooks

Sleek color variants

High end display

Good color presentation

Works with darker gradients

MONSTER GPU

TOP NOTCH CPU

Fast SSD

Nice Keyboard

Tiled keys

Multi-touch

Good spacing

Touchpad is clean and glossy

Diverse and multiple port selection

Impressive battery life
Mediocre Whatever
No edge-to-edge keyboard

Cramped at times

Shallow depth= miscommunications

White back light can make keys hard to read
It is not Here at All
The Asus is not only an excellent gaming laptop but also the thinnest one you will find. However, this has not stopped it from carrying so much power, as it blew us away. Its lasting battery life and display also add to the impressive performance of the G14. If you like that you can trade in laptop that you currently own for case with us and use it to be the Zephyrus 14.
There are some downsides- like the absence of a webcam and the keyboard issues- but they are issues one could live with. ASUS went in hard on this one, and we highly recommend it for both gamers and regular users. 
Whatever your needs may be, remember to check our site for all your computing needs.
Lenovo Legion 7 Review: Ryzen Gaming At Its Best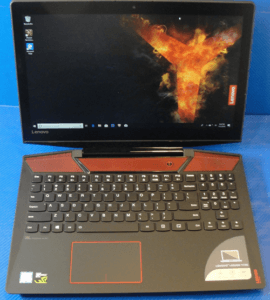 The Lenovo Legion 7 is an excellent gaming laptop that does well with the basics. It also offers top-class performance and a beautiful full-HD display that provides support for Dolby Vision. However, the pricing is a concerning factor as there is a feeling that it doesn't offer as much as the price suggests.
The RGB lighting, powerful components and fast display are all features that make the Legion 7 a great gaming laptop. A poor battery and some screen flex are some of the cons of Legion 7.
Design
Gaming laptops have gradually become more subtle over the years. They have now become more fitting in the office due to the reduction in size and lightings compared to the past. However, the Lenovo Legion has gone in the old direction, having more light than we see in recent gaming laptops. The aesthetics that are gradually being abandoned all come back with the Legion 7.
The RGB lighting on the keyboard glows vibrantly with a combination of several colors. On the exterior, you can see lights shining out through the vents and ports.
For some users, the lights could be overbearing. There is the option to deactivate the RGB lighting for users who are not comfortable with it; the protruding vents still show how chunky it is. The thickness measures 20mm, and it is pretty weighty at 2.1kg. However, the power justifies the size. It still fits into the bag if you want to move around with it.
The body is an all-metal design with a classy look on the first view, but you will spot some flex when you push the screen's bottom.
Display
The Legion 7 has a 15.6-inch IPS panel full-HD display and a 240Hz refresh rate. However, it doesn't make a 4K option, but that doesn't count for much as the refresh rate has more effect on gaming than the screen resolution.
The brightness is excellent, peaking at 552 nits and a good contrast ratio of 1236:1. The colors are punchy and bright; the color temperature (97480K) makes the display look cooler in natural light, with blue tints on the white background. However, it is not a major issue, but it noticeable during gaming.
The display means it can do some creative work, with a 99.8% sRGB and 97% Adobe RGB. Compared to most gaming laptops, the accuracy of colors in photography and digital artwork is commendable.
Sell LENOVO Legion 7i Intel Core i9 10th Gen. Nvidia RTX 2080 laptop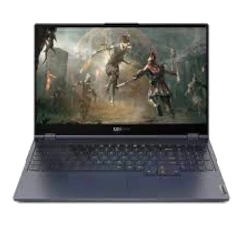 Performance
The Legion 7 has a lot of power. The Nvidia GPU selection is great, from RTX-2080 Super to GTX-1660 Ti. No matter the model you buy, you will be getting yourself a gaming laptop with so much power.
It has the 10th Generation Intel H-Series, and 32GB of RAM to help things run smoothly. The Legion 7 can run any game on its full-HD screen, and the refresh rate also helps the performance. The 1TB SSD is speedy.
Keyboard and Touchpad
The Legion 7 has loads of radiating keys and different color options. However, the lighting can get too much, as Lenovo still has a long way to go to customize RGB lighting in keyboards.
However, the keys perform well, and the travel is good on each press. The keyboard fits nicely into the deck, as Lenovo tries its best not to shrink the number pad by moving them down a bit. However, the arrow keys that sit beneath the spacebar looks somewhat odd.
The touchpad is wide and responsive. Lenovo, however, moved it away from the middle to the left side. This position might be uncomfortable, which means you are better with a gaming mouse.
 Connectivity
There is a variety of ports available for you to use on this model. The ports are located on the left, right and rear positions. They are ranging from a Type-A USB port, a Thunderbolt 3 Type-C port, an Ethernet, the HDMI, and the headphone jack. Those options are good enough for a gamer.
Battery life
Gaming laptops are known for their poor battery life, as they have too many high-powered components running at a fast rate. The Legion 7 falls short of the usual three hours we expect. It only lasted for two hours before it needed another charge.
It will become worse as you play more games, so it is best used in the form of a desktop at home.
Final Verdict
The Legion 7 is an excellent gaming laptop, as it has a couple of solid areas like the display, the GPU, and the RGB lighting for users that fancy it. However, the price range is a bit too high for its overall output. There are other options like the Omen 15 that offer better value.
The battery life is incredibly depressing, and it feels like Lenovo held back a little with the Legion 7.
Razer Blade 14 Vs Asus G14: Which Should You Buy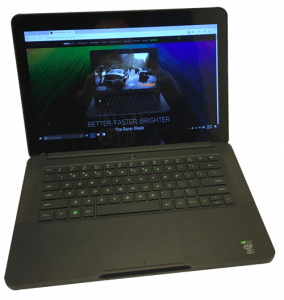 VS
Smaller gaming laptops are a rare breed for consumers lately. Their sleek and light-weight design can have consumers believe that they are lacking the power of a traditional gaming laptop.
For the past few years, the ASUS G14 was one of the most powerful 14-inch gaming laptops. Recently, the Razer Blade 14 just stepped into the competition just a few weeks ago. Today we look at both laptops and answer the obvious: which should you buy? 
Design
The ASUS G14 is a lightweight, slim and portable laptop. For a gaming laptop, it is surprising to see such gaming prowess shoved into this 14-inch chassis. Weighing at 3.5 pounds and measuring 12.8 x 8.7 x 0.7 inches, the G14 is close to being the smallest gaming laptop on the market.
On the other hand, Razer has always been known for creating sleek laptops. The Razer Blade 14 comes in a solid aluminum chassis and weighs 3.92 pounds, making it a little heavier than the Asus 14. It measures in at 12.6 x 8.7 x 0.66 inches, making it just a few hundredths of an inch thinner than the ASUS G14.
The G14 and the Razer 14 have parallel ports. The G14 has two USB-A PORTS, 2 USB-C PORT, two power delivery DisplayPort 1.4, an HDMI 2.0b port, a kessignton lock, and a 3.5mm audio jack. The Razer 14 has two USB-A PORTS, 2 USB-C PORT, power delivery DisplayPort 1.4, an HDMI 2.1 port, Kensington lock, and a 3.5mm audio jack.
Round Overview: Design
ASUS is the lighter weight

Razer's aluminum chassis makes it feel sturdy 

Razer is barely thinner than the ASUS model

Each have identical ports 

Winner: Razer 14 
Display
The G14 comes in a 14-inch 1080p 120Hz display and only offers its 1440p WQHD. Although a higher resolution panel would have been better, this laptop comes with a refresh rate of 60Hz. The Razer 14 comes in both a QHD, 165Hz screen or a HD 144Hz screen. It has an efficient GPU and CPU, which makes for a superfast refresh rate.
The G14 has an anti-reflection coating, making it easy to use in the sun. However, the Razer 14 does not come with an anti-reflective coating. They both have an LED-backlit display. 
Round Overview: Display
ASUS G14 has less reach with its limiting 1440p WQHD.

ASUS G14 does have a fast refresh rate

Razer 14 has massive range with QHD, 165 Hz screen or a HD 144Hz screen

Razer's GPU and CPU makes for a lightning refresh rate

Anit-reflection of ASUS but not for Razer

Winner: Razer (very close call)
Keyboard and Touchpad
The G14 has an easily spaced keyboard with a tiled QWERTY layout. It has fast keyboard travel and is highly responsive to touch. The 4.1 x 2.4-inch glassy touchpad comes with a smooth surface with good clicks. Its multi-touch gesture is soft, and its two-finger precision is flawless.
The Razer 14 has a cramped keyboard, which can make it hard to type on or play games. It has shallower travel and spongier keys. The 11.1 x 7.6 touchpad compensates for it. It is only a few inches from the spacebar, so thumbs cannot mistakenly rest on it, preventing mis-clicks and typos.
Sell Razer Blade 14 Intel Core i7 7th Gen laptop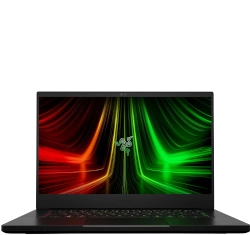 Round Overview: Keyboard and Touchpad 
The ASUS G14 is a class act 
Tiled QWERTY layout 

Responsive to the touch 

Smooth touchpad w/good clicks

Soft to the touch and precise 
The Razer 14 is a scrapper 
Cramped keys 

Shallow travel with spongy keys 

Yet, great spacing

Touchpad has great distance from the spacebar

Winner: ASUS 14
Performance
When it comes to performance, the Razer 14 outshines the G14. This could be because despite being a solid laptop, the G14 is an older model. At 1080p, the Razer 14 gives at least 60fps.
Due to the 16GB memory and AMD Ryzen 9 4900HS processor, the G14 makes an excellent performance laptop. It runs well for multimedia playback or gaming. When tested on the web browser and many tabs opened at once, the system did not hang or slow down.
When you put gaming into consideration, the Razer Blade 14 shines again since it can be configured with the 100W RTX 3080, unlike the G14 that is limited to 80W GeForce RTX 3080.
Round Overview: Performance
Razer 14 gives the heavy blows
1080p at 60 fps

100W RTX 3080

Great for gaming
ASUS G14 is no slouch
AMD Ryzen 9 4900HS

No hang or slow down web browsing

Great performance

Winner: Razer 14
Battery
The battery life for both laptops is not exactly impressive; this could be due to their weight or build. The battery life of the Razer 14 lasts for a little over an hour during gaming. Still, during tests for web browsing, it went as far as 6 hours and a little over 3 hours for multimedia playback. You want to plug the Razer 14 whatever chance you get if you have plans of using the laptop for a long time.
The G14 shines bright in performance and gaming speed, but the battery life is below par, albeit better than the Razer 14.  When you are not charging it, the G14 still can last more than a few hours more than the Razer 14. Making it a well rounded machine for productivity. 
Round Overview: Battery
Both lack what it takes to go the distance

Razer 14: 1 hour+ while gaming

6 hours while web browsing

3 hours multimedia playback

ASUS G14: lasts longer than Razer 14

Can go longer without being connected

Spreads battery life well

Winner: Split
Final Verdict
You can't go really wrong with either one. And if you do, you can sell laptop that you don't like to us for cash and use it to buy your dream machine.
The Razer 14 and the G14 almost have the same features. They are both 14-inches gaming laptops, although the G14 looks lighter and the Razer is thinner. For gaming purposes, most people will want to consider the Razer 14 because of its smooth and fast performance. The Razer 14 have a better design too, this could be because it just came out, unlike the G14 that has been around for almost two years. The Razer is more expensive than the G14, but the G14 speakers are to die for. Despite the high-performance level of the Razer Blade 14, it runs on a very cool engine.  The reviews show that the Razer Blade 14 is better in terms of performance, temperature, and size. But in terms of battery, weight and keypad feedback, the ASUS G14 is better.
Sell Asus ROG Zephyrus G14 Ryzen 7 5800HS RTX 3060 laptop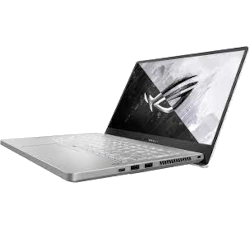 The Cheapest Amazon Gaming PC You Can Build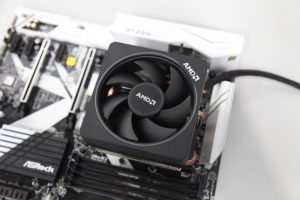 There is a lot of fun involved in building a gaming PC. If you are working on a budget, Amazon is one of the best places you can get PC gaming components. You can build a powerful PC within a budget. Let's say you are working with a $500 budget, you can still build a powerful gaming PC.
Pre-built gaming PCs can be quite expensive and you cannot always be sure of the quality. Not only does it cost less when you want to build your gaming PC, but it is also easier to do so. Although there are premium options like HD gaming Pcs or 4K gaming which might cost more, you can build a 1080p resolution gaming PC with this budget.
How to build a cheap amazon gaming PC for under $500
What you need to build a gaming PC include:
Processor

RAM

Motherboard

Graphics card

Case

Storage

Power supply
Because we are working with a budget, we will have to work with components that offer enough value. The prices of these components fluctuate, but you can always check for prices via Amazon.
With this budget gaming PC, you will need to adjust some settings in the games to enjoy these games. The games might not run as fast but you will have a good experience.
Processor
Our pick for the processor is the AMD Ryzen 5 2600. AMD comes through with its Ryzen processors. The Ryzen 5 2600 is not the latest in town but it is quite capable. It comes with 12 threads and 6 cores and can boost up to 3.9GHz. it cost $190 on Amazon.
The 2600 has a cooler, which is a good thing. Although there is the Ryzen 7 2700X that comes with a $50 extra cost. The speed clock is however higher and it has extra 4 threads and two extra cores.
RAM
Prices for memories are quite cheap, which makes it easier to get one at high speed. You can get 8GB RAM, which is good for a cheap gaming PC. Although you can get 16GB for about $60.
If you need something that can help you multi-task, it will be better to go for the 16GB option. the 8GB RAM cost about $52 on amazon.
Motherboard
Motherboards are not exactly budget-friendly, so there are not many options. The B450M motherboard from Gigabyte is a great one. It can get to a memory speed of 3,600MHz and allows room for overclocking. The four-phase VRM makes it easier to overclock. It also supports 3rd Generation Ryzen CPUs. It cost about $135 from amazon.
Graphics card
The AMD RX 570 graphics card is quite capable even if it already some years old. The performance is amazing, especially for its price. It can handle almost every 1080p game resolution without stress. The 4GB model is ideal if you are building a cheap gaming PC.
Case
The case we recommend is the Cooler Master MasterBox Q300L as it is ideal for a budget PC build. For about $40, the features you will get are quite decent. Although you might need to install another fan in the future for better cooling. 
Storage
The A400 240GB solid-state drive by Kingston is a good option for storage. It allows for quick loading for games and your OS. You can get this on Amazon for only $35.
Power supply
The power supply is an essential component when building your gaming PC. The BA 500-watt from EVGA is not exactly the cheapest power pack out there but you need a solid one to withstand upgrades.
How to put your gaming PC together
Assemble the motherboard first as this is the house for all other components. You want it ready before fixing other parts on it.

Install the processor (CPU) by getting it out of its case, and gently placing it in the socket on the motherboard.

The next step is to install the M.2 SSDs on the motherboard and gently screw it in.

Place in the RAM by checking for the correct slots on the motherboard manual. This is because you will find four slots and you have only two RAM sticks that need to be spaced.

Prepare your case for the motherboard by screwing it in the right way, ready for it to hold the motherboard properly.

Place your motherboard into the case. Make sure it fits and everything is appropriately placed before screwing it in.

Fix in the power supply by checking out the case manual and setting it in properly

Plug the power and case cables on the motherboard. You have to be patient when you do this as the case cables are so tiny.

Install the processor cooling system

Install the graphics card (GPU) into the slot

Run the OS into the PC
Building gaming PC is rather easy with some technical knowledge and manual skills. If the outcome of your work doesn't satisfy you you can sell computer that you just built to us and use the cash to start a new project.