New Apple Airpod Pro
Jul 16, 2021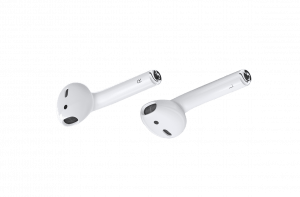 Apple announced late last year that it was going to release a new, updated version of the existing Apple Airpod. The Apple Airpod Pro has a unique design compared to its predecessor. Although they still used the golf tee design, the Apple Airpod Pro is a little bit shorter than its existing counterpart.
The headphones come with noise cancellation technology and improved sound quality making it more expensive than its predecessor.
Pros
• Adaptive EQ
• Active Noise Cancellation
• Adaptive silicone tips
• Water and Sweat-resistant
• Transparency mode
Cons
•
Expensive
• Non-adjustable Transparency mode
Design
As said earlier, the Apple Airpod Pro features the same overall design as the original device. Still, one of the notable differences between the two is the use of the new flexible silicone tips. These tips are designed to fit tightly within the ear canal, allowing noise cancellation and more responsive bass.
The silicone tips used on the Apple Airpod Pro come in three different sizes, ensuring a comfortable fit for the majority of their customers. According to Apple, they say the tips were carefully designed to adapt to the contours of an individual's ears. This makes the Apple Airpod offer a comfortable and better seal, which plays its own role in noise cancellation.
Apple's AirPods Pro is 21.8mm wide and 30.9mm tall. This means Apple's Airpod Pro is wider than the original AirPods (which measures in at 16.5mm). Still, the Airpod Pro isn't as tall (AirPods are 40.5mm tall) because the Airpod Pro's stems are shorter.
Water Resistance
Another interesting feature that comes with the Apple headphones is that it is water and sweat resistant with an IPX4 water resistance rating. This obviously means AirPods Pro has been tested and has resistance to splashing water from any direction. This further means it can put up the same resistance sweat and light rain.
Although the Pro is water-resistant doesn't mean it should be submerged in water. The
headphones
should have minimal or no exposure to water as often as possible because
Apple's warranty
does not cover Airpods damaged by water or sweat.
Noise Cancellation
Noise cancellation is a common feature with most active noise-canceling headphones, the AirPods Pro offers that same technology for better overall user experience. The AirPod Pro is Apple's first earbuds to feature Active Noise Cancellation technology. An excellent implementation, I must say. Apples Airpod Pro also leverages two microphones for its Active Noise Cancellation and state of the art algorithms that adapt the sound to each individual's ear. Apple's Airpod Pro adapts to sound continually at 200 times per second. This is remarkable. This are the best headphones for iPhone.
Noise cancellation aside, Apple also had the safety of its users at heart. Apples Airpod Pro has a feature called Transparency mode. This feature lets its user listen to sound coming from the users' immediate environment.
It's a great feature for keeping tabs on the ambient noise in the surrounding environment because active noise Cancellation drowns out sounds coming from your surroundings. This feature isn't adjustable when turned on. This means you won't be able to control the amount of ambient noise you let in during its use.
Crisp Sound
I do not consider the majority of Apple users to be discerning audiophiles. So I feel most users will definitely find the sound quality the Airpod pretty impressive.
Pros deliver a far better sound than the first Airpods due to its adaptive EQ ability. The Airpod Pro tunes to both low and mid frequencies of the music playing, which gives the user immersive listening experience.
Verdict
There you have it, Apple's Airpod Pro is an excellent listening device if you can afford it. If you need extra cash you can trade in laptops and other electronic device, good or broken with us for money.