Acer Nitro 5: The Affordable Powerful Laptop We Have Been Waiting For.
Jul 07, 2021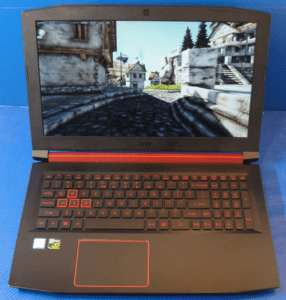 The new Acer Nitro 5 is a budget laptop that delivers excellent value and fantastic performance, which has been typical in the Nitro series over the last couple of years. The Acer laptop is within a reasonable budget, but you will get a premium gaming and video experience regardless. It is a classic gaming laptop for newbie gamers who want good performance at an affordable price. Despite the chunky plastic body, the Nvidia GTX 1650 GPU and  9th Gen Core i5 processor makes up for it with a smooth performance.
Design
This laptop has the same design as its predecessor, except for a different lid design; the Nitro 5 is still the same plastic chassis. It has a smooth surface that quickly shows smudges. Not the lightest and sleekest of laptops, but with its point and sharp corners, the Acer is alright for its price. It comes with a camera on the screen and a microphone.
There is a small number of ports on this laptop, and it does not come with a card reader. It also has a USB-C that does not support video or charging as it is data only. On the right side is the HDMI.
Display
The Acer Nitro 5 comes with an IPS FHD 144 Hz panel, unlike the other Nitro 5 series. The maximum brightness drops to about 250- nits at full brightness. The laptop's display should have been better, considering most gaming laptops within this budget have a better display. The Acer Nitro 5 comes with a resolution of 15.6-inch IPS 60Hz Full HD (1920x1080).
Keyboard and Touchpad
The Acer Nitro 5 comes with an RGB 4-zone keyboard, which gives it a higher configuration feel. There is a numeric section on the right side of the keyboard and a set of arrow keys underneath. Unlike most Acer laptops, the Nitro 5 2021 came has an indicator for caps lock, and the LEDs are bright. It works well for typing as it has precise and very quiet strokes, it is somewhere between mushy and stiff, but it gives good feedback.
The touchpad is one with a smooth surface and has precision drivers that will give you a smooth experience while using it. It clicks smoothly, and you can be certain that you won't get any rattle with taps.
Performance
The Nitro 5 comes with the AMD Ryzen 5 4600H processor, a 256GB SSD,8GB RAM, and Nvidia GeForce GTX 1650 graphics. The Ryzen 5 4600H CPU comes with 12 processing threads with a core frequency of 3.0GHz, six cores and a Max Boost frequency of 4.0GHz. The GeForce GTX 1650 is a low-end GPU from Nvidia's former graphics processors with 4GB of VRAM that doesn't give you actual tracing.
During a file transfer test, the Acer Nitro 5 did a file transfer of 5GB multimedia in 10 seconds. This speed is exquisite for a budget laptop like this. And during a synthetic test, the Nitro 5 hit 14,500 on a geekbench performance test.
Battery life
One would expect the battery life to be poor considering the budget of the Acer Nitro 5. Usually, gaming laptops have defective batteries, but without charge, the Acer Nitro 5 could run for about 4 hours during a multimedia playback test at 50% brightness. But using it for gaming without charging would not last for more than one hour due to its heavy use. This does not change the fact that it will serve well for a budget gaming laptop.
Final Verdict
The Acer Nitro 5 is not like most high gaming laptops; because of its budget, you can see apparent deficiencies. Of course, given the office, there is a limit to what it can handle. The Acer Nitro 5 has a controllable double fan, a high-resolution display, a reliable and more comfortable keyboard, and a long-lasting battery. You can pick one up after you trade in old laptop with us for cash.
The trackpad is sub-par, and it can do typing or even gaming tedious work. However, for content creation, video editing and multimedia, the Acer Nitro 5 will definitely deliver.
If you are into high-performance gaming, you should totally avoid this laptop. However, suppose you are a newbie in gaming or are on a budget and willing to sacrifice a few things. In that case, you should consider the Acer Nitro 5.