Razer Blade 14: Thin and Light Gaming Laptop at its Best
Jul 02, 2021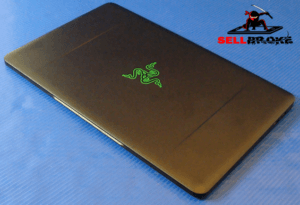 The Razer Blade 14 is an ultimate gaming laptop that comes with an ultra-powerful processor. It has a 3.3-GHz Ryzen-9 5900H AMD CPU with 16GB memory, a 1TB solid state drive, integrated Radeon Graphics from AMD, the GeForce RTX-3070 Nvidia GPU with an 8GB VRAM, as well as a 2560 by 1440 14-inch display that has a refresh rate of 165Hz.
This laptop is a 14-inch gaming laptop that comes with new generation RT and tensor cores.
Design
Razer Blade laptops are with the usual black aluminum chassis. The new Blade 14 has a glowing emblem of a snake with three heads placed centrally on the lid and a rounded corner. Measuring at 12.6 by 8.7 by 0.66 inches, this laptop weighs 3.9 kg, putting it in smallest laptops in the market conversation, unlike the previous blade 14 that weighs 4.6kg.
The interior of the laptop also has the same black aluminum chassis, especially on the keyboard deck. It comes with an audio speaker that rests just above the touchpad. In addition, it has a full range of ports and devices such as USB-C ports, 2 USB-A ports, WIFI 6, an HDMI port, TPM 2.0 security, and a windows IR camera.
Display
The Razer 14 is a 2560 by 1440 14-inch display laptop with a refresh rate of 165Hz. The video qualities in the laptop display are clear and crisp, as its QHD panel made it easy for details to be easily noticed. In addition, you can be assured to get a smooth display with the AMD Free Sync Premium utility that comes with it.
With its 3rd gen MAX-Q technology, the razer 14 uses new system optimizations and AI to achieve a better level of speed and performance perfect for gamers. In addition, every display is shown, either for gaming or multimedia is individually selected for true color accuracy and premium quality.
Keyboard and Touchpad
Typing on the Razer 14 is a soothing experience, as the island-style keyboard gave a bounce and the proper level of pop that made typing experience easy. In addition, it comes with synapse 3.0, software that give your keys the backlight to enable you to use your laptop in the dark. When tested on a 10 fast finger typing test, it hit up to 75 words per minute.
This touchpad is a bigger version from the previous razer 14. It is easy to navigate, has a fast response rate and smoothly performs gestures like two-finger scrolling, pinch zoom as well as three-finger flicks. In addition, it has a Microsoft precision glass touchpad that gives it smooth control and precise navigation.
Performance
It is not easy to fit several premium specs into a small laptop, especially a thin and light one. But with the 0.1mm, thick dual fans with 88 fan blades and customized vapor chamber did not affect the laptop's heat. Even though the fans were not as quiet as one would expect, you will not be interrupted with the use. Eventually, with heavy use, you get to feel a little heat right underneath the laptop.
AMD has made significant progress over a couple of years, and they are not slowing down. The razer blade 14 came with a processor of 16 GB RAM, has a 3.3-GHz Ryzen-9 5900H CPU complimented with a 1TB Solid state drive. This combination of specs has made it possible for the processor to be super functional. Several tabs were opened during tests, including YouTube, tweet deck, google sheets, twitch, and google docs. It multi-functions without a hitch, and it is also a good buy for hardcore gamers. If you want it you can trade in your laptop for cash with us and get the Blade.
Battery life
One significant way that the razer blade 14 truly excels is in its battery life. Usually, all the laptops with AMD processors have good battery life. However, during the battery test, the razer 14 has been estimated to last about 12 hours.
Razer has always prided itself in having a powerful machine in a small body. When it first came out in 2013, it was the lightest and thinnest of the gaming laptops. We can only expect a better spec in the new razer 14, including the battery life.
Final Verdict
The Razer Blade 14 AMD is a light and thin laptop that sprang up from the past. It is a power-packed 14-inch laptop with many components, such as the Nvidia GeForce RTX 3070 GPU and an AMD Ryzen 9 5900H processor. It is not far-fetched to say that this laptop definitely lives up to its hype.